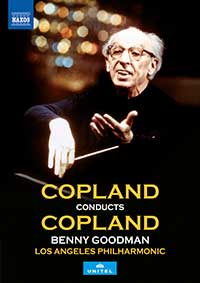 Copland Conducts Copland is one of the few extant films of the composer/conductor Aaron Copland performing in concert. Copland was the doyen of American contemporary music for most of the 20th century and a major influence on such great artist/composers as Leonard Bernstein. While he was an accomplished conductor and held a baton for most of his professional career, it is still Copland's compositions for orchestra that constitute the bulk of his legacy. Copland left an extensive archive of audio recordings of his own works over a career that spanned seven decades. This program was performed with the Los Angeles Philharmonic Orchestra at LA's Dorothy Chandler Pavilion, and reads like a "greatest hits" collection. Comments by Copland precede each selection in the playlist that follows below:
Fanfare for the Common Man
El Salon Mexico
Clarinet Concerto (Benny Goodman)
Hoe-Down from Rodeo
Suite from The Tender Land (Roger Wagner Chorale)
In all respects, the performances on Copland Conducts Copland must be considered as not only definitive but also, given the length of time that Copland had lived with these pieces, represent his final thoughts on each one. Clarinetist Benny Goodman began his career as a big-band leader and solo performer but, in his forties, he undertook extensive classical music training by famed British clarinetist Reginald Kell. This Clarinet Concerto, composed on commission for him in 1948, enabled Goodman to show off newly acquired skills with his instrument. The middle section contains some jazzy riffs that show off the unique sound for which Benny Goodman had become world-famous. The final selections on the program come from a three-movement suite that Copland arranged from his only full-length opera, The Tender Land, with the final two choral movements, "Party Scene," and "The Promise of Living," sung by the Los Angeles Master Chorale led by legendary chorus director, Roger Wagner.
The Video
Copland Conducts Copland was filmed for television in 1976 when the NTSC broadcast standard in the United States was well below today's standard definition resolution. By all accounts, although in an AVC 1080i/60 upscaling, this is still a "low-res" video with respect to its details and colors that are lacking in vibrancy, all in a 1.33:1 aspect ratio. On the plus side, Kirk Browning's cameras do present a nice "you are there" feel to the orchestra, soloists, singers, and, of course, the conductor in action.
The Audio
The remastered audio is in decent uncompressed LPCM stereo (48kHz/24-bit). The soundstage is a bit shallow, and the strings a bit on the shrill side but this is still a very listenable presentation of some truly terrific American music.
The Supplements
The slim program booklet has some performance credits and photos, a playlist, and a background essay on each work, followed by brief comments by Aaron Copland.
The Final Assessment
This beloved American composer left behind relatively few live film documents that show him conducting his own music and with a first-rate symphony orchestra. While technically far removed from what we expect today, this hour-long program is essential viewing for those that, like myself, love this repertory, and truly shows a master at work. High recommendation.
Copland Conducts Copland is out now on Blu-ray from Naxos
[amazon_auto_links id="109726"]
Summary
A valuable historical account of American classical music icon Aaron Copland conducting some of his best known compositions.
What people say... Login to rate
Be the first to leave a review.
Show more