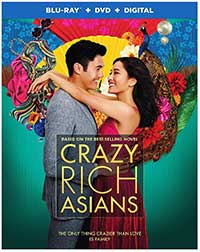 The rom-com Crazy Rich Asians is groundbreaking for being the first Hollywood studio film with an all-Asian cast. It's also the first Hollywood movie since 1993 to have a majority Asian cast and be about Asians. In 2018, that is almost unbelievable to comprehend, and likely goes without notice given the popularity of Chinese, Korean, and Japanese cinema and animation internationally. So, what's the matter with Hollywood? All of that being said, it's important to mention that Crazy Rich Asians stands on its own apart from all the cultural import.
The story follows Rachel Chu (Constance Wu), a Chinese-American economics professor, who travels with her boyfriend Nick Young (Henry Golding) to Singapore to meet his family, only to find, much to her surprise, that his family is one of the richest, most influential families in the country and Nick its most eligible bachelor.
Based on the novel of the same name by Kevin Kwan, director Jon M. Chu's adaptation is adept at showing the cultural and generational differences, which is made all the more significant by the film's Asian representation. We don't get to see these multifaceted representations of Asian characters in Hollywood, only the clichés we are all familiar with and don't require relisting here.
The story is also a journey of self-discovery for its protagonist Rachel who finds herself as a person and about her cultural background, finding herself in Asia for the first time, and knowing that, despite all the wealth and glamour, she can stand on her own without her boyfriend given the opposition she faces from his mother.
This is one of the better rom-coms to come along in a very long time and avoids many of the tropes of the genre while crafting an enjoyable and inspiring story.
The Video
Crazy Rich Asians arrives on Blu-ray in an AVC 1080p encodement framed at 2.40:1. The film was shot in 4K on the Panasonic Varicam 35 Pure with Hawk V-Lite 1.3x and V-Plus 1.3x lenses and some scenes on the Red Dragon and a 4K Digital Intermediate was used in post-production. The Ultra HD version with HDR of this film looks fantastic. Singapore is an excellent backdrop for HDR cinematography. That said, this Blu-ray is a solid, reference quality HD release. The color and dynamics don't 'pop' like the Ultra HD, but we get clean, crisp, wonderful imagery with extended detail and no noise.
The Audio
Crazy Rich Asians gets an English DTS-HD Master Audio 5.1 mix that is very satisfying for this sort of film. Although this is a romantic comedy, there are ample moments for this mix to open up, with bachelor party sequences, cutaways to movie sets and more. We get lots of ambience and superb balance of the score and songs. Dialogue is crystal clear.
The Supplements
There's a disappointingly thin number of special features included, but the deleted scenes are excellent as are the commentary and the 'making of' featurette Crazy Rich Fun.
Movies Anywhere
DVD
Commentary by director Jon M. Chu and novelist Kevin Kwan
Crazy Rich Fun (1.78:1; 1080p/24; 00:07:18)
Deleted Scenes (2.40:1; 1080p/24; 00:12:10)
Gag Reel (2.40:1; 1080p/24; 00:01:47)
The Final Assessment
There were stories of Asians on social media crying when they watched this film, because for many of them it was the first time in their lifetimes, they could see a film with characters that looked, sounded, and acted like them. That is a powerful feeling and Crazy Rich Asians is indeed a powerful film, with gorgeous imagery, a heartfelt story, and powerful performances.
Crazy Rich Asians is out on Blu-ray Combo Pack and DVD November 20, 2018 from Warner Bros.
PG-13 (for some suggestive content and language)
Rating Certificate
Color Force | SK Global | Warner Bros.
Studios & Distributors
Peter Chiarelli (screenplay by) | Adele Lim (screenplay by) | Kevin Kwan (based on the novel)
Writer
Engliish DTS-HD MA 5.1
Audio
English SDH | French | Spanish (Latino)
Subtitles
English Descriptive Audio | French (Quebecois) DD 5.1 | Spanish (Latino) DD 5.1
Secondary Audio
Summary
This glitzy rom-com based on the best-selling novel follows native New Yorker Rachel Chu (Constance Wu) who goes to Singapore to meet her boyfriend's family, only to find out for the first time they are enormously wealthy. The film is significant for being the first Hollywood film in over 25-years to feature an all-Asian cast since The Joy Luck Club. A charming rom-com that pits tradition against twenty-first century mores as two young people must negotiate differences in their backgrounds to achieve a lasting relationship.
What people say... Login to rate
Be the first to leave a review.
Show more