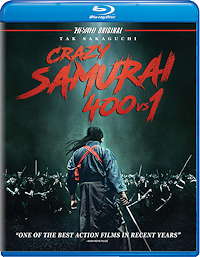 Crazy Samurai: 400 vs. 1 (AKA Crazy Samurai Musashi) is the Hi-Yah! streaming channel's original film based on the legendary undefeated Japanese swordsman Miyamoto Musashi and his supposed battle against over four-hundred samurai. Tak Sakaguchi plays Musashi the legendary samurai swordman who shows up to single handedly battle the disgraced Yoshioka dojo. Director Shimomura Yuji films the story, which is shot as one continuous, 77-minute take, a world's first for an action take. While this is certainly an adrenaline rush of a film and a must-see at least once for the dedicated chambara fan, there is a repetitiveness that begins to settle in and one starts to notice the peculiarities of the genre, such as how the hundreds of swordsmen all surround Musashi but always patiently wait their turn to take him on. It can be overlooked in movies where there are short action sequences, or the swordplay is all that makes the film. One can also write it off as the samurai code of honor, but at 77-minutes, it's harder to overlook. That said, what cannot and should not be overlooked is the sheer, raw energy and athleticism displayed by Sakaguchi who keeps going even as you can see the wear starting in. This one won't be for everyone, but for the ultimate genre fans, this is a great adrenalin rush.


Crazy Samurai: 400 vs. 1 (2020)
The Video
Crazy Samurai gets a 1.78:1 AVC 1080p encodement on Blu-ray from Well Go USA. This is not a film with a lot of heavy color grading and contrasts, and, in fact, the shadows tend to look a bit washed out and greyish, not as a consequence of the transfer but more due to the overall production and types of cameras used. While this isn't a reference looking release, it is a satisfying Blu-ray free from any major issues like noise, posterization, or banding.
The Audio
Crazy Samurai: 400 vs. 1 comes with a lossless Japanese DTS-HD Master Audio 5.1 mix and a Japanese stereo mix. The 5.1 is a solid audio presentation with good dynamic range and atmospherics in the surround channels. The low end is subtle, but what little dialogue there is, is clear enough. Thankfully given all the clanking swords, high frequencies are easy on the ears and not fatiguing. Stereo imaging is wide and active.
The Supplements
This release only comes with the original and international trailer.
The Final Assessment
Crazy Samurai: 400 vs. 1 is awesome, brutal, and an awesome display of athleticism. The barebones Blu-ray from Well Go USA may not be a purchase first for most, but it is surely one worth seeing.
Crazy Samurai: 400 vs. 1 is out on Blu-ray March 2, 2021 from Well Go USA


---
Studios & Distributors: My Theater D.D. | Hi-Yah! | Well Go USA Entertainment
Director: Yûji Shimomura
Written By: Atsuki Tomori
Run Time: 92 Mins.
Street Date: 2 March 2021
Aspect Ratio: 1.78:1
Video Format: AVC 1080p
Primary Audio: Japanese DTS-HD Master Audio 5.1
Secondary Audio: Japanese Stereo
Subtitles: English