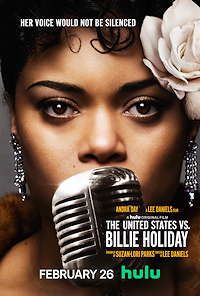 It has been nearly fifty years since Diana Ross starred as Billie Holiday in the Oscar-nominated Lady Sings the Blues, a film about the legendary jazz vocalist whose life was cut short by consequences of her heroin addiction. Was there really a need to revisit the Billie Holiday story? Director-producer Lee Daniels seemed to think so and recruited noted playwright Suzan-Lori Parks to give him the screenplay for The United States vs. Billie Holiday. But the real key to making everything gel was the casting of Andra Day, a singer making her film debut in a leading role as did Diana Ross in 1972.
The film opens in 1937 as Billie's career is beginning to take off.  We meet one of her biggest fans, Jimmy Fletcher (Trevonte Rhodes) who turns out to be the first black agent in the Federal Bureau of Narcotics, run by the relentless Harry J. Anslinger (Garrett Hedlund).  Anslinger has been assigned to go after Billie ostensibly because of her illegal drug use but the government's real agenda is to stop her from singing "Strange Fruit," a song about the lynching of Blacks in the segregated South, and one considered to be an anthem that would lead to civil unrest.  Under the watchful eye of her friend and attendant Roslyn (Da'Vine Joy Randolph), Billie tries to keep her drug habit concealed from the narcotics agents but when her apartment is raided by a team led by agent Fletcher, she is arrested and eventually sent to prison for a year.
Upon her release from jail, Billie finds that her New York cabaret card has been revoked  so she must find work elsewhere by touring across the country. Before hitting the road, her new manager arranges for her to perform in a sold-out Carnegie Hall concert that restores her star status.  Fletcher gets assigned to follow the tour bus and to keep Anslinger informed about Billie's drug use, but he continues to issue negative reports. As the tour proceeds, agent Fletcher falls in love with Billie and they begin a torrid affair. When the bus breaks down, Billie is taken away by Louis McKay (Rob Morgan) who will eventually become her husband, a marriage that opens a very tumultuous final chapter in her short life.
The United States vs. Billie Holiday (2021)
Billie is repeatedly harassed by the Feds and, as her health begins to fail, she faces increasing difficulties in her personal and professional life.  Finally, she is taken to New York's Metropolitan Hospital where she succumbs to liver failure brought on by her drug use.
The United States vs. Billie Holiday gives viewers a different perspective on this singer's life than did its predecessor Lady Sings the Blues as it starts the story in the middle of her life rather than at its beginning. In the months that preceded the 44-day shoot in the fall of 2020, Andra Day lost forty pounds, took up smoking and drinking, and the result is an astonishing transformation that gets her deep inside the skin of the jazz legend. Day sings all of the Holiday songs in a voice that very much resembles that of the late singer, right down to its raspy quality that noticeably increased over time. When she breaks into a familiar song, everything stops, and you hardly notice anyone or anything else, such is the power of her character's charisma. Trevante Rhodes turns in a convincing portrait of the narcotics agent  conflicted by his sense of duty and by his attraction to Holiday. In smaller roles, Tyler James Williams is a very credible  Lester "Prez" Young, a leading saxophonist of the period, and Da'Vine Joy Randolph is a most sympathetic companion. There are a couple of choice smaller contributions by Natasha Lyonne as the actress and Billie's lover Tallulah Bankhead and little Leslie Jordan as radio journalist Reginald Lord Devine.
Parks's powerful screenplay presents an unvarnished version of the Narcotics Bureau's persecution of the drug-addicted Holiday. Garrett Hedlund is a boo-hiss-worthy federal agent with a freehanded approach to so-called law enforcement, including the planting of drugs on the singer. There is also no shying away from the physical and mental effects of Holiday's drug habit which are shown throughout the film.  The racism of that era is also placed front and center as punctuated by Billie's witnessing the aftermath of a cross burning near a tree bearing the "strange fruit" of a lynched Black woman. I am pleased that this film got in under the wire for Oscar consideration.  Andra Day will surely get nominated for best female actor in a dramatic role and I would not be surprised if Lee Daniels also received an Oscar nomination. This is a film that is far superior to its predecessor and receives my highest recommendation.
---
If you found this review useful please consider clicking the button below and donating to help keep TheaterByte funded and to allow us to continue posting great content.
---
The United States vs. Billie Holiday is streaming now on Hulu
---
Rating Certificate: TV-MA
Studios & Distributors: Lee Daniels Entertainment | New State Ventures | Roth/Kirschenbaum Films | Hulu
Country: USA
Language: English
Run Time: 130 Mins.
Aspect Ratio: 2.39:1
Director: Lee Daniels
Written By: Suzan-Lori Parks
Release Date: 26 February 2021