– –

The Film
[Rating:3/5]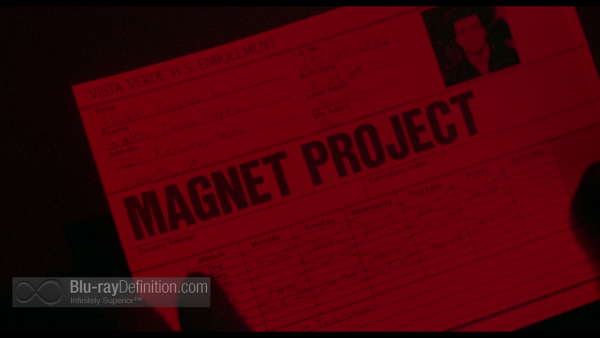 I was in the mood for some 1980s cheese and who better to bring the cheese than Cannon Films. Dangerously Close is the story of The Sentinels, an elite group of white, rich, high school students who have taken it upon themselves to monitor the happenings at their local high school. Their school is also super inclusive and super exclusive. You either have to be rich or really smart to attend, although those angles are never really explored. What is explored is that if you look one ounce different from the status quo then it's free game to bully you and your friends with complete impunity, because after all, The Sentinels are the law.
After a student of the school is found murdered The Sentinels begin to get scrutinized by the local authorities and the editor of the newspaper, Danny (J. Eddie Peck), takes it upon himself to investigate them further. This doesn't necessarily bode well for him, because Randy (John Stockwell), leader of The Sentinels takes him under his tutelage and is almost brought under the seduction and access of the group. They may be in high school but The Sentinels come from wealth and have pretty toys and can get into all of the hottest clubs. This hits Danny close to home, because he comes from a working class family (raised by his father) and is a pool boy. His best friend is Krooger (Bradford Bancroft) who is also a punk rocker and is dismissed as a misfit by almost everyone outside of their immediate social circle.
As Danny begins to get deeper and deeper into the illicit activities of The Sentinels it will become clear that all is not what it seems and his involvement will have dire consequences. Dangerously Close was a lot of fun to watch. No, it's not a great film, but the production was awesome. It's pretty hilarious when you see actors in their 20's (and possibly 30's) play high school students. Danny alone looks like he's 30, so these guys better be seniors!
I do like that Dangerously Close shines a bit of light into some of the fascist overtones implied by the activities The Sentinels get into, because they act like Judge Dredd trainees. The film was a Cannon release and that was pretty much a staple of their catalogue. Jingoism, fascism, elitism, etc., and the film brings it into focus. I liked that it was a very closed of film in terms of how the rest of the world lived. We don't really see the world from the outside of the school's eyes, with exception to Danny and Randy's set-up. Krooger even has a modified sports car that's right our of The Road Warrior, which gives one the impression that this is the near-distant future – maybe a "retro-future."
Another thing that lends the film some gravitas is the inclusion of a really cool soundtrack featuring tunes from Depeche Mode, Fine Young Cannibals, Robert Palmer, T.S.O.L., The Smithereens, and Van Halen. Ironically, it's a very progressive film considering the themes, because they certainly had good taste in music in that world. I do think the acting and script could have been tweaked here and there but the overall product is more than satisfactory and remains a highlight of Albert Pyun's (Cyborg, Nemesis) directing career. If you're at all fan of the 1980's or grew up in the time period then Dangerously Close will bring back the memories while covering some hot topics of the time. Give it whirl.

Video Quality
[Rating:4/5]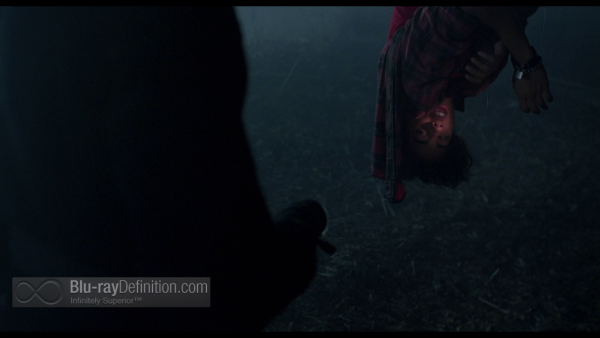 Dangerously Close is presented in 1.85:1 and was shot on 35mm film. The film print looks impressive and lends itself well to the visual aesthetic of the film. There are several scenes taking place in neon lit clubs that really make you feel you're there. Crush is not a problem and only rears its ugly head from time to time. Sharpness and contrast levels stay steady and don't seem to have been messed with in post-production. Dirt, debris, noise, etc., were not a problem either. The film retains a relatively bright and vivid look, which is great, because a lot of films from this time period look like washed out messes. Olive Films have done a great job with the source print.

Audio Quality
[Rating:2.5/5]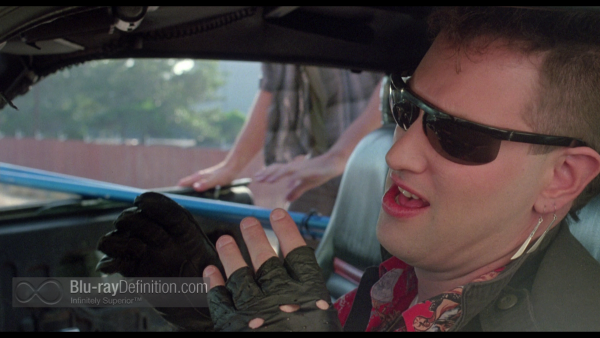 Dangerously Close is presented in DTS-HD Master Audio 2.0. It's a relatively weak soundtrack, which is a bummer, because it really could have benefited from a nicer stereo mix on a remastered 5.1 track. The material calls for it but whatever. Dialogue levels are fairly strong and music comes through nicely. What suffers on this soundtrack is the sense of depth. The action scenes, which there are plenty, fall flat and a bit on the stale side. Overall, the soundtrack could have been beefed up a bit.

Supplemental Materials
[Rating:0.5/5]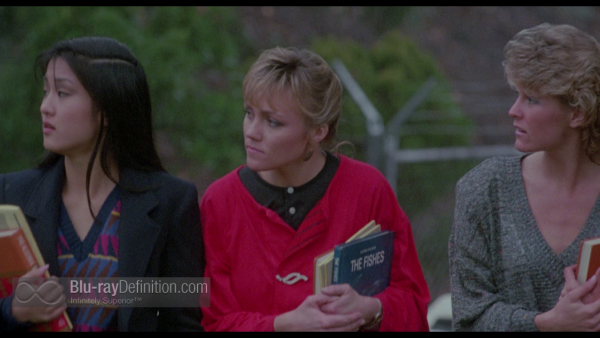 A theatrical trailer is included.

The Definitive Word
Overall:
[Rating:3/5]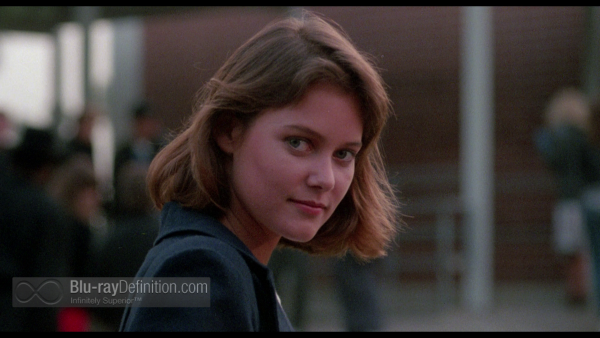 Dangerously Close comes dangerously close to being a great film due to some of the ideas presented. Jingoism and elitism were big in the mid-1980's and the film sought to capitalize on what was going and it succeeded for the most part. Maybe a bigger budget could have helped along a bit more but what we do get is more than fair. The Blu-ray has an above average video presentation and a very average audio track. This being an Olive Films release you already know the deal with special features. Dangerously Close is a neat little gem from the 1980's and is worth a watch.
 Additional Screen Captures