– –
The Film
[Rating:2/5]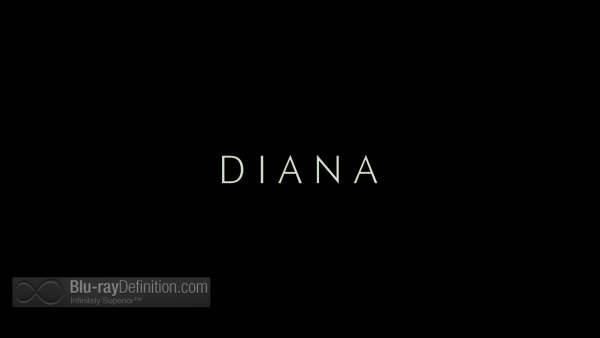 The 2013 film Diana stars Naomi Watts as the late "Queen of Hearts" Diana Spencer and tells the story of her last three years of life. There's very little introspection or insight into the life or mind of the woman, instead, the film focuses on a very narrow romance and the sequence of events leading to her death.
German director Oliver Hirschbiegel handles the duties for Diana and he stays out of the way as much as possible, giving us a very straightforward production free from stylization and fancy visual effects. This leaves the focus squarely on Naomi Watts as Diana. Watts doesn't exactly fit the role, her physical appearance, though quite attractive, is too vastly different from the Princess of Wales. She's shorter, her bone structure is different. She overcomes these deficiencies with a screen presence that allows us to buy in to the flimsy story the film is trying to tell.
The film begins with an ominous look at Diana's last night on Earth as she walks around her hotel room preparing to leave and then we see a recreation of the infamous security camera footage of Diana, Dodi al Fayed (Cas Anvar) and their driver on the elevator, before the film goes back three years. Diana has been separated from Charles and is feeling lonely and listless. An emergency call to the hospital concerning her father brings her into contact with Dr. Hasnat Khan (Naveen Andrews). She's immediately smitten, and so, it seems, is Dr. Khan, but the Pakistani heart surgeon is also not too keen on thrusting his life into the tabloids. The pair embark on a secret romance, a whirlwind romance, one might say. Her newfound love gives her the courage and confidence to declare herself independent and push for a divorce from Prince Charles, which puts more pressure on her secret romance with Hasnat. At every turn, Diana here seems like a clueless schoolgirl trying desperately to hold onto her first crush. She even goes as far as to meet with Hasnat's family by herself in Pakistan to try to gain their approval for their relationship, which of course does not come. But the rocky romance is fated to fail, especially when the press gets wind of Hasnat and he can't take the pressure of the paparazzi. The final straw comes when Hasnat's family refuses their approval of his choice of Diana. This drives Diana straight into her humanitarian work and the arms of billionaire playboy Dodi Al Fayed, partly to kill her pain and partly, the film seems to imply, to make Hasnat jealous. It's a fateful decision that will cost her her life, as she begins to tease the press with phone calls about where she is and whom she is with.
Diana is a dull and melodramatic, almost campy look at a "forbidden" love story. It teases us with the "Diana the world never knew" and then gives us cheesy lines like "I'm a princess, I get what I want". It's too painful to watch, both for the legacy of this woman and for an actress as great as Naomi Watts.
While it claims to be giving us some inside look at the Princess of Wales, in fact, this film from director Oliver Hirschbiegel with the screenplay from Stephen Jeffreys barely rises above the level of tabloid speculation. So, even in death, Diana, Princess of Wales, still must suffer the indignity of this sort of drivel.
Video Quality
[Rating:4/5]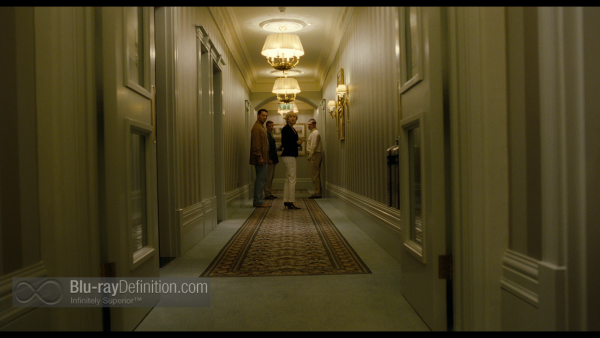 Diana was filmed with 35mm film stock in the Super 35 (3-perf) format. For a Super 35 production Diana looks rather clean with very little film grain. It could almost pass for a high definition production. The colors are bright and realistic with very little stylization. There's no noise or banding, but on my display I did spot just a little bit of posterization in some of the darker areas in this AVC/MPEG-4 1080p encodement.
Audio Quality
[Rating:3.5/5]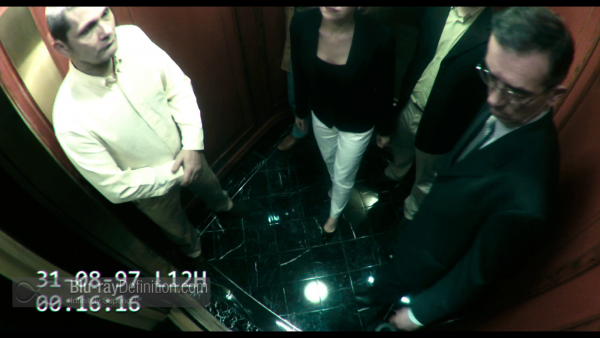 A very subtle DTS-HD Master Audio 5.1 (48kHz/24-bit) soundtrack is the sole audio option. The opening sequence with Diana walking through the hotel room in Paris with classical music rotating through the various channels is one of the strongest scenes. The rest of the film is rather front-heavy and dialogue driven, with a low-level bit of atmospherics in the surrounds. It sounds clean and has a decent amount of range, but will not become a reference anytime soon.
Supplemental Materials
[Rating:2/5]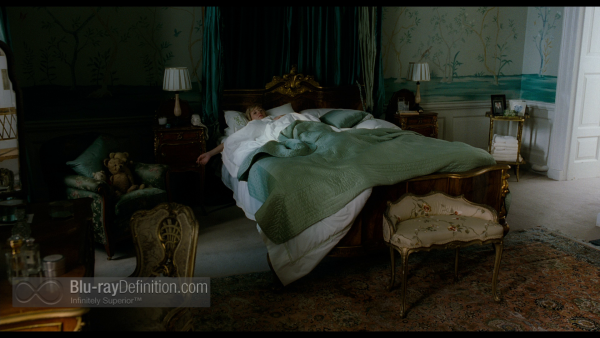 Brief, EPK type interviews with the cast and crew plus a Diana Fashion Photo Booklet are included.
The supplements:
Diana Fashion Photo Booklet
Cast & Crew Interviews (1080p/24):

Naomi Watts: Lady Diana Spencer (00:09:17)
Naveen Andrews: Dr Hasnat Khan (00:05:48)
Douglas Hodge: Paul Burrell (00:03:55)
Charles Edwards: Patrick Jephson (00:02:46)
Oliver Hirschbiegel: Director (00:08:46)
Robert Bernstein: Producer (00:06:37)
Kave Quinn: Production Designer (00:03:24)
Julian Day: Costume Designer (00:04:57)
The Definitive Word
Overall:
[Rating:3/5]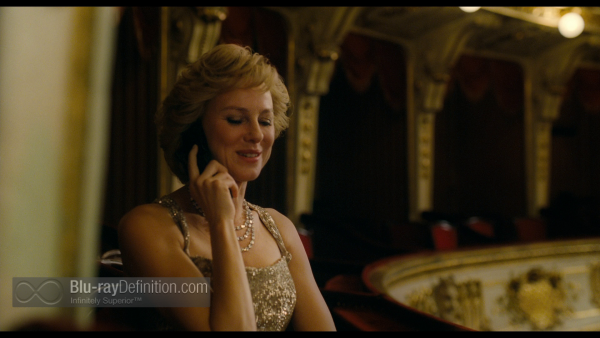 Diana got the glitz, the glamour, and the costumes right, but it got everything else wrong, including the casting and the dialogue. Stay away from this film, unless you enjoy reading the National Enquirer from front to back like it's a novel.
Additional Screen Captures
[amazon-product]B00GM7SUY8[/amazon-product]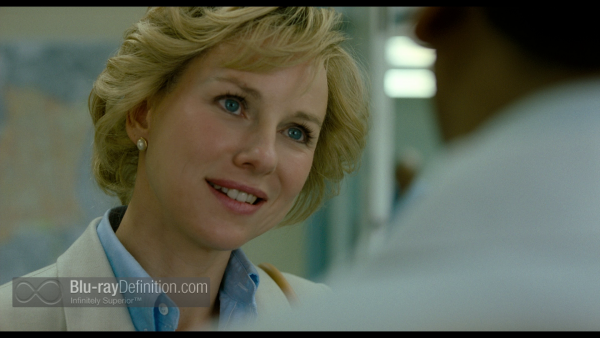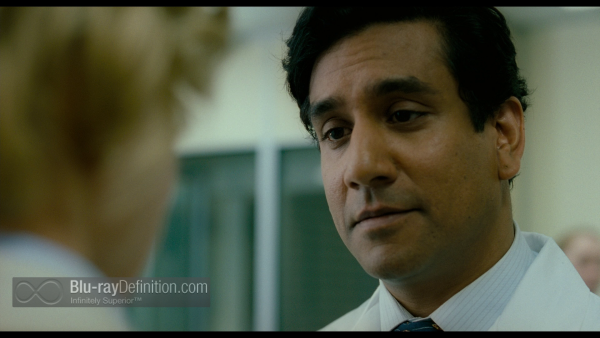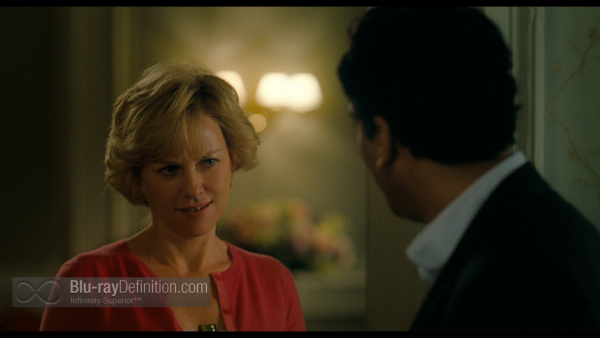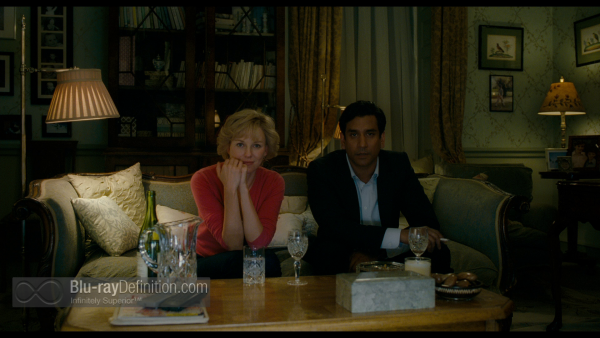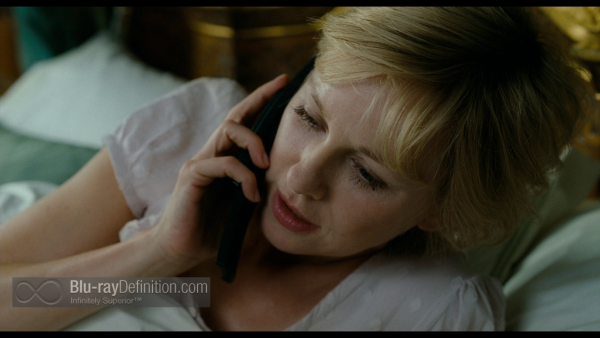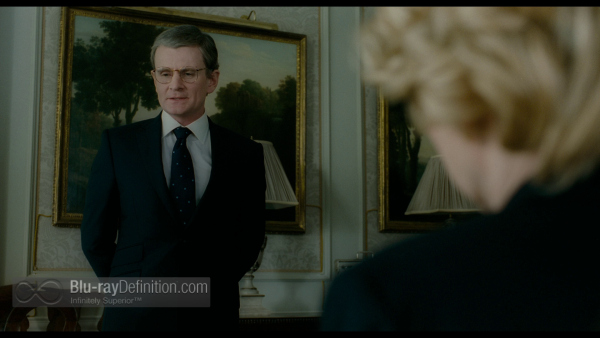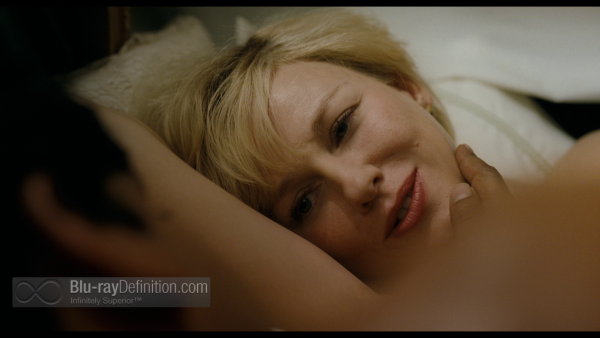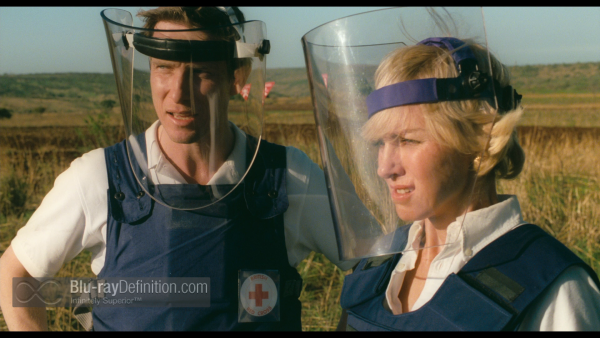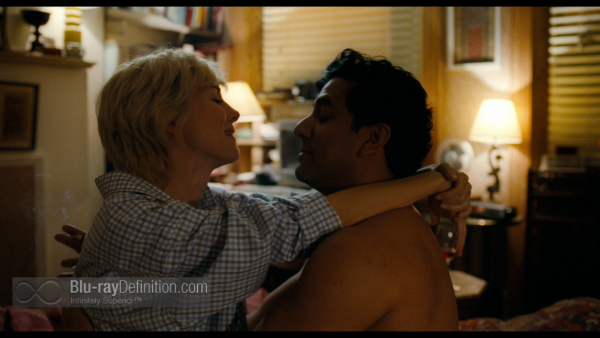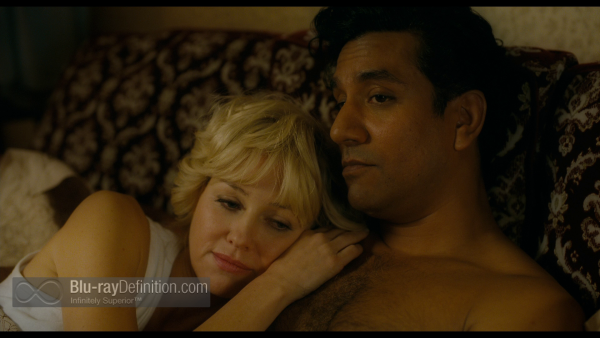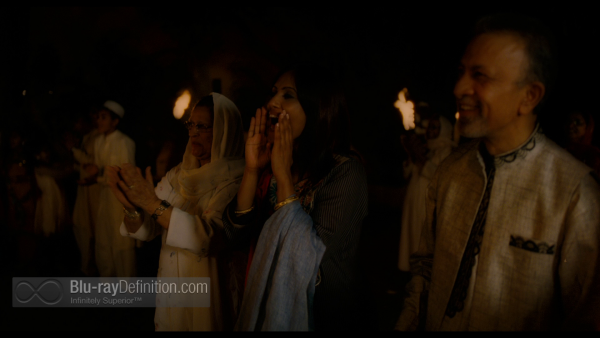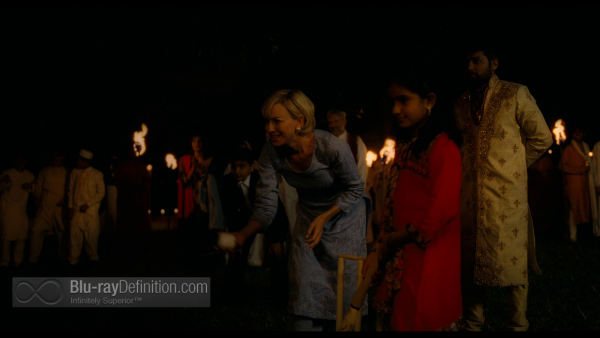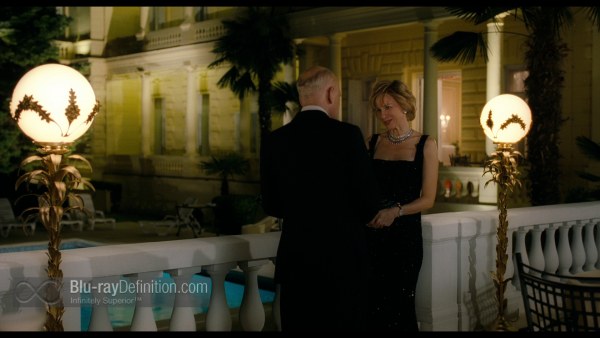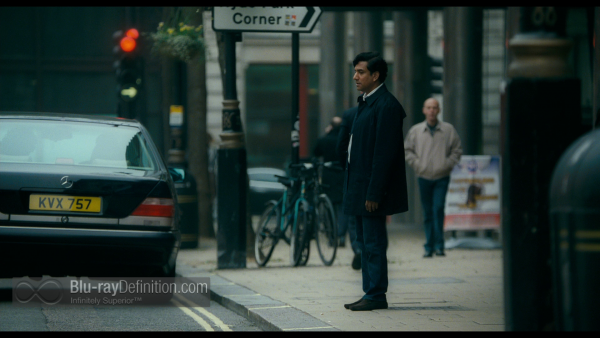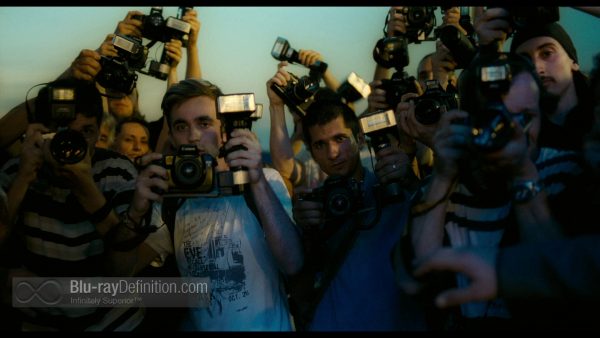 [amazon-product]B00GM7SUY8[/amazon-product]