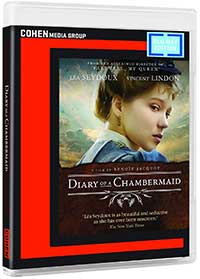 The "scandalous" 1900 novel Journal d'une femme de chamber by Octave Mirbeau has been turned into a film twice before, by tJean Renoir (1946) and Luis Buñuel (1964). Both of these master filmmakers were more successful in their attempts at bringing the early 20th Century story to the screen than Benoît Jacquot (Farewell, My Queen) whose Diary of a Chambermaid seems caught in the indecision of being a serious period drama, a comedy of manners, or a throwback to the 1970s erotica of Tinto Brass.
The story follows the scheming chambermaid Célestine (Léa Seydoux) who recounts her travails working in the homes for the élite members of French society, dealing with their perversions, excesses, and hypocrisies, as she works for a bourgeois couple in Normandy, where the wife is a cruel taskmaster. Eventually Célestine finds herself in a strange relationship with fellow servant Joseph (Vincent Lindon), a man who hates Jews and may have a violent sexual past. The two end up scheming together to run away from their life of servitude, but not before they find a way to make their cruel employers pay.
Seydoux is seductive and deliciously naughty in this version of Chambermaid, but her skills are held back at every turn by a screenplay and direction that doesn't let the story dare to go where it wants to. It seems Jacquot was either too afraid to allow this film to become too erotic, or to let it become too hilarious. In the end, it feels stifled and annoyingly stagnant, a problem only made more vexing by a somewhat confused screenplay and poor editing choices.
The Video
Diary of a Chambermaid was shot in 4K on the Sony CineAlta PMW-F55 using Zeiss Master Prime and Angenieux Optimo lenses and a 4K digital intermediate was used, giving this a pure 4K master from which to transfer this 2K Blu-ray encodement in AVC 1080p framed at 2.35:1. It's a delicious looking image with vibrant colors and rich detail. The provincial French countryside looks bright and sunny in the numerous daylight outdoor scenes, while the indoor scenes of the workers have more earthen tones, with excellent shadow delineation.
The Audio
Diary of a Chambermaid has two French 5.1 options, a lossless DTS-HD Master Audio track and a lossy Dolby Digital 5.1 track. The lossless track has been mastered a lot louder than the lossy track, which doesn't help at all with dynamic range. I had to turn the volume down about 10db lower than my usual listening levels. The mix is actually a good one, with lots of ambience and, very clean and full dialogue without a hint of clipping, and excellent balance of the score throughout the soundstage. Despite being lossless, however, the DD 5.1 track is a rare one that, given the same mix, sounds less fatiguing and little more relaxed and less pushed. The only tell is the higher frequencies don't sound as clean, but since this film is mostly dialogue and the higher frequencies come into play mostly through the strings in the score, it isn't a major issue.
The Supplements
Theatrical Trailer (2.35:1; 1080p/24; 00:02:11)
The Making of Diary of a Chambermaid (1.85:1; 1080p/24; 00:18:40)
Booklet
The Final Assessment
Diary of a Chambermaid is a story that needs to let loose, to be sexy, naughty, funny, or all three. This version is just boring, though it is beautiful to look at. Stick with either adaptation that has come before this one for a better film, even if Léa Seydoux gives a standout performance with little to work with here.
Diary of a Chambermaid (TheaterByte Blu-ray Review)
Les Films Du Lemming/Entertainment One/Cohen Media Group
Studios & Distributors
Hélène Zimmer, Benoît Jacquot, Octave Mirbeau (novel)
Writer
$25.99
MSRP
French DTS-HD MA 5.1
Audio
French DD 5.1
Secondary Audio
Summary
This is a confused and indecisive version of Diary of a Chambermaid with little erotica, comedy, or naughty wit. A return to the editing room and a rewrite may have helped, but as it stands, only the beautiful visuals and Léa Seydoux's performance make it palatable.
What people say... Login to rate
Be the first to leave a review.
Show more