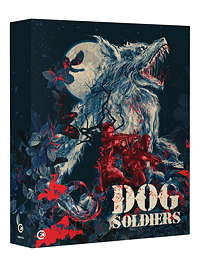 Dog Soldiers is the 2002 indie horror/comedy from writer/director Neil Marshall. It follows a group of soldiers on a routine training mission in the Scottish Highlands. They would all rather be at home watching the soccer, er, football game, but instead they end up in the middle of nowhere doing this training mission, which puts them in danger. Things turn ominous on the first night when the carcass of a cow lands on their campfire. The next morning they stumble across badly wounded Special Ops Captain Richard Ryan (Liam Cunningham) and the remains of his squadron and are attacked by a giant werewolf. They only survive when they are saved by zoologist Megan (Emma Cleasby), who explains to them what the creatures are. The group then hole up in a cottage in the woods as a pack of the werewolves lurk outside.
Dog Soldiers really works as a horror comedy despite never relying on gags or overt comedy. It is the interaction of the soldiers that infuses the comedy and some of the ironic situations they find themselves in. Neil Marshall makes the most of the surroundings as well. What could have easily become a stagnant, and claustrophobic film as the group of soldiers and the doctor try to keep safe in the tiny cottage stays high energy and intense straight through. Visually, he saves the payoff on the werewolves mostly for the final act, and the practical visual effects for them as well as the dancers hired to inhabit the costumes work wonders.
The Video
Dog Soldiers was originally shot on Super 16 and arrives here in a new 4K restoration from the original 16mm camera negative approved by director Neil Marshall and director of photography Sam McCurdy. The 4K Ultra HD comes in a 1.85:1 HEVC 2160p (4K UHD) Dolby Vision encodement. There is only so much resolution that can be squeezed out of a Super 16 source, but this is one of the better transfers I have seen and the 4K format does do a good job presenting it as naturally as possible, with good grain and about as much depth of field as possible. The Dolby Vision adds more depth and contrast, with good black levels and nice 'pop' in the specular highlights in flames and lights even if the nuance in colors isn't quite as much as it would have been had this been taken from. 35mm, 65mm, or digital 4K source.
The Audio
Second Sight provides Dog Soldiers with lossless English DTS-HD Master Audio 5.1 and DTS-HD Master Audio 2.0 stereo audio mixes. The 5.1 mix is a solid presentation that has some good atmospherics in the surrounds with some mild, solid sound effects mixed into the rear at times. There is wide stereo panning and good dynamics. The big, bombastic effects such as the explosions of cars have big, extended low-end effects. The 2.0 mix collapses quite a bit but still has strong stereo imaging and clear dialogue.
The Supplements
Second Sight continues to impress with their limited edition collections of these classic and cult films, making them undeniably collectible with the gorgeous artwork, book, art cards, and multiple audio commentaries and featurettes.
Limited Edition Contents:
Rigid slipcase with new artwork by Chris Malbon
108-page book with new essays by Craig Ian Mann, Alison Peirse, Zoe Rose Smith, Anya Stanley, exclusive interview with Neil Marshall by Matthew Thrift, plus behind the scenes photos
Six collectors' art cards
Archive audio commentary by director Neil Marshall
Archive audio commentary by producers David E. Allen and Brian O'Toole
NEW audio commentary by writer and associate professor of film Alison Peirse
NEW – Werewolves, Cannibals, Crawlers, and More –An interview with Neil Marshall (1080p; DV; 00:38:18)
A History of Lycanthropy: Author Gavin Baddeley on Werewolf Cinema (1080p; DV; 00:33:22)
Werewolves, Folklore, and Cinema: A video essay by author Mikel J. Koven (1080p; DV; 00:23:23)
Werewolves vs Soldiers: The Making of Dog Soldiers (1080p; DV; 01:01:50)
A Cottage in the Woods: An interview with production designer Simon Bowles (1080p; DV; 00:13:26)
Combat: A short film by Neil Marshall (1080p; DV; 00:07:54)
Trailers (1080p; DV; 00:04:25)
Photo Gallery (1080p; DV; 00:04:30)
The Final Assessment
An overlooked gem of the werewolf genre that deserves to be mentioned in the same breath with American Werewolf in London. It takes a different approach but turns out just as funny and fun. Second Sight offers it up in a strong 4K release that is as good as it gets.
Dog Soldiers (Limited Edition) is out on 4K Ultra HD in the UK 22 August 2022 from Second Sight Films

---
Rating Certificate: UK-15
Studios & Distributors: Centurion | Kismet Entertainment Group | The Noel Gay Motion Picture Company | The Carousel Picture Company | The Victor Film Company | Luxembourg Film Fund | Second Sight Films
Director: Neil Marshall
Written By: Neil Marshall
Run Time: 105 Mins.
Street Date: 22 August 2022
Aspect Ratio: 1.85:1
Video Format: HEVC 2160p (4K UHD)
HDR Format: Dolby Vision (HDR10 Compatible)
Primary Audio: English DTS-HD MA 5.1
Secondary Audio: English DTS-HD MA 2.0 Stereo
Subtitles: English SDH