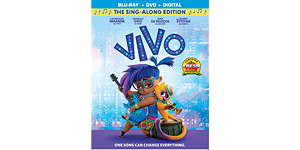 Pulitzer Prize-winning playwright Lin-Manuel Miranda lends eleven original songs to Vivo, which is also Sony Animation's first musical animated feature.
The film follows the adventures of a kinkajou monkey named Vivo (Lin-Manuel Miranda) that was rescued when he fell off the back of a truck in Havana, Cuba, by the elderly musician and busker Andrés Hernández (voiced by Juan de Marcos González). The pair make their living performing musical numbers in the square and seem quite happy together, but when Andrés receives a letter from Miami, Florida, from his former musical collaborator and the long-lost love of his life asking him to come to Miami and join her for a reunion performance. The pair's quiet life seems like it will be disrupted, which Vivo is not down for, even if Andrés is excited to see his love again. But Vivo loses more than his quiet and musical life with Andrés when the kind and elderly musician passes away before he can make the journey, leaving him alone and worried for his future.
Vivo, however, finds Gabi (Ynairaly Simo), the non-conformist young granddaughter of Andrés who wants to take him to Florida with her. She's not exactly his style but determined to get take last song Andrés ever wrote, which was a song for his lost love Marta to her, he sneaks into her luggage and gets himself to Florida. Together Vivo and Gabi make a perilous trek to Miami to get to Marta's show where they make their way through the everglades and come across a number of colorful creatures.
This 'Netflix Original' from directors Kirk DeMicco (The Croods) and Brandon Jeffords (storyboard artist, The Mitchells vs the Machines) is a vibrant and fun-filled family adventure that is served well by the musical numbers from Miranda. The music brings Miranda's typical blend of Latin rhythms, hip-hop, and rap. The characters are lovable as well. Vivo is a huggable and wise-cracking monkey with a great voice and Gabi will appeal to many tweens out there trying to make their own way. The performance from the young Simo is to be commended.
The Video
Vivo is streaming on Netflix in HD with Dolby Vision HDR and is also available on Apple TV in 4K with Dolby Vision, but it is being released by Sony only on Blu-ray in HD. The digital 3DCG animation looks strong on the Blu-ray disc and is actually superior to the Netflix stream even without the Dolby Vision HDR. The colors do not look quite as vibrant, but they are still very delightful to look at and hardly a major drop in quality. Detail is there and much cleaner than streaming. One can make out the tiny gray stubble on Andrés' face with ease, for instance, and the individual strands of fur on Vivo.
The Audio
The English DTS-HD Master Audio 5.1 (the film is available with Atmos on streaming platforms including Netflix) is a very balanced and dynamic one that bests the Atmos mix from Netflix in the fullness, clarity, and dynamic range. There is a blend of wet atmospherics and solid sound effects placed around the room in the surround channels. The dialogue, vocals, and music are effectively presented with natural fullness and clarity.
The Supplements
With the slim pickings here, Sony does provide a 'sing along' version of the film and a remix lyric video of "My Own Drum." The brief Behind the Animation featurette offers some cool if brief insight into the animation process.
DVD
Movies Anywhere Digital Code
Sing Along Edition
My Own Drum (Remix) Lyric Video (1080p; 00:02:59)
Behind the Animation (1080p; 00:03:57)
The Final Assessment
Family fun, gorgeous animation, and memorable songs make this a solid animated feature and a top-notch Blu-ray release. Recommended.
Vivo is out on Blu-ray Combo August 9, 2022 from Sony Pictures Home Entertainment
---
Rating Certificate: PG (for some thematic elements and mild action)
Studios & Distributors: COLUMBIA a Sony Company | Sony Pictures Animation | Sony Pictures Home Entertainment
Directors: Kirk DeMicco | Brandon Jeffords
Written By: Kirk DeMicco (screenplay by) | Quiara Alegría Hudes (screenplay by) | Peter Barsocchini (story by)
Run Time: 95 Mins.
Street Date: 9 August 2022
Aspect Ratio: 2.40:1
Video Format: AVC 1080p
Primary Audio: English DTS-HD MA 5.1
Secondary Audio: English Audio Descriptive Services | French DTS-HD MA 5.1 | Portuguese DTS-HD MA 5.1 | Spanish DD 5.1
Subtitles: English | English SDH | Chinese Simplified | Chinese Traditional | French | Korean | Portuguese | Spanish | Thai