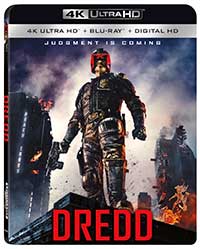 This 2012 film from director Pete Travis and screenwriter Alex Garland is the second time the iconic 2000 A.D. comic book character Judge Dredd was brought to the big screen. 1995's camp-filled Judge Dredd starred Sylvester Stallone and was so forgettable that I literally forgot it existed and had actually seen it until I began researching this film to start my review of it. Dredd sought to bring the character back to its gritty roots with Karl Urban donning the helmet of the violent lawman with good effect and cinematographer Anthony Dod Mantle to add that grimy blood-soaked, post-apocalyptic look reminiscent of Blade Runner. So far, so good. The problem is, the story falls flat after only a short while into.
In a future world poisoned by radiation, new mega structures have been built up over the ruins of the old civilization, forming Mega City One, stretching across the entire Northeast from Boston to Washington, D.C. In the face of extraordinary amounts of crime that the government is overwhelmed with, they have given a militarized police force the powers to be judge, jury, and executioner. They are called "judges". The most infamous and feared judge is Judge Dredd (Urban). With a new drug on the streets called "slo-mo" that slows down people's perception of time, Dredd is sent out with a new psychic rookie, Judge Cassandra Anderson (Olivia Thirlby), to investigate the murder of three people at one particularly dangerous mega structure called Peach Trees that is under the rule of a ruthless drug lord named Ma-Ma (Lena Headey). The pair soon find themselves locked into the 200 story structure and under attack by all of Ma-Ma's minions with no way to get out or call for backup.
Urban wears the costume well and plays the part of the cold-hearted executioner ready to dole out death flawlessly. Thirlby's unsure rookie who learns on the job is a perfect antidote to Urban's overdose of testosterone an the two make an excellent pairing on screen. The good stops there, however, and the screenplay from Alex Garland, who is normally good (Ex Machina, Sunshine) breaks down into camp. Headey's Ma-Ma is less scary than she is ripped from the pages of every cliché villain manual one could think of, if there are such things. Scar – check. Ruthless – check. Dumb monologues – check. The illogic of the film is such that, the entire building of Peach Trees is locked down to kill these two judges, people are slaughtered, Ma-Ma tears open a hole in the side of her own building trying to kill them and then later on we find she has several Judges on her payroll she could have called in to kill them avoiding a lot of trouble in the first place.
There's a lot of great action and visual effects in Dredd to be sure. The slo-mo drug effect, which is superb at first, but is then overused. The multi-ammo guns the Judges use and the cavernous Peach Trees offers an endless maze of fighting grounds, but Judge Dredd might have been better off down in the mean streets doling out justice and not locked inside with one not-so-smart villain and a story that is a razor-thin excuse for showing off special effects.
The Video
Dredd was shot in 4.5K on a Red One MX and comes to Ultra HD in an HEVC encodement with HDR10 high dynamic range. The film has obviously had artificial "grain" added to it because it tends to look quite gritty at times. This grain looks natural, but it can also be a little distracting especially in the extra crisp world of 4K. That said, this transfer looks great in terms of the HDR and wide color gamut. The highlights really pop and colors explode from the screen. When Ma-Ma starts firing off that mega-gun to blast through the walls of Peach Trees and kill Judge Dredd and Anderson, the bullets flying glow so brightly thanks to the HDR and the extended color range. The slo-mo drug effects like water droplets or shards of glass in the final scene really sparkle as well. In comparison to the companion release from Lionsgate of Ex Machina, this one definitely is definitely much more of an obvious upgrade from the Blu-ray in a visual sense.
The Audio
Dredd has always had an aggressive and nicely done sound mix on home video. The original Blu-ray release came with a DTS-HD Master Audio 7.1 mix optimized for the then new Neo:X and that is what is still present on the Blu-ray included in this set. That is perfectly acceptable for those with 9.1 or 11.1 non-discrete setups, such as I had before moving to Atmos/DTS:X. The Ultra HD disc has a new Dolby Atmos mix, however. Questions of why Lionsgate went with Atmos rather than DTS:X aside, the Atmos mix is superb. It's atmospheric and immersive with active Atmos channels, excellent balance and clear dialogue. The low end is beefy for the numerous explosions and what not.
The Supplement
The special features are on both the Ultra HD and Blu-ray, but nothing new has been added to this re-release. They include a few brief featurettes on the film's production including set design the 3D (which is not included in this set) and the Judge Dredd comic book character as well.
Mega-City Masters: 35 Years of Judge Dredd (1.78:1; 1080p/24; 00:14:27)
Day of Chaos: The Visual Effects (1.78:1; 1080p/24; 00:15:21)
Dredd Featurette (2.40:1; 1080p/24; 00:01:53)
Dredd's Gear (2.40:1; 1080p/24; 00:02:31)
The 3rd Dimension (2.40:1; 1080p/24; 00:02:00)
Welcome to Peachtrees (2.40:1; 1080p/24; 00:02:33)
Dredd Motion Comic Prequel (1.78:1; 1080p/24; 00:02:57)
Theatrical Trailer (2.40:1; 1080p/24; 00:02:30)
The Final Assessment
While Dredd is certainly excellent popcorn entertainment and a solid 4K Ultra HD release that works to show off your display and sound system, it hardly qualifies as memorable. Too bad Judge Dredd has yet to come to the big screen in a strong adaptation like other comic book characters. Maybe it will happen someday.
[amazon_auto_links id="100719"]
R (for strong bloody violence, language, drug use and some sexual content)
Rating Certificate
Reliance Entertainment | IM Global | DNA Films | Peach Trees | Reliance Big Pictures | Rena Films | Lionsgate
Studios & Distributors
John Wagner (characters) | Carlos Ezquerra (characters) | Alex Garland (screenplay)
Writer
HEVC (H.265) 2160p w/ HDR10 | AVC 1080p (Blu-ray))
Video
1000 Nits
Maximum Luminance
English Dolby Atmos (Dolby TrueHD 7.1 Compatible)
Primary Audio
English DTS-HD MAster Audio 7.1 (DTS Neo:X Encoded Blu-ray Only) | | English DD 2.0 Optimized for Late Night Listening | Spanish DD 5.1
Secondary Audio
English | English SDH | Spanish
Subtitles
HDR Effect (If Applicable)
Summary
This gritty cinematic reboot of Judge Dredd gets the feeling and atmosphere of this iconic comic book character right, but the lack of a good story keeps it from being a memorable film. The 4K Ultra HD disc is an excellent transfer with superb HDR10 high dynamic range and a well done immersive Atmos mix.
What people say... Login to rate
Be the first to leave a review.
Show more