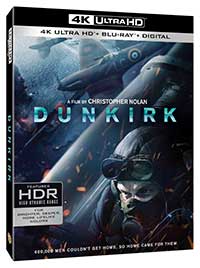 With Dunkirk, Christopher Nolan turns his attentions from superheroes and sci-fi thrillers with mind-bending twists to historical fiction, telling the epic, based on real events story of the allied Belgian, French, and British forces in World War II cut off by German forces in Dunkirk, France and in desperate need of evacuation during the battle for France.
Through the eyes of fictional characters, Nolan's story tells of the grit of the hundreds of thousands of soldiers who had to defend against the German forces over the course of a two weeks from May to June of 1940. The film is rife with epic wartime battles, dogfights in the air, bombings of the allied sea forces, explosions, and desperate soldiers adrift and sea.
Nolan's storytelling characteristics don't work all too well for Dunkirk, as he cuts back and forth between flashback and present, tranquility and chaos a bit too much, making the narrative all too confusing. He also seems to have had a major lapse in historical memory, completely overlooking the sacrifice of the Belgian and French forces for an Anglo-centric retelling of the events at Dunkirk, ironic given the geographic setting.
From a visual and aural standpoint, the film holds up against the best of the modern war epics like Saving Private Ryan thanks to brilliant visual effects and the magnificent camera work of Hoyte Van Hoytema. Although Nolan is anti-immersive audio, the 5.1 mix is effective at putting one into the fray, even if this film is crying out for some overhead action that an Atmos or DTS:X mix could provide.
The Video
Dunkirk was shot on 65mm on IMAX MKIV cameras with Panavision Sphero 65 and Hasselblad lenses, IMAX MSM 9802 cameras with Panavision Sphero 65 and Hasselbladl lenses, Panavision 65 HR cameras with Panavision Sphero 65 lenses and Panavision Panaflex System 65 Studio cameras with Panavision Sphero 65 lenses. The 4K Ultra HD Blu-ray disc arrives in an HEVC 2160p (4K) encodement with HDR10 high dynamic range mastered to a maximum of 4000 nits and a minimum of 0.005 nits. The aspect ratio varies between 2.20:1 and 1.78:1. There's very little difference in image quality between the two varying aspect ratios although the 1.78:1 did seem to be very slightly grainier. The color palette for Dunkirk is desaturated, so there isn't a lot of 'pop' to be seen in the wide color gamut, however the HDR does shine with the fires and explosions, bullets flying through the air during dogfights and light glistening on he waves in the water, showing excellent highlights. Black levels are deep, sometimes too deep, but overall detail and clarity is superb.
The Audio
The packaging for Dunkirk lists this as having the "original theatrical audio mix". My guess is the Dolby Digital theatrical mix was used to create the DTS-HD Master Audio 5.1 mix that is provided on this release. It's a shame that Nolan is so much against the new audio formats, because this film is crying out for an immersive mix with its myriad scenes of airplanes flying overhead, bombs falling, and more. The low end is staggering and dialogue is ineligible. Turning on DTS Neural:X actually yields pretty good results if you're looking for an artificial immersive experience as well.
The Supplements
The special features for this set are handled on a separate special features Blu-ray Disc that rally houses one nearly two-hour long, in-depth making of documentary and one other "coast guard" promo. Do watch the documentary, it's a good one. A standard Blu-ray with the main feature and Digital HD are also included.
Digital HD
Blu-ray with Feature Film
Special Features Blu-ray Disc:

Making Of Documentary (1.78:1; 1080p/24; 01:49:46)
Coast Guard Promo
The Final Assessment
Dunkirk is an epic spectacle of a film that is only hindered by some less than perfect storytelling and cliché plot devices. As a home theater release, it is wholly satisfying, however, in this Ultra HD release from Warner.
Dunkirk is out now on 4K Ultra HD Combo Pack and Blu-ray Combo Pack from Warner Bros.
[amazon_auto_links id="107629"]
PG-13 (for intense war experience and some language)
Rating Certificate
Syncopy | Warner Bros. | Dombey Street Productions | Kaap Holland Film | Canal+ | Ciné+ | RatPac-Dune Entertainment | Warner Home Video
Studios & Distributors
Christopher Nolan
Director
$44.95
MSRP
Varying 2.20:1/1.78:1
Aspect Ratio
HEVC (H.265) 2160p (4K) | AVC 1080p (Blu-ray)
Video
4000 Nits
Maximum Luminance
0.005 Nits
Minimum Luminance
English DTS-HD MA 5.1
Primary Audio
English Descriptive Audio | French | German | Spanish (Castilian & Latino) | Portuguese
Secondary Audio
English SDH | French | German SDH | Spanish (Castilian & Latino) | Portuguese
Subtitles
HDR Effect (If Applicable)
Summary
English, French, and Belgian allied forces stranded at Dunkirk, France early in the early days of World War II must beat back German forces while awaiting evacuation in this visually stunning, but somewhat confusing to watch Christopher Nolan epic that is a treat on 4K Ultra HD.
What people say... Login to rate
Be the first to leave a review.
Show more