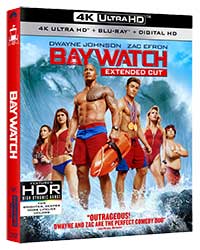 Baywatch (available on 4K Ultra HD Blu-ray August 29, 2017 from Paramount) was an icon of 1990s trash television that was basically a vehicle for attractive putting attractive women in swimsuits and letting them run around under the premise of patrolling a beach as if they were law enforcement. Some of the breakout stars of the series were Playmate Pamela Anderson and Yasmine Bleeth. David Hasselhoff of Knight Rider fame also starred, making it his second guilty pleasure unlikely breakout hit.  What is one to do with one of these silly TV series in the vein of CHiPs or 21 Jump Street when bringing it to the big screen? Why, make it even more ridiculous, of course.
Director Seth Gordon, his team of writers, and the admittedly strong cast of actors, never take this film seriously. From the opening act we are aware that all parties involved are going to play around with being in a movie based on one of the silliest TV shows to ever hit American television. All business lifeguard Mitch Buchannon (Dwayne Johnson), a sort of drill sergeant of lifeguards, takes his job way beyond the bounds of general lifeguard duty into the realms of the Coast Guard and the local PD while butting heads with the brash new slacker who joins the team, Matt Brody (Zac Efron). Even so, we get tongue-in-cheek jokes about certain blonde lifeguards seemingly always appearing to run in slow-motion (Kelly Rohrbach in the Pamela Anderson role of CJ Parker) — a frequent visual effect employed on the original TV series – plenty of jokes about bouncing boobs, and at least one boner stuck in a beach chair gag courtesy of Jon Bass.
The crux of the story in the film is that the team of lifeguards is meant to be uncovering a drug smuggling ring run by new beachfront country club owner Victoria Leeds (a perfectly camp Priyanka Chopra, TV's Quantico). The story takes a backseat to the crude humor, the obvious fun the cast his having, and the admittedly enticing visual settings. As a film, there isn't really much to like outside of the good performances by the cast. This is completely brain-dead, popcorn moviemaking that will be forgotten as soon as the credits start to role.
David Hasselhoff and Pamela Anderson both make cameo appearances.
The Video
Baywatch was filmed in HD in the anamorphic format on an Arri Alexa XT Plus with Panavision G-Series, ATZ and AWZ2 lenses. Dolby Vision high dynamic was applied, but it arrives on 4K Ultra HD Blu-ray in an HEVC 2160p encodement with the HDR10 high dynamic range format; the film is framed at 2.35:1. Detail is crisp and colors look gorgeous. The HDR doesn't really standout much given this is ultimately a comedy set in the sunlit beaches of California, but it is bright and closer to reality, which is where the HDR does come into play. Looking directly into the sun in the background can sometimes hurt one's eyes. The wider range of colors is also a strength that can be seen in the sky, delineation of clouds and ocean waves. The action set pieces like a fire on a yacht bring more attention to the HDR and wide color gamut, making hot, orange flames 'pop' with a variety of colors in a way they don't on the Blu-ray. The final act, set at night, offers up a dazzling display of highlights via explosions, fireworks, glimmering of lights on the surface of the dark seawater and more.
The Audio
The Dolby Atmos mix included on the 4K Ultra HD Blu-ray is nothing very special. While the addition of the overhead channels does make the ambience, especially for the musical soundtrack and some of the sound effects in the action scenes, more spacious and immersive, this mix tends to get a bit dry and front-heavy most of the time.
The Supplements
The 4K Ultra HD Blu-ray release of Baywatch comes with a limited selection of special features on the included Blu-ray Disc. None of them are must-watch quality and mostly fall into the usual self-congratulatory, lighthearted, and light on detail, EPK-style of featurette with interview segments. There are several extended and deleted scenes included as well.
Digital HD UltraViolet & iTunes Digital HD Digital Copy
Blu-ray with feature film in HD and special features
Meet the Lifeguards (1.78:1; 1080p/24; 00:21:36)
Continuing the Legacy (1.78:1; 1080p/24; 00:09:27)
Stunts & Training (1.78:1; 1080p/24; 00:09:09)
Deleted & Extended Scenes (1.78:1; 1080p/24; 00:10:06):

CJ Messes with Stephanie
Coffee and Doughnuts
Where Could I Score?
Bathroom Misunderstanding
Directions to the Morgue
Brody and Captain Thorpe
The Final Assessment
Baywatch is a silly movie with nothing going for it outside of its strong cast that is having obvious fun delivering their lines and pulling off their gags. Word is there is a sequel in the works for this, but I don't see why one would be necessary. That said, if you really want to own it, you can't go wrong with the quality of this 4K Ultra HD Blu-ray release.
Baywatch (2017) is available on 4K Ultra HD Blu-ray from Paramount August 29, 2017.
[amazon_auto_links id="103722"]
R (for language throughout, crude sexual content, and graphic nudity) (Theatrical) | Unrated (Extended)
Rating Certificate
Paramount Pictures | Uncharted | Shanghai Film Group | Huahua Media | Flynn Picture Company | Fremantle Productions | The Montecito Picture Company | Seven Bucks Productions | Skydance Media | Paramount Home Media Distribution
Studios & Distributors
Michael Berk (based on the series
Writer
116 Mins. (Theatrical) | 121 Mins. (Extended)
Run Time
$48.99
MSRP
HEVC (H.265) 2160p | AVC 1080p (Blu-ray)
Video
1000 Nits
Maximum Luminance
English Dolby Atmos (Dolby TrueHD 7.1 Compatible)
Primary Audio
English Audio Description| French DD 5.1 | Portuguese DD 5.1 | Spanish DD 5.1
Secondary Audio
English | English SDH | French | Portuguese | Spanish
Subtitles
HDR Effect (If Applicable)
Summary
A raunchy update to the '90s guilty pleasure TV series is good only for the relaxed and fun performance of its cast and eye-catching locales. The 4K Ultra HD Blu-ray is as good as it gets for an action/comedy.
What people say... Login to rate
Be the first to leave a review.
Show more