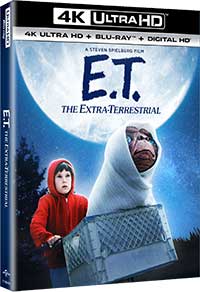 In 1982 director Steven Spielberg released was arguably his most timeless and influential film of his career – E.T.: The Extra-Terrestrial. The '80s sci-fi adventure classic, being reissued by Universal on 4K Ultra HD Blu-ray, is both a coming of age story and a look in on that time in childhood that everyone goes through when one is not quite removed from everything childish and no longer a baby, but not quite a member of the adult world. Spielberg gives us a look or, perhaps a passage back into this world through the eyes of Elliot (played by Henry Thomas, Gangs of New York, 11:14).
Elliot, a boy we'd probably call a "tween" today, lives at home with his recently separated mother Mary (Dee Wallace), his older brother Michael (Robert MacNaughton) and his younger sister Gertie (a very young Drew Barrymore in only her second film role, Santa Clarita Diet, Family Guy). Suffering typical middle-child-itis, Elliot is often left out or flat out ignored when other kids, mostly his brother's friends, kids come over to play, therefore Elliot has built up a world of his own. That is why when, one night when Elliot believes he hears a strange noise coming from the woods he believes to be a goblin, no one believes him. It turns out, Elliot was correct, that goblin was an alien researcher left behind on expedition by his spaceship and Elliot takes the strange-looking creature into his home, carefully keeping it hidden from his mother. It isn't long before his siblings Michael and Gertie are in on the secret, however.
Elliot begins to form a psychic connection with the now-dubbed 'E.T.' who can communicate his emotions through the youngster telepathically. Soon all of the siblings are trying to help E.T. find his way back home after he builds himself a crude communications device one day when he is at home alone cobbled together from whatever he can find including a lantern battery, an umbrella, and a Speak-n-Spell. But the siblings must hurry, because the government are also after E.T. who starts to get ill, and no one knows if E.T.'s 'people' will return in time to save him or if the government agents will ultimately prevail.
Spielberg's film, in contrast to his previous sci-fi effort Close Encounters of the Third Kind, leaves little to the imagination about whether the aliens here are good or bad. E.T. is one of the least threatening aliens ever to grace the big screen and there is no anxiety or adulthood dithering in E.T. through Elliot's eyes, we know that everything will be okay, that the world should be good and that it is adulthood that steals the innocence away.
As successful as Spielberg has been at the box office with smash hits like Jaws, Close Encounters of the Third Kind, Raiders of the Lost Ark, and in later years, Saving Private Ryan, it is arguably E.T. that has been the most successful culturally, influencing many contemporary sci-fi works in a direct or meta way, such as films like Super 8 (produced by Spielberg) or the recent Netflix Original series hit Stranger Things.
The Video
E.T. was shot in 1981 on 35mm film with Panavision cameras and over 35-years later, all I can say is, wow! This brand new 4K Ultra HD Blu-ray release from Universal is splendid. Arriving in an HEVC 2160p (4K) encodement with HDR10 HDR, one can safely say E.T. has never looked better. It is downright stunning from the opening scene and never really lets up after that. The dynamic contrast of HDR makes the highlights really 'pop', so we see the headlights of cars in the dark forests peering through shadowy branches. The breathtaking amber glitter of the cityscape in the valley and the iconic image of Elliot and E.T. on the bicycle silhouetted by the moon against a midnight blue sky is stunning. On the accompanying Blu-ray, the sky looks so deep blue with piercing diamond stars. In comparison, the also brilliant Blu-ray, surprisingly, causes the sky to look less realistic, even though the detail and color, due to the lack of the wider color gamut, isn't as vivid.
The Audio
E.T. on 4K Ultra HD Blu-ray gets a new DTS:X mix that is backwards compatible with DTS-HD Master Audio 7.1. The original theatrical sound is also included in English DTS Digital Surround 2.0. The DTS:X is one of the least aggressive so-called 'immersive' mixes I have heard on home video to date. Rather than emphasize discrete sound effects placed around the room (there are only occasional spots of this such as a spaceship flying overhead early in the film, or a car engine that rumbles far off to the left side), it opens the space up for John Williams' excellent film score, which sounds beautiful and expansive in this new mix. The dialogue is also punchy and clean.
The Supplements
While this standard edition (there's a limited edition release as well with additional extras) 4K Ultra HD release of E.T. is labeled as having "over 3 hours of bonus features", many of the special features are rehashed archival featurettes in standard definition, most from the 20th anniversary home video release and theatrical premiere. That doesn't mean that they aren't a welcome inclusion. The more contemporary features in HD also provide lots of interviews with Spielberg, although he does rehash a lot of the information from previous interviews about his thought process and inspiration for creating and directing E.T.
Blu-ray with feature film and special features
Digital HD UltraViolet + iTunes Digital HD Digital Copy
Deleted Scenes (1.85:1; 1080p/24; 00:03:40) – These deleted scenes are brief, but they do include more heartwarming interactions between Elliot and E.T.
Steven Spielberg & T. (1.78:1; 1080p/24; 00:12:31) – The director discusses how and when his inspiration for E.T. struck in this contemporary interview.
The T. Journals (1.78:1; 1080i/60; 00:53:38) — This documentary is composed of original behind-the-scenes footage shot during the 1981 production of E.T. and follows the order of the scenes as they appear in the film.
A Look Back (1.33:1; SD; 00:37:43) – This archival featurette includes behind-the-scenes footage of the 1981 production of T. interwoven with an interview with director Steven Spielberg speaking about his inspiration for the film, as well as appearances from other cast and crew.
The Evolution and Creation of T. (1.33:1; SD; 00:50:16) — Another archival featurette with interview segments with the director and behind-the-scenes footage of the production.
The T. Reunion (1.33:1; SD; 00:17:56) – This archival featurette reunites the cast, crew, and director in the 20th Anniversary of the film.
The Music of T.: A Discussion with John Williams (1.33:1; SD; 00:10:04) – The famous film composer discusses working on the score for E.T. in this archival featurette.
The Final Assessment
A coming of age sci-fi family adventure that is filled with childhood wonder, action, and not an ounce of cynicism, E.T. is definitive 1980s blockbuster cinema now reborn on home video 35-years later in a stunning 4K Ultra HD Blu-ray restoration from Universal. Highly recommended!
E.T.: The Extra-Terrestrial is available on 4K Ultra HD + Blu-ray + Digital HD September 12, 2017 from Universal.
[amazon_auto_links id="104148"]
PG (for language and mild thematic elements)
Rating Certificate
Universal Pictures | Amblin Entertainment | Universal Pictures Home Entertainment (UPHE)
Studios & Distributors
$39.98
MSRP
HEVC (H.265) 2160p | AVC 1080p (Blu-ray)
Video
1000 Nits
Maximum Luminance
0.005 Nits
Minimum Luminance
English DTS:X
Primary Audio
English DTS-HD MA 7.1 (BD) | English DTS Digital Surround 2.0 (Original Theatrical Audio) | French DTS 5.1 | Spanish DTS 5.1 | Portuguese DTS 5.1 (UHD)
Secondary Audio
English SDH | French | Spanish (Latino) | Chinese (UHD Only) | Portuguese | Japanese (UHD Only)
Subtitles
HDR Effect (If Applicable)
Summary
A quintessential part of 1980s cinema, this heartfelt story of a boy who befriends an friendly alien and tries to help him return to his home planet looks glorious in its new, 35th anniversary 4K Ultra HD Blu-ray release from Universal.
What people say... Login to rate
Be the first to leave a review.
Show more