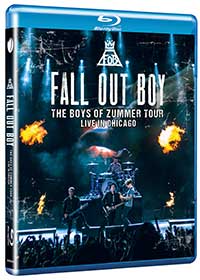 The members of Pop-punk outfit Fall Out Boy may have all gotten their starts in Chicago's underground hardcore punk scene, but as far as this band is concerned those days are long since behind them. You'd be hard pressed to find any link to band like X, The Dead Kennedys or The Blasters in the music of frequent Top 40 presence Fall Out Boy. The title of their latest studio effort American Beauty/American Psycho simultaneously alludes to the classic Grateful Dead album (and Oscar-winning film from the '90s) and the Christian Bale crime drama from 2000, possibly a wink and a nod to the band's double identity as poseurs extraordinaire on the so-called punk scene. This live date in Chicago, a 17-song set complete with flashing video walls — that hearkens back to U2 at their grandest moments on the Achtung Baby! era Zoo TV tour – and appearance by Wiz Khalifa is a rock band that seems comfortable at last with their very commercial success. Hits like "Uma Thurman", "Dance, Dance", "This Ain't a Scene, It's an Arms Race" and "Thanks Fr The Mmrs" stack  the hyperactive set making it a fans' delight, but can we please drop the "punk" from any description of this band once and for all and simply call them rock? A good concert for fans of this post-grunge genre.
The Video
The concert is supplied in an AVC 1080i encodement on Blu-ray from Eagle Rock entertainment. Detail isn't always as sharp as it could be, but given the quick pans, vertiginous editing, flashing stage lights and low light videography that highlights some video noise, this is a fine-looking concert video.
The Audio
The 5.1 DTS-HD Master Audio mix of this concert is big with lots of venue ambience in the surround channels and just a hint of crowd noise. The vocals come through clearly and instrumental separation is good, but given this is a rock concert, it's not the best on overall clarity and dynamics. It's meant to be loud and in your face and that it is. The LPCM 2.0 stereo mix is just a little more subdued, and probably little better balanced, but doesn't have that rock show feel.
The Supplements
There's a slim booklet with still images and credits included along with three music videos on disc.
Music Videos:

Centuries
Uma Thurman
Irresistible
The Final Assessment
If you're a fan of Fall Out Boy then you will love this non-stop party of hit singles.
Fall Out Boy: The Boys of Zummer Tour — Live in Chicago (TheaterByte Blu-ray Review)
Eagle Rock Entertainment
Studios & Distributors
$19.98
MSRP
LPCM 2.0 Stereo
Secondary Audio
Summary
This is one for Fall Out Boy fans who like their brand of high energy rock. The show is packed with their hits and the imagery is hyperactive.
What people say... Login to rate
Be the first to leave a review.
Show more