Aspect Ratio: 1.78:1

Video Codec: AVC/MPEG-4 (2D); MVC (3D)

Resolution: 1080p/24 (23.976Hz)

Audio Codec: English Dolby TrueHD 7.1 (48kHz/24-bit), English Descriptive Video Service Dolby Digital 2.0, English Dolby Digital 5.1 EX, French (Québecois) & Spanish Dolby Digital 5.1 EX

Subtitles: English, English SDH, French, Spanish

Subtitles Color: White

Region: ABC (Region-Free)

Rating: G

Run Time: 100 Mins.

Discs: 5 (1 x Blu-ray 3D + 2 x Blu-ray + 1 x DVD + 1 x Digital Copy)
Digital Copies: iTunes Digital Copy

Studio: Walt Disney Video

Blu-ray Release Date: December 4, 2012

List Price: $49.99
–
Overall
[Rating:4.5/5]
The Film
[Rating:5/5]
Video Quality
HD: [Rating:5/5]
3D Effect: [Rating:4.5/5]
Audio Quality
[Rating:5/5]
Supplemental Materials
[Rating:4/5]
Click thumbnails for high-resolution 1920X1080p screen captures
(All TheaterByte screen captures are lightly compressed with lossy JPEG at 100% quality setting and are meant as a general representation of the content. They do not fully reveal the capabilities of the Blu-ray format)
–
The Film
[Rating:5/5]
Finding Nemo is the little clown fish that could from the digital animation studio that just couldn't fail – up to that point, at least. Writer/director Andrew Stanton's (John Carter; Wall-E) film was expected to be Pixar's first flop. In fact, that wouldn't come until much later with Cars 2, but I digress. The studio was also working on the much more glamorous The Incredibles at the time. This quiet little film about two clown fish set almost enteirely underwater didn't seem to be picking up much traction, and was even falling into a little bit of disarray. In came co-director Lee Unkrich and screenwriter Bob Peterson to help tidy things up a little bit, and Nemo was quickly back in shape. In fact, what Pixar had on their hands was a marvel that worked on so many different levels. It's a truly innovative classic that would help define the studio and, later, would fit right in to the tradition of Disney animated filmmaking.
Firstly, the animation was groundbreaking. Working with water in digital animation was and remains no easy feat, and the animators at Pixar managed to design a wholly believable, immersive underwater world with vibrant colors, smooth movements, and life-like underwater creatures. And that's the easy part! To get humans to care about two fish must have proven difficult, as evidenced by the issues with the script writing and direction. Very early on in the story, however, we are already captivated by the relationship between father and son when we witness the tragic death of the clown fish Marlin's (Albert Brooks) wife Coral (Elizabeth Perkins) trying to rescue their unborn eggs from a barracuda. Later, see Marlin clutching the sole surviving egg, slightly cracked, but still alive, in his fin and promising to care for it forever. So, when we see Nemo (Alexander Gould; TV's Weeds) older, we know why Marlin is an overbearing dad who drives the youngster away and causes him to do something reckless, getting himself caught by humans. The film's two journeys are ingenious, Marlin's journey to find and rescue his son Nemo and Nemo's coming of age story in his fish tank with a strange set of pet fish. Ellen DeGeneres plays her role wonderfully as Dory, Marlin's absentminded travel companion while Brooks is both classically funny and curmudgeonly.
Making this film one of the greatest of the Pixar catalogue is the perfect storm of story and technical achievement. A father's dangerous journey to help his son at all costs, a son who realizes how much he loves his father, and the miraculous imagery that helps to tell it all and make us fall in love with two clown fish and their underwater friends. Other films have come and gone from Pixar in the intervening years, but like Disney's Bambi or Snow White, if Pixar ever has a list of "Pixar's Classics" this one may well enter among the first class.
Video Quality
HD: [Rating:5/5]
3D Effect: [Rating:4.5/5]
Finding Nemo was obviously not originally released in stereoscopic 3D, so a nine-month-long conversion was undertaken on the CG-animated film to make it a 3D film. Unlike live action films converted after the fact, however, this is a much more satisfying process being that everything is already digital, and all of the original elements are at the filmmakers' beck and call. Therefore, converting the 2D CGI elements is really just like re-shooting the entire film all over again, but this time in 3D. Pixar re-rendered all of the original files at a higher resolution than the original for each eye and added the 3D "camera" effects. The ending result is a fantastic underwater experience that may just as well have been an original 3D production. The early scene with Mr. Ray's school is colorful and full of space and depth. Other scenes, such as the one with Marlin, Dory, and the jellyfish, are breathtaking as well. Just in case you were wondering how Nemo looks in plain ol' 2D, it's still fantastic and far better than the original DVD release.
Audio Quality
[Rating:5/5]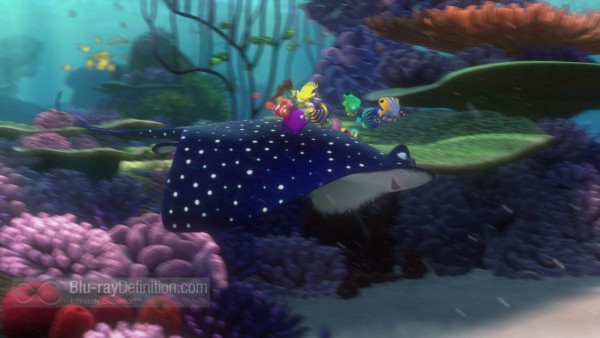 A new Dolby TrueHD 7.1 mix is included on the Blu-ray 3D and Blu-ray of Finding Nemo. It's just as fantastic as the image quality on the disc, filled with both subtle and bombastic sound effects. It has a wide dynamic range and tight, extended low frequencies that will really make you leap from your seat when the shark, Bruce, first lets out his name with a guttural growl or when the whale shoots water from his blow hole. Sounds move around the room frequently sounding quite natural and balanced.
Supplemental Materials
[Rating:4/5]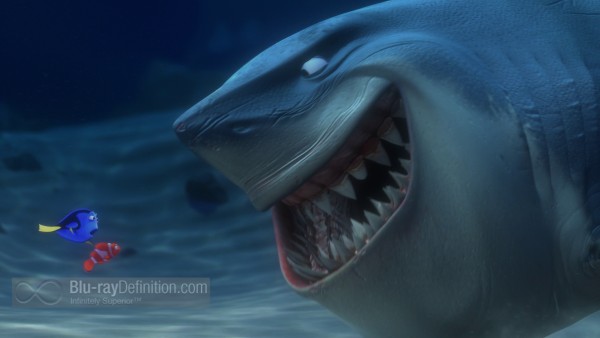 This collection is packed with bonus materials, both new and old. The aquariums have been converted to 3D on the 3D disc and a new HD roundtable brings the Nemo filmmakers back together to discuss their work on the film. The set also includes the classic DVD featurettes in standard definition on the bonus Blu-ray Disc.
The supplements:
Blu-ray 3D:
Aquariums (1.78:1; MPEG-4/MVC 3D):

Anemone
Drop Off
Jellyfish
Plate Coral
Reef
Sandy Reef
School of Fish
Blu-ray 2D:
Knick Knack Theatrical Short (1.85:1; 1080p/24; 00:03:37)
Aquarium (1.78:1; 1080p/24)
Cine-Explore – Picture-in-Picture filmmakers' commentary
Finding Nemo – A Filmmakers' Roundtable (1.78:1; 1080p/24; 00:17:37) – The filmmakers reunite for a new roundtable and reminisce on their time working on the film.
Reinventing the Submarine Voyage (1.78:1; 1080p/24; 00:15:05) – The submarine voyage at Disneyland updated for Finding Nemo.
Deleted Scene: Alt Opening (1.78:1; 1080p/24; 00:03:04)
A Lesson in Flashbacks (1.78:1; 1080p/24; 00:08:00)
Bonus Disc (Blu-ray):
Aquariums (1.78:1; 1080p/24):

Anemone
Jellyfish
Plate Coral
Reef
Sandy Reef
School of Fish

Art Review (1.78:1; 1080p/24; 00:08:38) – A look at some pre-production artwork from Finding Nemo.
Making Nemo (1.33:1; SD; 00:25:35) – Original release "making of" featurette.
Exploring the Reef (1.33:1; SD; 00:07:01) – Jean-Michel Cousteau takes us on a journey through the coral reef.
Studio Tour (1.33:1; SD; 00:05:24) – The young actor Alexander Gould (Nemo) goes on a tour of the studio to find how Nemo comes to life on the big screen.
Old School:

El Capitan Pitch Selects (1.33:1; SD; 00:00:52)
School Progression (1.33:1; SD; 00:00:38)
MA Reference (1.33:1; SD; 00:00:53)
Whale Mouth (1.33:1; SD; 00:02:19)
International Mine (1.33:1; SD; 00:00:22)
Pelican Animation (1.33:1; SD; 00:00:52)
Glenn McQueen Tribute (1.33:1; SD; 00:02:46)
Aquascum 2003 (1.33:1; SD; 00:00:32)

Outtakes:

Chickenfish (1.33:1; SD; 00;00:28)
Dory Muttering (1.33:1; SD; 00:00:27)
Rove McManus (1.33:1; SD; 00:00:18)
Albert Brooks Punch Lines (1.33:1; SD; 00:00:20)

Deleted Scenes:

Crush the Hippie (1.33:1; SD; 00:01:10)
Shark Volleyball (1.33:1; SD; 00:00:51)
Frantic Dad (1.33:1; SD; 00:00:26)
Scent of Lavender (1.33:1; SD; 00:00:23)
Sewage (1.33:1; SD; 00:00:30)
Prologue Bedtime Story (1.33:1; SD; 00:00:56)
Soap Opera/Gil Lies (1.33:1; SD; 00:01:11)

Publicity Pieces (1.33:1; SD):

Teaser Trailer
Trailer 1
Trailer 2
Trailer 3

Fishy Facts – Bruce, Crush & Nigel
ABC Stunts – Guess, Pipe, Scatter
DVD Stunts – Mammals, Staring, Tickles, Trapped
Mr. Ray's Encyclopedia – Learn about the different creatures that appear in Finding Nemo in this interactive "encyclopedia."
Additional:
DVD
Digital Copy — iTunes Digital Copy
The Definitive Word
Overall:
[Rating:4.5/5]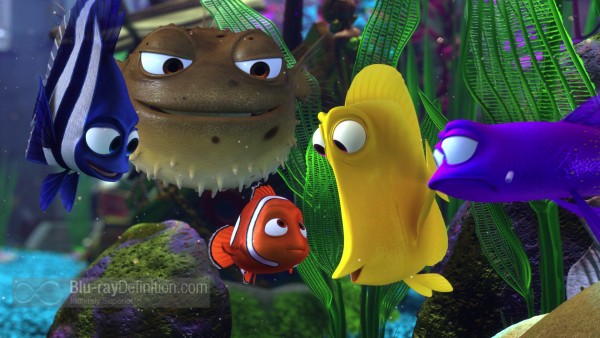 Nearly ten-years have passed since Finding Nemo first hit the big screen and it looks just as innovative today in 3D as it did back then on the 2D plain. Technology aside, it is the story that really makes this one a winner, and I don't know that the studio has ever crafted one as good as this since.
Additional Screen Captures
[amazon-product]B00867GK26[/amazon-product]
[amazon-product]B00867GJYK[/amazon-product]
[amazon-product]B00867GHS8[/amazon-product]
Purchase Finding Nemo on Blu-ray 3D Combo Pack at CD Universe
Shop for more Blu-ray titles at Amazon.com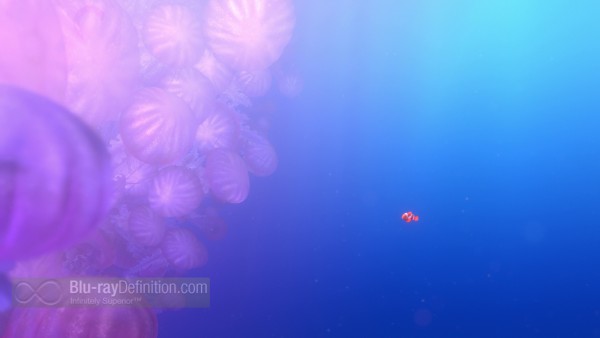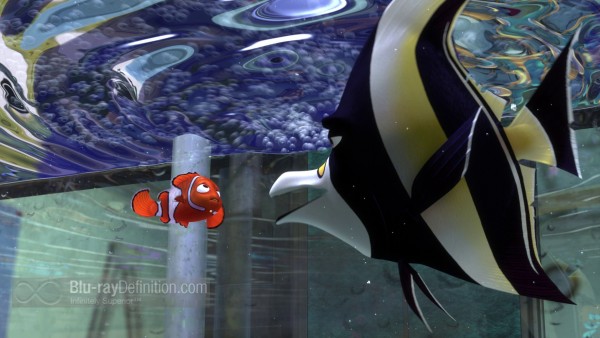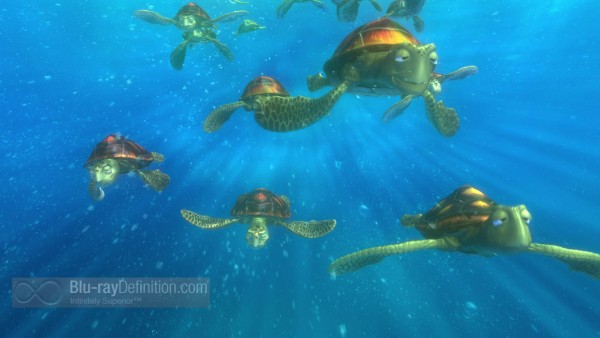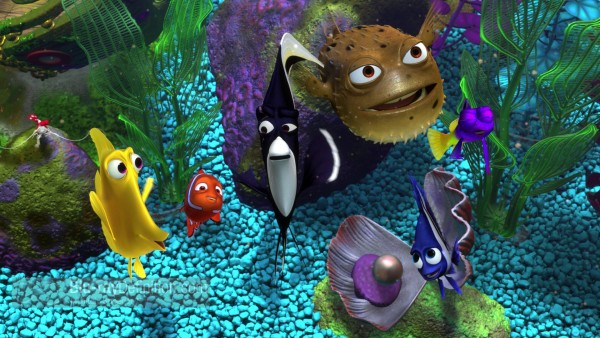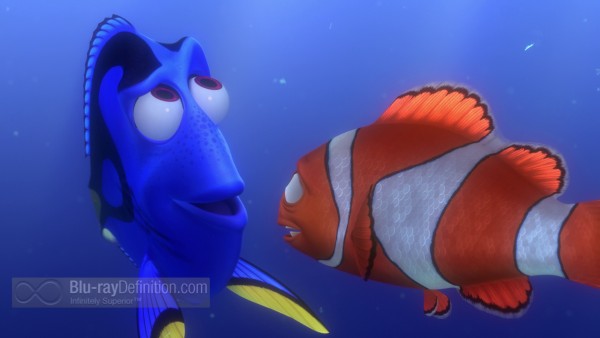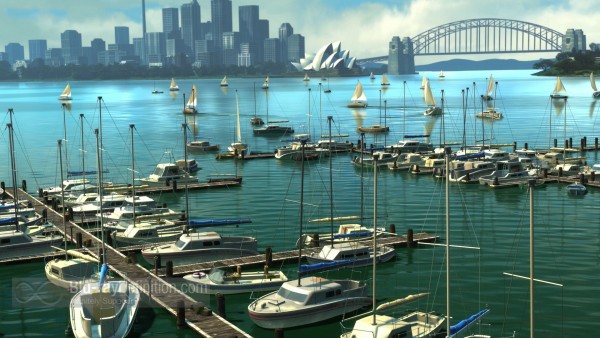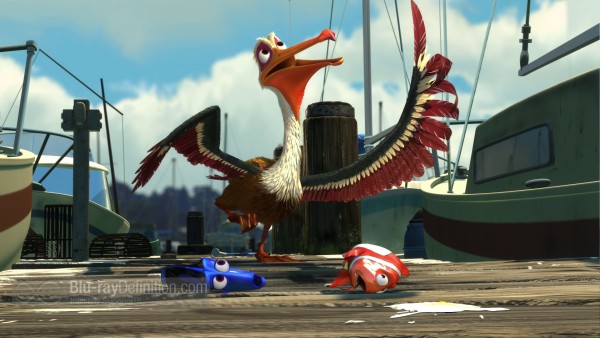 –
[amazon-product]B00867GK26[/amazon-product]
[amazon-product]B00867GJYK[/amazon-product]
[amazon-product]B00867GHS8[/amazon-product]
Purchase Finding Nemo on Blu-ray 3D Combo Pack at CD Universe
Shop for more Blu-ray titles at Amazon.com
Overall
[Rating:4.5/5]
The Film
[Rating:5/5]
Video Quality
HD: [Rating:5/5]
3D Effect: [Rating:4.5/5]
Audio Quality
[Rating:5/5]
Supplemental Materials
[Rating:4/5]
–