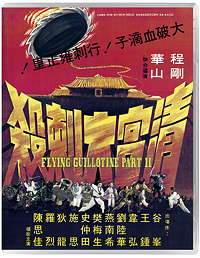 Flying Guillotine Part II AKA Palace Carnage is the 1978 follow-up to The Master of the Flying Guillotine. Directed by Cheng Kang and Hua Shan and produced by Run Run Shaw, the film is an action-packed, visceral dive into weapons grade carnage and intrigue.
The Qing emperor Yung Cheng (Ku Feng) is continuing his reign of terror and is even more brutal, especially against the Han people. Backed by the might if his terrifying flying guillotine weapons, the emperor seems unstoppable until the skilled rebel fighter Ma Teng (Ti Lung) discovers a simple method to thwart the weapons. The emperor is forced to have an even more brutal version of the guillotine invented which he puts under the control of a group of fierce female warriors. Meanwhile, the leader of the female squad is herself working to bring down the emperor, pitting her against her own family interests.
Flying Guillotine 2 is a magnificent exercise in mayhem and carnage that has a foundation of palace intrigue and visually stunning costumes and sets to keep it interesting. Cheng Kang's use of unusual camera techniques like low angles or in one scene shooting through a veil helps to make the film even more interesting than many of these genre films. Even so, it is still the gore and carnage driven by the relentless martial arts that makes this film entertaining. The choreography is top notch, despite the ridiculousness of the flying guillotine as a weapon, which is difficult to get past.
Flying Guillotine 2 (1978)
The Video
Flying Guillotine 2 comes from an HD transfer from the original negative and is framed at its original aspect ratio of 2.35:1. It comes to Blu-ray in an AVC 1080p encodement. Generally, this is a satisfying transfer that delivers rich colors, especially in the primaries like reds and yellows that 'pop' nicely. The other portions of the transfer also look good, like the inky blacks in shadows without issues with crush. Despite the fact that grain could be resolved a bit better, there is still excellent detail in this transfer. Close-ups show lots of texture in the clothing and details on faces.
The Audio
The original Mandarin mono and English dub mono mixes are included in DTS-HD Master Audio 2.0. The audio mix for the Mandarin sounds good for a 1978 kung fu film offering up a little more low-end on the sound effects and goof clarity in dialogue without excessive harshness or clipping.
The Supplements
88 Films offers Flying Guillotine 2 in a gorgeous package with new artwork from Kung Fu Bob along with a wonderfully conversational and informative audio commentary from Mike Leeder and Arne Venema. See below for more information on what is included.
Slipcase with brand new artwork by R.P. "Kung Fu Bob" O'Brien
Collector's Booklet notes by Barry Forshaw
Double-Sided Foldout Poster
Reversible Sleeve featuring original Hong Kong poster artwork
Audio Commentary with Asian Cinema Experts Mike Leeder and Arne Venema
Original Trailer (1080p)
Stills Gallery (1080p)
The Final Assessment
88 Films delivers the good for genre fans and collectors with this awesome set. The kicked up artwork, solid bonus features, the fantastic picture quality, and, oh yeah, the fun film make this a worthy purchase.
Flying Guillotine Part II (Special Edition) is out on Blu-ray August 9, 2022 from 88 Films
---
Rating Certificate: NR
Studios & Distributors: Shaw Brothers | Celestial Pictures | 88 Films
Director: Cheng Kang | Hua Shan
Written By: Cheng Kang (screenplay) | Li Yung-Chang (screenplay) | Ni Kuang (screenplay)
Run Time: 92 Mins.
Street Date: 9 August 2022
Aspect Ratio: 2.35:1
Video Format: AVC 1080p
Primary Audio: Mandarin DTS-HD MA 2.0 Mono
Secondary Audio: English DTS-HD MA 2.0 Mono
Subtitles: English