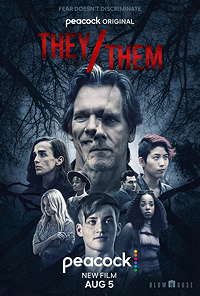 The selection of personal pronouns to designate gender has certainly become a hot-button topic and They/Them (They "slash" Them–get it?) could have been the springboard to a thought-provoking film about LGBTQ+ conversion camps. But once this Blumhouse Production has opened with a sequence showing a white-masked figure in a black cloak hacking a woman to death on a lonely highway, we can anticipate that this will be yet another blood-spattered slasher film.
A group of young LGBTQ+ people arrive at the Whistler Camp, a gay conversion facility run by Owen Whistler (Kevin Bacon). Owen introduces his staff: wife and camp psychiatrist Cora (Carrie Preston), nurse Molly (Anna Chlumsky), athletics director Zane Maximoff (Boone Platt) and his fianceé activities director Sarah Kahan (Hayley Griffith)—the latter couple are former converted Whistler campers—and handyman Balthazar Riggs (Mark Ashworth).  The new campers are told that Whistler is a safe space and they will not be forced to convert. There are separate cabins assigned for boys and girls and trans/nonbinary Jordan Lewis (Theo Germaine) is forced into the boys' cabin. The next morning, Alexandra Traven (Quei Tann) is discovered to be a transgender male transitioning to a female and also gets sent to the boys' cabin.
Following a demeaning counseling session with Cora Whistler, Jordan sneaks into the camp office and discovers numerous photographs of children who have been abused and tortured at the camp. He tells Molly who promises to protect all the campers. The next day, Jordan beats Zane in a riflery contest and then shoots Duke, Owen's sick dog, when Toby O'Neal (Austin Krute) refuses to do so. Kim Hartman (Anna Lore) and Veronica Lim (Monique Kim) have sex as do effeminate Gabriel Hernandez (Darwin del Fabro) and he-man Stu Williams (Cooper Koch). Later Owen and Zane subject Stu to brutal electroshock aversion therapy that renders him unconscious. Molly calls an ambulance and threatens to report the camp director to the police.
The body count quickly rises thanks to more axe-work by the mysterious hooded figure whose identity and motive for coming to the Whistler Camp are finally uncovered.
Writer-director John Logan had an opportunity to make a statement film about what really transpires at so-called gay conversion camps (that really do exist). However, They/Them  merely offers viewers a display of LGBTQ+ stereotypes. Kevin Bacon, the big name in the cast, is no stranger to horror/slasher films beginning with his role in the granddaddy of this genre,  Friday the 13th.  However, Bacon's character like most of the others is held in check by a weak script that adheres to the Blumhouse Production "give 'em gore" trope. The standout here is Theo Germaine, a real-life trans/nonbinary actor, who understands better than most of his cast mates how to portray the challenges his character continually faces.   Other than the campers' stirring rendition of Pink's anthem "Perfect," They/Them will only prove to be an equal opportunity offender to viewers of all sexual orientations. Just pass this one by.
They/Them is streaming now on Peacock
---
Rating Certificate: TV-MA
Studios & Distributors: Blumhouse Productions | Peacock
Country: USA
Language: English
Run Time: 104 Mins.
Aspect Ratio: 2.39:1
Director: John Logan
Written By: John Logan
Release Date: 5 August 2022