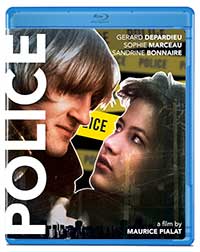 Police is Maurice Pialat's (Van Gogh, À nos amours) 1985 crime drama romance about a French police detective Mangin (Gérard Depardieu) who falls in love with Frenchwoman Noria (Sophie Marceau) who's involved with the Arab leader of a drug smuggling ring. When Noria gets arrested in the police's raid on her boyfriend's apartment, Mangin, a hard-edged detective not above getting rough during his interrogations, is immediately smitten with the drug smuggler's girlfriend. Meanwhile, Mangin's friend, attorney Lambert (Richard Anconina) who represents many of the same drug smugglers the police are after and whose ethics are questionable, manages to get Noria released. Mangin now strikes up a relationship with Noria, first under the pretense of getting her to turn on her boyfriend, but soon he finds himself in his own ethical quandary about whether he should arrest her, turn her over to the drug dealers, or keep furthering his romance with her.
Police is an imperfect film that while not without worth is just as frustrating as it is multilayered. While it begins as a gritty crime drama that exposes many of the socio-economic issues that France was dealing with in 1985 and still hasn't come to grips with today concerning its Muslim community (the number of slurs against Muslims and Arabs from the police in this film are too numerous to count), the film shifts gears into an almost half-hearted romantic complication with Mangin and Noria. I say half-hearted, because for the first two acts of the film we were witness to an amazing display of misogyny from Mangin and others that makes the romance with the detective and his suspect seem improbable. Mangin, for instance, refers to one of the female subordinates at the police station as "LSD" (Likes to Suck Detectives). He beds a prostitute who seems to be getting passed around between the criminals, the lawyers, and the cops and no one seems to care, never mind her pimp is beating her up, and there's a brief sexual dalliance with a female Superintendent in Training, who also gets slapped across her face by a male suspect in a car who Mangin then brushes and refuses to arrest. Umm, excuse me, but, this is the guy who's going to romance a girl and then tell her she shouldn't be with her Arab boyfriend because he's a Muslim and they treat their women like shit? Okay.
Those are the problems, but it's also difficult to deny that the performances and overall tone and filming of Police don't draw you into its strange world. Depardieu puts on one of his best, most raw performances, and he is supported by two excellent actresses in both Sophie Marceau as Noria and Sandrine Bonnaire as the mistreated prostitute. While it is a mixed bag, it has its moments and Pialat manages to take this messy, half-improvised screenplay and give it some sort of cohesion it would not have had in lesser hands.
The Video
Police arrives on Blu-ray from Olive Films in an AVC 1080p encodement framed at 1.66:1. Simply put, the transfer looks beautiful. After brief opening credits that are concerning due to a somewhat heavy amount of source damage and film softness, the film starts up with a clean and crisp look and a very sharp layer of organic looking grain that stays consistent throughout. The palette is conservative, so it doesn't 'pop', but it aids in the gritty look and feel of this film. The shadow detail is nicely nuanced and there is only the slightest hint of crush that never hurts overall detail.
The Audio
We get a basic DTS-HD Master Audio 2.0 stereo track of the original French soundtrack that presents the dialogue-heavy film cleanly and without clipping. Stereo effects are decent, so we get a good sense of the atmosphere of the din of the city streets and clamor of the police station.
The Supplements
Police comes with zero extras, not even a theatrical trailer.
The Final Assessment
Police does not reach the level of other works from Pialat, but there is a feeling of walking a tightrope without a net that keeps you interested. Depardieu and co. offer strong performances with the material they are given lifting what would otherwise be a forgettable film to a palatable level. Olive Film's Blu-ray offers a beautiful transfer, but nothing beyond that, which is very disappointing.
[amazon_auto_links id="98344"]
Gaumont | TF1 Films Production | Olive Films
Studios & Distributors
Catherine Breillat | Sylvie Pialat | Jacques Fieschi | Maurice Pialat
Writer
$29.95
MSRP
French DTS-HD MA 2.0 Stereo
Audio
Summary
Police is Maurice Pialat's imperfect crime drama/romance that is made palatable by the gritty feel the director accomplishes and the strong performances from its cast, but is hindered by the inconsistent shift in the story and rampant misogyny. The Blu-ray from Olive Films looks beautiful, but offers no extras.
What people say... Login to rate
Be the first to leave a review.
Show more