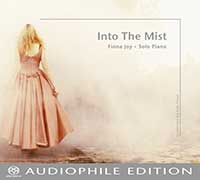 March 20, 2017. Cookie Marenco's well-respected audiophile recording company, Blue Coast Records, announces the official launch of Into the Mist, its second solo piano album from famed Australian contemporary music pianist, Fiona Joy. Fiona Joy's first Blue Coast album, Signature Solo was extremely well received and garnered a number of recording awards. Into the Mist will make its official debut on June 2, 2017 at the L.A. Audio Show. This worldwide release will include SACD, CD, and high-resolution audio download formats as well as Internet radio. The neo-classical program, a #1 album at Blue Coast Music for high-resolution audio sales, was recorded in and released as DSD256. It may be downloaded in additional formats as 44.1kHz (WAV), 96kHz (FLAC) 2.8 MHz (DSF), 5. 6MHz (DSF) and 11.2MHz (DSF) files that may be obtained through https://bluecoastrecords.downloadsnow.net/fiona-joy-into-the-mist.
[youtube httpss://www.youtube.com/watch?v=TbLROAjTpug&w=853&h=480]
Cookie Marenco, founder of Blue Coast Records, recorded, mixed and mastered the album using her proprietary recording technique called Extended Sound Environment (E.S.E.) that includes recording the musicians in the studio without headphones or overdubs onto DSD or analog tape. Into the Mist was recorded in a single take using the E.S.E technique and the new SACD will be the subject of an upcoming review.
The L.A. Audio Show is an event for audiophiles and others who have a passion for music, sound and audio gear that will be demonstrated by hundreds of manufacturers. Throughout the show, Blue Coast Records will host a number of its artists at the event for discussions of their music and the Blue Coast recording techniques. There will also be a special, customized event for friends and supporters of Into the Mist with exclusive access to the Sony-sponsored Hi-Resolution Magic Bus. While it won't be traveling anywhere, this vehicle promises to take visitors on a stunning sound journey!