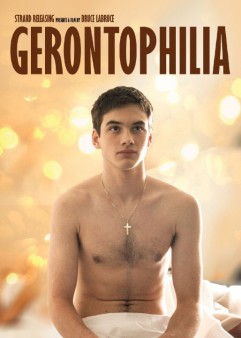 –
The Movie

Gerontophilia is defined as a person who has a sexual preference for the elderly. It is also the name of a new film written and directed by the controversial filmmaker Bruce LaBruce.
Looking more mainstream than any of his previous films, but at the same time still sticking to a controversial theme, Gerontophilia is La Bruce's best work to date.
Pier-Gabriel Lajoie is beautifully cast as Lake, a handsome and sexy 19-year old young man. After his unstable and alcoholic mother lands a job at a care home for the elderly, she brings Lake on board to work as an attendant to the patients. His duties include helping the men do things they can't do for themselves, including bathing.
Lake does have a girlfriend, the gorgeous Desiree (Katie Boland, who lights up the screen every time she is on). She's a die-hard feminist who herself has a job in a bookstore where her much older boss takes a liking to her and even invites her to his place for dinner. She's also been known to kiss a girl or two in her time. In the midst of a passionate make out session with Lake, she discovers a book of etchings under Lake's pillow, etchings of older naked men. She confronts Lake about it, and he confesses that he never really knew that he was attracted to old men until he started working at the care home.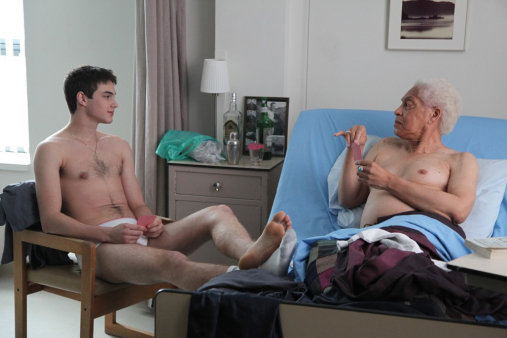 Lake establishes a friendship, then relationship, at the care home with Mr. Peabody (a very good Walter Borden). The relationship is a sexual one, and for Lake, it turns into an emotional one as well, enough of one that he decides to take Mr. Peacock away from the care home to help grant him one of final wishes, to see the Pacific Ocean.
They then, with Desiree's blessing, hit the road to fulfill Mr. Peacock's dream. It's a road trip where they meet various people, especially other men, who happen to take a shine to Mr. Peacock's witty charm and genuine smile. This makes Lake very jealous, but they continue on their trip until it comes to a sudden and unexpected end.
La Bruce has given us a very unconventional love story that is both believable and beautiful. It's the acting, however, that stands out over other gay-themed films. Lajoie is excellent as the young man who is confused about his feelings for much older men but who slowly embraces it. Lajoie's scenes with Borden are the best part of the film as the scenes are both tenderhearted and emotional, and very realistic. Borden is superb as well. His background is mostly from the Canadian stage, but it is in this film that Borden earns his marks. The ultimate praise goes to La Bruce — he has finally grown-up by making a grown-up film. It's definitely worth a watch.

Our Movie Rating
[Rating:4/5]