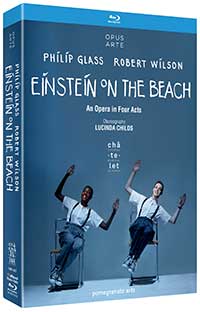 American composer Philip Glass broke new ground 40 years ago when, in collaboration with avant-garde director Robert Wilson (who provided the visual elements), he began his so-called "Portrait Trilogy" that later included Satyagraha and Akhnaten. All three operas are linked by heroes (Einstein, Gandhi, and Pharaoh Akhnaten) who changed history with the power of their ideas. Rather than a linear account of Albert Einstein's life, this nontraditional opera is laid out in a sequence of four acts that are linked by "knee plays" or intermezzi. The "playlist" is as follows:
Act I:  Scene 1A (Train); Scene 2A (Bed)
Act II: Scene 3A (Field: Space Machine); Scene 1B (Train)
Act III: Scene 2B (Trial (Bed)/Prison); Scene 3B (Space Machine)
Act IV: Scene 1C (Building); Scene 2C (Bed); Scene 3C (Space Machine (Interior)
Unlike the types of operas with which most audiences are quite familiar, this is a non-linear work with no obvious storyline. The libretto was the combined efforts of choreographer Lucinda Childs, child prodigy and autistic poet Christopher Knowles, and Samuel M. Johnson and is, to say the least, quite "eclectic." While a character that might be Einstein at various stages of his life appears in some of the above scenes, the other characters, that are at times in matching uniforms and employ very stylized movements and postures, are the work's "Greek Chorus" that occasionally provides vocal commentary. The musical ensemble varies and includes the current Philip Glass Ensemble that consists mostly of wind instruments, supplemented by synthesizer and a background provided by an electric organ. There are four speaking parts (Helga Davis, Kate Moran, Jasper Newell, and Charles Williams), and brief appearances of soprano and tenor, as violinist Antoine Silverman assumes the musical part of Einstein. The original music director Michael Riesman and choreographer Lucinda Childs with her Dance Company participate in this 2014 staged revival at Paris' Théâtre du Châtelet under the direction of Robert Wilson.
Besides being a prime example of 1970s avant-gardism, Glass's minimalist music style was rooted in an artistic movement spawned in the late 1960s and that included fellow composers, Steve Reich, Terry Riley, John Adams and Michael Nyman. The score features the frequent use of repetitive and gradually changing common chords that often progress quite slowly with a tonality that falls easily on most ears.
The Video
Don Kent and his videographers do a marvelous job, shifting the point of view between the entire stage and close shots of the performers. The relatively monochromatic nature of the sets and costumes offset the very natural flesh tones of the performers' faces. Details are excellent.
The Audio
There is not much happening in the surround speakers (or subs for that matter) so the choice between the DTS-HD Master Audio and LPCM 2.0 soundtracks is pretty much a toss up. I actually preferred listening to the latter through matrixed "surround."
The Supplements
Opus Arte provides a truly deluxe 2-disc boxed set with cast and production credits, interview excerpts with Glass, Wilson, and Childs and numerous performance photographs.
The Final Assessment
In 1976, Einstein on the Beach was a cutting edge work that breached the traditional divide between opera, dance, and music drama. Forty years and many divide-breaching works later, it is safe to say that this is the seminal composition that started it all. I have owned EOTB since its initial LP release on Tomato Records in 1979, and this present, and presumably new definitive uncut version, has been extended by 100 minutes. As the Blu-ray premiere, and star-studded with those creators present at its birth, it is hard to imagine that we will get a better version in the future. Modern music fuddy-duddies aside, the rest of us can savor what happens when genius changes the traditional classical music game. Seeing this work as originally intended by its creators  puts the audio only versions on the shelf and, lucky us, we finally get the total Philip Glass/Robert Wilson/Lucinda Childs experience.
Glass: Einstein on the Beach [Théâtre du Châtelet, Paris/Riesman] (TheaterByte Blu-ray Review)
Opus Arte
Studios & Distributors
$54.99
MSRP
English DTS-HD MA 5.1 (48kHz/24-bit)
Audio
LPCM 2.0 (48kHz/24-bit)
Secondary Audio
Summary
A definitive performance of the Philip Glass/Robert Wilson/Lucinda Child multi-media opera with dance that gives viewers the total experience as it was intended 40 years ago.
What people say... Login to rate
Be the first to leave a review.
Show more