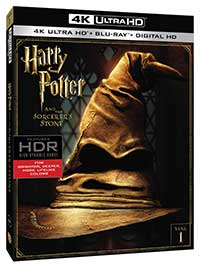 Author J.K. Rowling's massively successively series of books about a boy wizard made its big screen debut in 2001 with this staggeringly successful first feature, Harry Potter and the Sorcerer's Stone, based on the first book in the series. Directed by Chris Columbus (Pixels, Percy Jackson & the Olympians: The Lightning Thief) Harry Potter and the Sorcerer's Stone finds the famous "boy who lived" rescued from the neglect of the muggle (humans without magical powers) aunt and uncle who raised him after his magical parents were killed by an evil wizard, and whisked away to Hogwarts School of Witchcraft and Wizardry. There, the young Harry Potter (Daniel Radcliffe) makes fast friends with the kindly, but somewhat bumbling Ron Weasley (Rupert Grint) and the muggle-born bookworm Hermione Grainger (Emma Watson). As Harry is learning to adjust to this new magical world he never knew existed, he also finds himself embroiled in a dark conspiracy involving a powerful magical stone being sought the wizard who killed his parents — and tried to kill him — and one of the professors teaching at Hogwarts who may be working to aid that evil wizard.
Harry Potter and the Sorcerer's Stone doesn't yet get as dark as some of the later films in the series, but it touches on some of the things to come. This one merely sets the tone and introduces us to the characters and the world of Hogwarts and mostly does it well. Whether it's the high-flying, edge of the seat match of quidditch or the imposing performance of Richard Harris as Albus Dumbledore (Harris would later be replaced by Michael Gambon after Harris' death), the film is mostly effective and well paced as well. There are some misses looking back at it from a 2017 perspective. Some of the 3DCG effects don't go over very well, particularly those of the humans, such as when Harry first flies his broom and is challenged by Malfoy and in other places where it just looks obviously not real.
Those flaws don't take away from the majesty and good-hearted nature of Harry Potter and the Sorcerer's Stone, which beneath all of its early turn of the century flash tells a good story about friendship, courage and determination amongst youngsters trying to find their way in the world.
The Video
Harry Potter and the Sorcerer's Stone was originally shot in the Super 35 (3-perf) format on Kodak Vision 500T 5279 high-speed film stock. Warner brings this first film in the franchise to 4K Ultra HD in an HEVC 2160p (4K) encodement with HDR10 High Dynamic Range (HDR). The HDR has been mastered with a maximum luminance of 4000 nits and minimum luminance of 0.005 nits. On my display, an LG OLED65E6P, this transfer looks quite solid. While this film may not be the best of the lot to thrown in as a reference for the Potter films given its age and some of the filming choices, the transfer looks filmic with few flaws to complain about. Some film softness sneaks in on occasion, but the detail brought out in the 4K transfer is evident and the additional colors from the HDR are staggering. The shadow and light differentiation in a film that takes places in many darkened rooms with fireplaces, is gorgeous. There's a lot of 'pop' in the torches ad fireplaces where the amber and orange really glows bright with numerous gradations of color. The stone walls of the school bear lots of reflections in a number of colors that don't appear on the Blu-ray.
The Audio
Harry Potter and the Sorcerer's Stone comes to 4K Ultra HD with a new DTS:X immersive mix. Just like the previous Ultra HD releases of the final four Harry Potter films earlier, this one is pure reference that surrounds you with whooshing of sounds overhead during quidditch matches, the big "voice of God" effect during crucial scenes, and deep, extended low end frequencies.
The Supplements
While this 4K set of Harry Potter and the Sorcerer's Stone is packed with some good extras, they are port overs from the Blu-ray and DVD days. The 4K disc holds nothing. Everything included is on the Blu-ray feature disc and the included Blu-ray Bonus disc.
Digital HD UltraViolet
Blu-ray
In-Movie Experience with Director Chris Columbus (Bu-ray Only/Theatrical Version Only) – An interactive viewer experience in which the entire film is examined. Includes picture-in-picture, storyboard comparisons and still galleries.
Introduction to the Many Special Features by Daniel Radcliffe (1.78:1; 1080i/60; 00:01:54)
Creating the World of Harry Potter Part I: The Magic Begins (1.78:1; 1080i/60; 01:02:47)
A Glimpse into the World of Harry Potter (1.33:1; SD; 00:09:15) – 2001 International TV Special
Deleted Scenes
Trailers & TV Spots
The Final Assessment
Warner has another winner with this new 4K transfer of Harry Potter and the Sorcerer's Stone. Although year 1 may be the least reference of the 8, that could be getting a little nitpicky for a film of this vintage. Highly recommended.
Harry Potter and the Sorcerer's Stone is out now on 4K Ultra HD + Blu-ray + Digital HD Combo Pack.
Purchase on BestBuy.com:
PG (for some scary moments and mild language)
Rating Certificate
Warner Bros. | Heyday Films | 1492 Pictures | Warner Home Video
Studios & Distributors
J.K. Rowling (novel) | Steve Kloves (screenplay)
Writer
152 min | 159 min (extended)
Run Time
HEVC 2160p (4K) | AVC 1080p (Blu-ray)
Video
4000 Nits
Maximum Luminance
0.005 Nits
Minimum Luminance
English DTS:X
Primary Audio
English Descriptive Audio DD 2.0 | Chinese DD | Korean DD | Spanish (Latino) DD 5.1 EX
Secondary Audio
English SDH | Chinese | Korean | Spanish (Latino)
Subtitles
HDR Effect (If Applicable)
Summary
Harry Potter (Daniel Radcliffe) is saved from the mistreatment of life with his muggle aunt and uncle and taken to attend the magical school Hogwarts where he makes friends with bumbling Ron (Rupert Grint) and bookworm Hermione (Emma Watson). The three fast friends uncover a plot involving one of their professors and the evil wizard who killed Harry's parents in this fun big screen debut adaptation of the first book in J.K. Rowling's successful series of books. This new 4K Ultra HD edition from Warner Bros. adds a magnificent DTS:X immersive audio mix and gorgeous HDR10 transfer.
What people say... Login to rate
Be the first to leave a review.
Show more