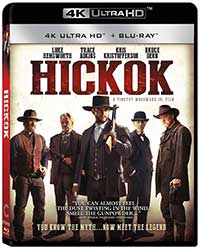 Actor/director Timothy Woodward Jr. makes his living doing low-budget indie films that most people — outside of a few genre fans — probably never heard of that usually end up going direct to video, like 2016's WEAPONIZED and this 2017 western, now available on 4K Ultra HD Blu-ray from Cinedigm. Hickok, as the title suggests, is meant to tell the story of iconic Wild West gunslinger Wild Bill Hickok (played here with very little charisma by Luke Hemsworth). The film is set in 1870s Abilene, Kansas and the hard-drinking, gun-toting Hickok rambles into the lawless town where his unparalleled gun skills garner the attention of the local mayor, George Knox (Kris Kristofferson), who hires him to be the town's marshal after the previous marshal is killed.
When Hickok starts imparting his tough rule of law, he runs afoul of some local outlaws, but that isn't his only problem. Hickok also ends up on the bad side of corrupt local saloon owner Phil Poe (Trace Adkins) after Poe finds out that Hickok was once involved with his fiancée, the blonde beauty Mattie (Cameron Richardson). Now, not only is Hickok battling the outlaws, but he ends up with a bounty put on his head by Poe.
This western is, to put it bluntly, is one of the worst films in the genre you will ever have the misfortune of watching and one of the worst films in general you will probably ever see. You'll have to suffer through cliché dialogue like "sometimes is takes a good man to bring down a bad man" and a misguided love triangle turned violent set to corny music in the Wild West. There's nothing innovative about Hickok, nothing new; this isn't a film hat seeks to deconstruct the Western or even pay homage to the genre, it's just a bad film that uses the auspices of the genre to tell what semblance of a story it has. The actors, even the veterans like Kristofferson, are all just phoning in their parts – at least that what it feels like throughout the entire 88 minutes of Hickok. It really is sad to see Kristofferson just sleepwalking through a film like this for a paycheck.
The Video
This 4K Ultra HD Blu-ray release of Hickok arrives with a HEVC 2160p (4K) encodement framed at 2.35:1. It is only the second 4K disc I have come across that doesn't have HDR, the other being a German import of the film Neon Demon. I will be one of the first people to admit that the difference between HD and Ultra HD or 4K is much more subtle than that between SD and HD, especially in the absence of HDR (High Dynamic Range) — the latter is really the big game changer. That isn't to say that there aren't some differences between the UHD disc and the Blu-ray. There are crisper details and a bit more depth of field. The 'grain' or video noise made to like grain is a little less coarse on the Ultra HD disc as well. Colors also look more natural. Still, without HDR, this release doesn't fall into the reference UHD category, especially since it isn't exactly the sort of film that really 'pops' anyway, unlike the aforementioned Neon Demon, which really does dazzle and could potentially amaze in an HDR format.
The Audio
Hickok on 4K Ultra HD Blu-ray gets only a DTS-HD Master Audio 5.1 mix and none of the immersive mixes such as Atmos or DTS:X we have almost come to expect on UHD at this point. The mix is a solid one that suits the material. The score is well balanced into the dialogue-driven track and are a lot of subtle atmospherics. The action doesn't get the sound too explosive, but it is mixed through the channels well.
The Supplements
The special features are nothing special on this release either. They include an average 'making of' feature, a few brief deleted scenes and the trailer. There's no digital copy, but a Blu-ray is also included.
Blu-ray Disc
The Road to Abilene: The Making of Hickok (HD, 00:14:36)
Deleted Scenes (HD, 00:02:50)

Joey Overhears the Dovers
Poe and Hardin Have a Chat
The Fires of Hell

Trailer (HD, 00:02:31)
The Final Assessment
Given the stature of a character like Wild Bill Hickok in Wild West lore, so much more could have been done with this film other than turning it into a bad love triangle with one-dimensional characters and a poorly done script. At least we get a decent 4K Ultra HD Blu-ray release that, sadly, doesn't have HDR.
Hickok is available on 4K Ultra HD Blu-ray from Cinedigm August 15, 2017.
[amazon_auto_links id="103780"]
Status Media & Entertainment | Avery Productions (II) | Vision Tree | Cinedigm
Studios & Distributors
Timothy Woodward Jr.
Director
$34.99
MSRP
HEVC (H.265) 2160p | AVC 1080p (Blu-ray)
Video
English DTS-HD MA 5.1
Primary Audio
HDR Effect (If Applicable)
Summary
Hickok, meant to follow the exploits of Wild Bill Hickok, is a western that devolves into a love triangle with bad acting and terrible dialogue. the 4K Ultra HD disc is solid, but doesn't include HDR or an immersive audio mix.
What people say... Login to rate
Be the first to leave a review.
Show more