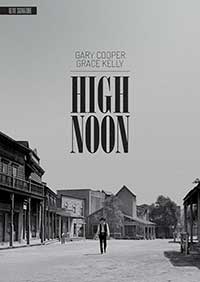 This 1952 western classic stars Gary Cooper as Hadleyville marshal Will Kane, newlywed to his beautiful Quaker bride Amy, played by a twenty-one-year-old Grace Kelly in only her second film role and twenty-nine-years younger than co-star Cooper.
Meant to retire as the town marshal and go away on his honeymoon, Kane gets word that the Miller gang, whose leader Frank (Ian MacDonolad) Will had put away for murder, is actually heading into town on the noon train. At first Will and Amy start out of Hadleyville, but Will's pride won't let him abandon his duty and his town without facing down Frank and his cronies once and for all. The problem is, when Will asks for deputies to help him fight off the Millers, he finds himself abandoned by a bunch of yellow-bellied townsfolk who seem more interested in pointing blame around and having long discussions about why the town is facing danger than actually lifting a finger to help the marshal that kept them safe for so many years. His Chief Deputy Harvey Pell (Lloyd Bridges) is envious of Will's job and covets his ex-mistress, the (Katy Jurado); the town's former marshal Martin Howe (Lon Chaney) is now an aged drunkard who can't even lift a gun, and even his wife Amy buys a ticket on the noon train out of town so as not to be around when the fighting starts. Eventually, Will must make his way to the town square for a showdown with the Miller gang and fate, alone, but
The film is shot in real time, so its eighty-five minute runtime ticks down with an intense sense of realism paced in the actual timeframe in which the story takes place that is heightened by the use of tight camera work and the persistent symbol of a clock ticking down. High Noon was caught up in the red scare McCarthyism of the 1950s. Writer Carl Foreman, whose blacklisting was only temporarily spared by rabid anti-communist Gary Cooper, would fall to the blacklist of the House Un-American Activities Committee. John Wayne, who ironically accepted Cooper's Oscar award in absentia for his role in High Noon, said the film was the most un-American western he'd ever seen, and director Howard Hawks, another right-wing Hollywood anti-communist hated High Noon so much, he felt compelled to "answer" it with his own film, Rio Bravo. Despite all the shocked sentiments from the anti-communists, High Noon has gone on to be one of the most lauded and enduring westerns ever filmed.
Also ironic is the fact that the story's protagonist, Will Kane, plays out in fiction the story of the isolated and abandoned hero who must resist oppressive forces, a story that directly mirrors that of writer Carl Foreman's real life tribulations during the blacklist era.
The Video
High Noon has been mastered from a new 4K restoration and brought to Blu-ray in an AVC 1080p encodement by Olive Films. In a word, it's stunning. This is the best transfer from Olive Films I have seen to date, bar none. The black and white cinematography looks gorgeous, the film grain is beautiful and organic, thinly layered and consistent, blacks are inky without crushing. The textures throughout are breathtaking. One can spot every bit of stubble on the faces of Gary Cooper and Lloyd Bridges.
The Audio
The monaural soundtrack is offered up in a clean sounding DTS-HD Master Audio 2.0 track. There is very little dynamic range, but given its age, it sounds quite good. Clipping and pops aren't an issue.
The Supplements
We get an excellent selection of supplements, all in HD, that delve into the history and production of High Noon. Particularly of interest are the featurette Imitation of Life that explores the film's connection to blacklist-era politics, and the visual essay Oscars and Ulcers narrated by the late Anton Yelchin.
A Ticking Clock: Academy Award nominee Mark Goldblatt on the editing of High Noon (1080p/24; 00:05:53)
A Stanley Kramer Production: Michael Schlesinger on the eminent producer of High Noon (1080p/24; 00:14:00)
Imitation of Life: The Blacklist History of High Noon with historian Larry Ceplair and blacklisted screenwriter Walter Bernstein (1080p/24; 00:09:27)
Oscars and Ulcers: The Production History of High Noon – Visual Essay with rarely seen archival elements, narrated by Anton Yelchin (1080p/24; 00:12;02)
Uncitizened Kane – Essay by Sight & Sound editor Nick James (on disc and in the booklet)
Theatrical Trailer (1.37:1; 1080p/24; 00:01:36)
The Final Assessment
From its stark black and white cinematography to its steely hero of determined convictions and real-time story arc, High Noon was an innovative film that spanned a few genres, — western, drama, thriller, action, even noir. This Olive Signature 4K restoration release is a fantastic way for cinephiles and videophiles to watch it. Bravo!
High Noon [Olive Signature] (TheaterByte Blu-ray Review)
Stanley Kramer Productions/Olive Films
Studios & Distributors
Carl Foreman, John W. Cunningham (magazine story
Writer
20 Sept. 2015
Release Date
English DTS-HD MA 2.0 Mono
Audio
Summary
High Noon stands as a classic adult western that has stood the test of time and withstood the sway of the dark politics of its time. This Olive Signature 4K restoration on Blu-ray is reference quality that needs to be in every film lover's library.
What people say... Login to rate
Be the first to leave a review.
Show more