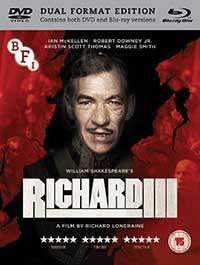 Richard Eyre, director of the Royal National Theatre of Great Britain (RNT) is quoted as saying "If you really want to play Richard III on film, you'd better write the screenplay." Writer/director Richard Loncraine (Firestorm) and, more importantly, actor Ian McKellen took this to heart. The pair reworked Eyre's RNT stage production, which also starred McKellen, into this 1995 film of Shakespeare's story of courtly machinations. Staying with Eyre's 20th century iconography of World War II era fascism reminiscent of the Third Reich, the play becomes all the more poignant and relevant to modern audiences.
During a bloody civil war in Britain between the Houses of Lancaster and York in which the ultimate shining prize is the throne of England, the scheming and murderous Richard (McKellen) plots out his own course to obtaining ultimate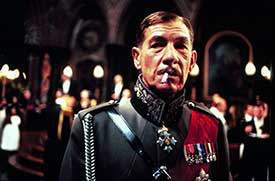 power and seizing the throne for himself, ultimately installing himself as a dictator. Eyre's decision (and subsequently Loncraine and McKellen's decision to bring that to the big screen) to use the obvious symbolism and setting of Nazi Germany is never more startling than when Richard finally seizes power amid the chants and pomp of military regalia, a sinister grin across his face as he feigns humility. It is suddenly Hitler standing before the crowds in 1930s Germany.
There are have been many attempts to update Shakespeare for modern audiences, such as Baz Luhrmann's Romeo + Juliet (1996) starring Leonardo DiCaprio and Claire Danes, but few are rarely as successful and on point as Richard Loncraine's Richard III. Ian McKellen is deliciously devious as the manipulative despot and Loncraine and McKellen's screenplay takes all the right queues from Shakespeare's original. The all-star cast, with the exception of the miscasting of Annette Benning and Robert Downey, Jr. are all incredible as well, including a very squirming Jim Broadent as Buckingham and the always incredible Maggie Smith as the Duchess of York.
The Video
In these days of everything converting to 4K, it's surprising that this one was redone in 2K only, but the results are still staggering on Blu-ray. The 2K scan was done using the original 35mm camera negative and various automated and manual picture restoration tools were used to remove damage and defects. The result is an image that is clean, crisp, vibrant and organic with lots of texture, three-dimensionality and vivid color reproduction. The black levels have only the slightest tinge of crush, but not enough to warrant a tick off of the rating. Richard III is presented in its original 2.35:1 aspect ratio in an AVC 1080p encodement on Blu-ray from the BFI.
The Audio
BFI says the audio has been remastered from the original master materials and presented in both a DTS-HD Master Audio 5.1 mix and LPCM 2.0 stereo mix. The 5.1 mix is superb, with lots of atmospherics and solid effects that surround you in both the sounds of war and the menacing pomp of Richard's ultimate seizure of power, which is one of the most encompassing scenes filled with a rush of crowd noise and militaristic music. Dialogue is intelligible at every moment.
The Supplements
This set is really stuffed to the gills with informative extras including new documentaries with interviews, a making of, a downloadable, annotated version of the screenplay (on DVD only), and a superb essay by Ian McKellen himself.
DVD – The film in standard definition and extras
Complete annotated screenplay with full credits (Downloadable PDF – DVD only)
Commentary with Ian McKellen and Richard Loncraine
2016 Trailer (2.35:1; 1080p/24; 00:01:26)
Play the Devil – Making Richard III (1.78:1; 1080p/24; 00:06:10)
Shakespeare on Stage, Screen and Elsewhere with Ian McKellen (1.78:1; 1080p/24; 01:18:32)
Ian McKellen and Richard Loncraine in Conversation (1.78:1; 1080p/24; 00:21:27)
Illustrated booklet with an in-depth essay by Ian McKellen
The Final Assessment
An incredible Richard III anchored by a powerful performance from Ian McKellen, moving visual symbolism that will reach contemporary audiences, and a fantastic restoration from the BFI make this Combo Pack a Bard lover's dream come true.
Richard III (1995) [UK] (TheaterByte Blu-ray Review)
BFI
Studios & Distributors
Richard Loncraine
Director
William Shakespeare, Ian McKellen, Richard Loncraine
Writer
£19.99
MSRP
English DTS-HD MA 5.1 | English LPCM 2.0 Stereo
Audio
Summary
Ian McKellen and Richard Loncraine craft one of the great Shakespeare modernizations in this menacing, powerful, and star-filled Richard III. The BFI's restoration is nearly flawless.
What people say... Login to rate
Be the first to leave a review.
Show more