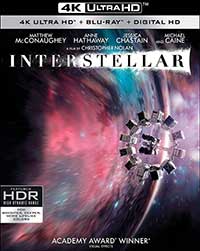 Christopher Nolan's latest epic (he just can't seem to make a film under two-hours long) is Interstellar. Set in humanity's distant future, the planet is being ravaged by a Dust Bowl-like phenomenon that is causing a global famine. All the resources of the globe are now dedicated to farming in order to feed the world. This is where we meet former NASA pilot and engineer Cooper (Matthew McConaughey) who is suffering through being a homesteader in order to support his teenage son Tom (Timothee Chalamet) and 10-year-old daughter Murph (Mackenzie Foy). As the situation begins to look more dire for Cooper, his family, and, really, the world at large, with giant dust storms bearing down on them, Cooper's daughter Murph begins receiving messages in Morse code from what she believes to be a "ghost" in her library. Ghost or not, the code turns out to be coordinates that send Cooper to a secret location that houses what are the remnants of NASA. There, Cooper meets renowned physicist Professor Brand (Michael Caine) who has been clandestinely working with a team of astronauts and scientists to find a another planet capable of sustaining human life. He convinces Cooper to sign onto the mission to head through a mysterious wormhole into another galaxy. Along with Brand's daughter Amelia (Anne Hathaway) and fellow researchers Doyle (Wes Bentley) and Romilly (David Gyasi) they hope to bring back data on three promising planets that could sustain human life.
The Nolans (Christopher and brother Jonathan co-wrote the screenplay) make Interstellar more than just a special effects extravaganza. They bring science fiction back to its roots as a thought-provoking genre examining our culture and the human experience. The opening act on Earth and the fight for people to survive the devastating worldwide famine immediately grounds the film in a real world scenario, but it doesn't take long after Cooper has rejoined NASA before he is off in space on a dangerous and, heroic mission to save humanity.
The latter point is crucial, because the science of Interstellar remains sound. This is less fantasy than theoretical exposition, given that astronomers are finding new Earth-like planets all the time today. But the film isn't just cold science or adventure, it deftly combines these things into a story of struggle and sacrifice with characters we really want to succeed, while giving us beautiful imagery of space and alien worlds (Iceland doubles beautifully as distant planet – sorry Icelanders). Cooper and his companion astronauts must give up so much and risk their own lives to save their families and all of humanity. It's an essay in courage and heroism that makes us feel good, but also makes us question if we could do the same if placed in that position.
Meanwhile, as Cooper, Amelia, and co. are off on their distant mission, back on Earth, Professor Brand and Murph begin to face their own problems with the mission to save the world. In typical Nolan-esque fashion, this is where the mind-bending twist factors in, one that can't really be gone into in much detail without spoiling the experience for those who have yet to see the film.
If you are looking for a throwback sci-fi experience that is more cerebral than escapist, one that is reminiscent of 2001: A Space Odyssey or Solaris in how it is a thinking movie as well as an awe-inspiring adventure, then Interstellar is the one that you need to see.
The Video
In what has become a common method for Christopher Nolan, this film was shot on a combination of 35mm and IMAX 65mm film stock. The film is brought to 4K Ultra HD in a variable aspect ratio, with the 35mm scenes in 2.39:1 and the IMAX scenes in 1.78:1. The 4K Ultra HD is encoded in HEVC 2160p (4K) with HDR10 high dynamic range. Mastered at a maximum of 4000 nits and a minimum of 0.005 nits. This film really benefits from the 4K transfer and the HDR. The scenes on Earth where the palette is warm and colorful looks even richer and more vivid with more variety and nuance. The highlights really 'pop' in outer space scenes against the black backdrop with the shimmering stars or the control panels in the spaceships. There's also lots of detail in the image. It's clean, crisp, and filmic with a fine veneer of grain.
The Audio
Paramount provides Interstellar on 4K Ultra HD with the same English DTS-HD Master Audio 5.1 soundtrack that accompanied the film on Blu-ray previously. Christopher Nolan dislikes the immersive formats, so it it's not surprising that we don't at least get a 7.1 mix for a film like this or a new Atmos or DTS:X mix, but the 5.1 is sufficiently aggressive. In fact, it may be a bit too aggressive in some respects. From the beginning, one can notice that dialogue tends to get bit buried beneath the sound effects in the most active scenes. The low frequencies are extremely extended, and quite boomy. When rockets fire or space ships land, the LFE really rumbles and overwhelms the rest of the soundscape. Otherwise, the sound stays in balance with clean dialogue and an extremely wide dynamic range that picks up the quietest whisper to the loudest of shocking booms.
The Supplements
The video special features are ported over from the previous Blu-ray release and offloaded onto a separate Blu-ray Disc.
Digital HD
Blu-ray with Feature Film
Special Features Blu-ray:

The Science of Interstellar (1.78:1; 1080p/24; 00:50:20)
Inside Interstellar (1.78:1; 1080p/24)

Plotting an Interstellar Journey (007:49)
Life on Cooper's Farm (00:09:43)
The Dust (00:02:38)
TARS and Case (00:09:27)
The Cosmic Sounds of Interstellar (00:13:40)
The Space Suits (00:04:31)
The Endurance (00:12:42)
Shooting in Iceland: Miller's Planet/Mann's Planet (00:12:42)
The Ranger and the Lander (00:12:20)
Miniature's in Space (00:05:29)
The Simulation of Zero-G (00:05:31)
Celestial Landmarks (00:13:22)
Across All Dimensions and Time (00:09:02)
Final Thoughts (00:06:02)

Trailers:

Teaser
Trailer 1
Trailer 2
Trailer 3
The Final Assessment
A powerful scientific drama that champions the human will to survive, Christopher Nolan has created another classic in Interstellar, an inspiring and genre-defying epic. It is also a thrilling home theater experience in this new 4K Ultra HD with HDR rendering.
Interstellar is out now on 4K Ultra HD Combo Pack from Paramount.
[amazon_auto_links id="107667"]
PG-13 (for some intense perilous action and brief strong language.)
Rating Certificate
Paramount Pictures | Warner Bros. | Legendary Entertainment | Syncopy | Lynda Obst Productions | Paramount Home Entertainment
Studios & Distributors
Christopher Nolan
Director
Jonathan Nolan | Christopher Nolan
Writer
$31.99
MSRP
Variable 2.39:1/1.78:1
Aspect Ratio
HEVC (H.265) 2160p (4K) | AVC 1080p (Blu-ray)
Video
4000 Nits
Maximum Luminance
0.001 Nits
Minimum Luminance
English DTS-HD MA 5.1
Primary Audio
French DD 5.1 | Spanish DD 5.1 |English Audio Description
Secondary Audio
English | English SDH | French | Spanish
Subtitles
HDR Effect (If Applicable)
Summary
In the future as the environment on Earth has turned and the crops are dying off causing major population losses and sandstorms, a retired NASA astronaut turned farmer (Matthew McConaughey) must head a mission through a mysterious wormhole to explore three potential planets for human re-population in this startling and cerebral Christopher Nolan sci-fi epic, which gains new life in this new 4K Ultra HD reissue with HDR.
What people say... Login to rate
Be the first to leave a review.
Show more