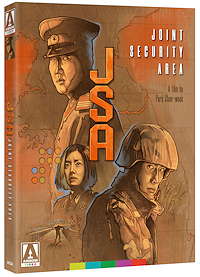 J.S.A.: Joint Security Area is the 2000 breakthrough film from Korean auteur Park Chan-wook. It was first of Park's film to gain a modicum of international success (the film played at the Berlin International Film Festival and was nominated for a Golden Bear) and was an enormous success in his native South Korea.
Joint Security Area is quite different from the films Park has come to be known for, particularly the Vengeance trilogy (Sympathy for Mr. Vengeance, Oldboy, Lady Vengeance) and the more twisting, erotic-tinged thrillers in his canon (Thirst, The Handmaiden). In this drama-mystery-thriller set in the DMZ (the demilitarized zone between North and South Korea), we enter the story as gunfire breaks out and two North Korean soldiers end up dead. Both sides realize that an investigation must be done in order to get to the bottom of what happened and prevent a full-on war from breaking out again between the two sides, but neither side want to allow the other the authority.
Both countries agree to investigator of Korean-Swiss descent named Sophie Jean (Lee Yeong-Ae) from a neutral team of a neutral Swiss and Swedish international investigators. Sophie immediately finds conflicting stories between North Korean Oh Kyeong Pil (Song Kang-Ho) and South Korean Lee Soo Hyeok (Lee Byung-Hun) and when pressed, a third soldier, (Kim Tae-Woo) tries to commit suicide.
Park's film, as has become a signature with many of his works, then begins to play with the timeline a bit, as the story flashes back a bit to give us a history of four the soldiers on the DMZ guarding a bridge from opposite ends and we see how they slowly begin meeting each other at nights just over the border in the North Korean guard house. It's not for anything nefarious, but just to let off steam, play cards, smoke cigarettes, let the North Korean guys get a peek at some Western products, like American porn magazines, and enjoy each other's company.
JSA hits the ground running from the beginning. We know we are in a thriller from the opening moments but as the film goes on, Park expertly intertwines the macropolitical with the interpersonal as we go from possible murders or infractions of the cease fire between North and South, to the smaller, human aspects of the story. These are just guys in an out of the way outpost trying to get back to their daily grinds and their wives and girlfriends. The North Koreans, curious about Southern amenities, the South Koreans curious about if the Northerners would want to leave and come to the South, but all of them sharing a common culture that literally only split from each other just a few decades back.
This may not be a signature film for Park, but it does have some key signature moments and is an immensely enjoyable and watchable films and it is certainly understandable why this is the film that started to catapult Park Chan-wook into South Korean and International success.
The Video
Joint Security Area comes in a 1080p AVC encodement framed at 2.35:1 on Blu-ray from Arrow who do not list this as a new restoration. For a high-definition catalogue title that is not a new restoration, this release looks very good. There is some softness in some frames, but generally it is quite crisp and clean without much source damage apparent in the original Super 35 film source. I would say that for a Super 35 production the grain looks somewhat more reserved than usual for the format.
The Audio
The lossless Korean DTS-HD Master Audio 5.1 is one of the better mixes for a catalogue title on Blu-ray. The beautiful orchestral score is airy with lots of dynamic range and wonderfully balanced into the mix. Meanwhile, dialogue is clear, and there are a lot of moments with strong foley effects in the surround channels. Low end is a bit on the anemic side, but when needed, like where there are gunshots, they sound full, not grating, so mid-range and upper lows are punchy enough.
The Supplements
The audio commentary by Simon Ward and the new featurette on the film and works of Park Chan-wook by Jasper Sharp are excellent inclusions and Arrow also includes a hefty number of archival extras worth watching and in addition to other inclusions like the reversible sleeve and collectible booklet and essay.
Reversible sleeve featuring original and newly commissioned artwork by Colin Murdoch
FIRST PRESSING ONLY: Illustrated collector's booklet featuring new writing by Kieran Fisher
Audio Commentary by Simon Ward
Isolated Music and Effects Track
Stepping Over Boundaries (1080p; 00:35:14) – A brand new appreciation of the film and Park Chan-wook's career by Asian cinema expert Jasper Sharp, recorded exclusively for Arrow in October 2020.
Archival Special Features:

The JSA Story (1080i; 00:36:47) – Archival featurette on the story behind the film.
Making the Film (1080i; 0013:59) – Archival featurette on the making of the film.
About JSA (1080i; 00:02:18) – Archival introductions to the film by members of the cast.
Behind the Scenes Montage (1080i; 00:14:34)
Opening Ceremony (1080i; 00:03:02)

Music Videos

Letter from a Private (1080i; 00:04:49)
Rage Against the Machine – "Take the Power Back" (1080i; 00:04:01)

Promotional Materials

Theatrical Trailer (1080p)
TV Spot (1080i)
Image Gallery (1080p)
The Final Assessment
A powerful mystery thriller that expertly combines the big with the small and contains magnificent performances from the entire cast. Arrow Video offers up an excellent special edition of this film. If you haven't seen it this is a great way to see it.
---
If you found this review useful please consider clicking the button below and donating to help keep TheaterByte funded and to allow us to continue posting great content.
---
JSA: Joint Security Area (Special Edition) is out on Blu-ray January 19, 2021 from Arrow Video
---
Studios & Distributors: CJ Entertainment | Intz.com | KTB Network | Myung Film Company Ltd. | CJ E&M Film Financing & Investment Entertainment & Comics | CJ DMZ Comics | Stone Comics Entertainment | TMS Comics | TMS Entertainment | Subway Cinema | Palm Pictures | Arrow Video
Director: Park Chan-wook
Written By: Jeong Seong-san | Kim Hyun-seok | Lee Mu-yeong | Park Chan-wook | Park Myeong-chan (comic) | Park Sang-yeon (novel)
Run Time: 110 Mins.
Original MSRP: $39.95
Street Date: 19 January 2021
Aspect Ratio: 2.35:1
Video Format: AVC 1080p
Primary Audio: Korean DTS-HD MA 5.1
Secondary Audio: Korean LPCM 2.0 Stereo
Subtitles: English