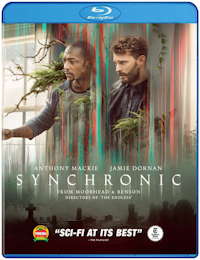 Filmmaking duo Justin Benson and Aaron Moorhead who brought us 2012's Resolution bring this intelligent sci-fi horror film to fruition. Synchronic is a time-traveling mind-trip of a film that stars Anthony Mackie (the MCU films) and Anthony Dornan (Fifty Shades franchise) as longtime friends and EMT team in New Orleans who stumble into a mystery that has otherworldly consequences.
When EMTs Steve (Mackie) and Dennis (Dornan) begin to respond to an escalating series of gruesome deaths in the city of New Orleans, they begin to suspect something suspicious is going on and start to investigate. Steve stumbles across a strange new designer street drug named "Synchronic" that seems to be tied to the oddball deaths (one person shows up dead mysteriously with a sword through their chest). On his quest to buy up doses of Synchronic, Steve is followed by a chemical engineer claiming to be the man who created the drug. He also has shocking information for Steve and that is by chance, he found the drug acts in strange ways on young people's brains, causing them to experience time in a non-linear fashion because their pineal gland is not yet pully developed. Meanwhile, Steve, who was accidentally stuck with a hypodermic needle earlier on a call and tested for HIV finds out he has a tumor affecting his pineal gland. The drug affects him the same way.
When Dennis' 18-year-old daughter Brianna (Ally Ioannides) goes missing, thought to be tied to the drug as well, Steve decides to experiment on himself to see if he can find her, recording himself in the process. This is when he realizes the real effects of Synchronic – it doesn't just alter your perception of time, it physically transports you back in time and brings you back, eight minutes at a time.  Steve ends up in multiple dangerous circumstances on his quest to find his best friend's daughter, such as in the ice age, in Klan-era Jim Crow New Orleans, and in the middle of the Battle of New Orleans staring down the barrel of a rifle of a slave chaser.
There's a lot to love about Synchronic as a film. Benson and Moorehead strike a good balance between the horror, mystery, and sci-fi themes of the plot. There's a sense of tension and foreboding that permeates the film. It's a trippy, slow burner that utilizes the time traveling trope in a clever way. The device of the time traveling pills affecting the brain and causing one to travel back in time may be a little too hard to swallow, but the execution smooths over the doubts and Mackie proves his sci-fi Bona Fides in a way that perhaps he was not given due credit for in his turn in the second season of Netflix' Altered Carbon.
Synchronic is the kind of sci-fi film you want to throw on and watch in the dark and maybe watch again a couple of days later. It's a wild ride of movie that, despite all its seriousness, is a still a fun journey visually propped up by good performances.
The Video
Synchronic arrives framed at 2.39:1 in an AVC 1080p encodement on Blu-ray from Well Go USA Entertainment. The image is top notch all around with a filmic look, rich mid-tones defining its mellow color palette and well-defined shadow details. The image is also free is most pesky flaws like color banding, posterization, and compression noise.
The Audio
The English DTS-HD Master Audio 5.1 mix is masterful, no pun intended. Whether it's the ambient Jimmy LaValle score that often swells through the surround channels and builds tensions or the various action foley effects such as when Steve travels back in time. We have numerous instances where rainstorms fill up the soundfield, but the most reference-worthy portion of the mix comes in the final act when Steve finds himself on the battlefield during the Battle of New Orleans with bombs going off, cannons exploding, and bullets whizzing by. Dialogue is clean and full and well balanced into the mix and the low end is nice and hefty.
The Supplements
The fifteen minute "Making of" and the audio commentary with co-directors and producer are the strongest bonus materials included on the disc, although if you are an enthusiast who likes geeking out, then the pre-viz and VFX breakdown featurettes are also a cool bonus.
Audio Commentary with Directors and Producer
Making Of (1080p; 00:15:04)
Previsualization (1080p; 00:08:17)
VFX Breakdown (1080p; 00:02:59
Deleted Scene (1080p; 00:01:06) – Additional scene dealing with Steve's medical treatment. When you watch it you'll see where it made more sense to cut from the film.
Alternate Ending (1080p; 01:28) – Joke alternate ending.
Teaser (1080p)
Trailer (1080p)
The Final Assessment
Synchronic is good sci-fi and a good Blu-ray from Well Go USA.
---
Rating Certificate: R (for drug content and language throughout, and for some violent/bloody images)
Studios & Distributors: Patriot Pictures | Pfaff & Pfaff Productions | Love & Death Productions (LDP) | Rustic Films | Well Go USA Entertainment
Directors: Justin Benson | Aaron Moorhead
Written By: Justin Benson
Run Time: 101 Mins.
Original MSRP: $29.98
Street Date: 26 January 2021
Aspect Ratio: 2.39:1
Video Format: AVC 1080p
Primary Audio: English DTS-HD MA 5.1
Secondary Audio: English DD 2.0 Stereo
Subtitles: English DD 2.0 Stereo