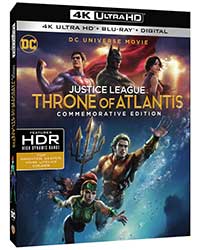 Justice League: Throne of Atlantis, from the graphic novel, tells the origins of Aquaman and the Justice League. Although this DTV film from DC Universe Movie slightly changes the details slightly, it's still a good watch. The film focuses mainly on the emergence of Aquaman/Arthur Curry (Matt Lanter), who is a drifter strangely drawn to the sea who has been raised by a single father who always told him his mother abandoned them when he was little. But Arthur soon finds out there's much more to the story and that he has a powerful legacy – he is half Atlantean and heir to the throne of Atlantis, the land beneath the sea. When Arthur's malevolent half-brother Orm (Sam Witwer) kills the mother Arthur never had a chance to know, Arthur, who discovers he has powers to control sea creatures, must join with a new ally from Atlantis, and members of the newly formed Justice League, which includes Superman, Batman, Wonder Woman, Shazam, Green Lantern, and The Flash, to help stop Orm from starting a war with the people of the land.
Filled with plenty of action, sibling rivalries, unexpected betrayals, and just enough comic relief to keep it from being all doom-and-gloom, this Justice League: Throne of Atlantis is an enjoyable film that should please readers of the comics and fans of DC, and keep people wondering why DC can consistently get it right, or close to it anyway, with their DC Universe DTV animated movies, and strike out so dismally with their DCEU live action franchise.
The Video
Warner has remastered Throne of Atlantis in HEVC 2160p (4K) with HDR10 high dynamic range with a maximum of 4000 nits and a minimum of .005 nits. Framed at 1.78:1, the colors thanks to the wide color gamut look brilliant and the wider dynamic range give the highlights excellent 'pop', but the detail is lacking. We can see a lot of color banding and some noise and softness.
The Audio
Throne of Atlantis comes with an English DTS-HD Master Audio 5.1 mix that's aggressive and engaging. The surround channels have good, solid effects, there's a full low end, wide dynamics and clear dialogue.
The Supplements
The included special features give an overview of the Justice League and Aquaman as portrayed in the DC comics, making ofs, and more.  It's a boon for DC fans. See below for details.
Justice League: Throne of Atlantis: Aquaman: The New King (1.78:1; 1080p/24; 00:14:50)
Audio Commentary with Heath Corson and Mike Carlin
Villains of the Deep (1.78:1; 1080p/24; 00:11:33)
Scoring Atlantis: The Sound of the Deep (1.78:1; 1080p/24; 00:30:05)
Robin and Nightwing Bonus Sequence (1.78:1; 1080p/24; 00:03:50)
Throne of Atlantis: 2014 NY Comic-Con Panel (1.78:1; 1080i/60; 00:26:44)
From the DC Comics Vault:

Batman: The Brave and the Bold: Aquaman's Outrageous Adventure!
Batman: The Brave and the Bold: Evil Under the Sea!
Aquaman: Menace of the Black Manta and the Rampaging Reptile-Men
Justice League Unlimited: Far from Home

Throne of Atlantis Soundtrack
A Sneak Peek at DC Universe's Next Animated Movie: Reign of the Superman (1.78:1; 1080p/24; 00:09:33)
A Preview of DC Universe's Next Animated Movie: The Death of Superman (1.78:1; 1080p/24; 00:07:06)
The Final Assessment
This "commemorative edition" of Throne of Atlantis is packed with special features and gets a good 4K with HDR transfer that is hindered only by the upscaling of the video. Everything else makes this a worthy addition for collectors.
Justice League: Throne of Atlantis [Commemorative Edition] is out on 4K Ultra HD Combo Pack & Blu-ray Combo Pack November 13, 2018 from Warner Bros.
[amazon_link asins='B07G26C17H,B07G22S48Q' template='ProductCarousel' store='theaterbyte-20′ marketplace='US' link_id='4ca0dd93-f3f8-11e8-b646-6394faf55d1e']
PG-13 (for sci-fi violence and action throughout)
Rating Certificate
Warner Bros. Animation | DC Comics | Warner Home Video
Studios & Distributors
Heath Corson (written by) | Geoff Johns (graphic novel) | Paul Pelletier (graphic novel) | Ivan Reis (graphic novel)
Writer
$29.98
MSRP
HEVC (H.265) 2160p (4K) | AVC 1080p (Blu-ray)
Video
4000 Nits
Maximum Luminance
English DTS-HD MA 5.1
Primary Audio
French DD 5.1 | Spanish (Latino) DD 5.1
Secondary Audio
English SDH | French | Spanish (Latino)
Subtitles
HDR Effect (If Applicable)
Summary
A DC Universe Animated film that tracks the origins of Aquaman and the Justice League that sees the Atlantian superhero discovering his powers and joining forces with Superman, Batman, Wonder Woman, Green Lantern, The Flash, Cyborg, and Shazam to stop his evil half-brother from marshaling the forces of Atlantis to destroy Metropolis. The new commemorative edition on 4K Ultra HD from Warner Brothers has some visual flaws, but the HDR, engaging DTS-HD MA 5.1 audio mix, and ample special features more than compensate.
What people say... Login to rate
Be the first to leave a review.
Show more