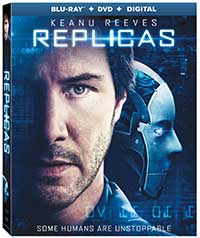 Replicas is a 2018 indie sci-fi/thriller from director Jeffrey Nachmanoff starring Keanu Reeves (The Matrix). Reeves plays a neuroscientist, Will Foster, who has plodded away at getting human consciousness from just dead soldiers transferred into an advanced computerized brain that resides in an equally advanced android. When Foster loses his wife Mona (Alice Eve, Star Trek: Into Darkness) and three children in a terrible car crash, he races against time to bring them back to life, cloning their bodies in his lab and transferring their saved consciousnesses into the cloned bodies. This puts him at odds with his company and their leading henchman, Jones (John Ortiz). Foster quickly finds out that the company he has worked for is far more than just a research company – and they are dangerous.
Director Jeffrey Nachmanoff has spent his career working mostly working as a director and producer of TV movies and writing the odd episode for TV series. That background definitely shows in this feature film. Replicas never rises above the level of made-for-tv fodder, with a screenplay that jumps from one plot twist to the next so quickly it is difficult to keep up with where this film is going. It may have been easy to swallow this whole exercise as an examination of the meaning of life if the story stuck to the idea of transferring human consciousness into a machine, but it went off onto this tangent with clones, and androids, and clandestine organizations, and other ridiculous twists I'll just keep from spoiling.
If Replicas gets anything right, it's the visual style. The film looks good despite being a small budget production. The android reminds me of the robot from the Will Smith movie I, Robot. The scenery and set designs all look slick and modern, and Nachmanoff knows how to play with light and shadow to create that sci-fi atmosphere. Keanu Reeves also feels right at home in this sort of material, albeit this is certainly not on the level of The Matrix – it's not even on the level of Johnny Mnemonic.
The Video
Replicas comes to Blu-ray in an AVC 1080p encodement framed at 2.40:1. This is a good-looking film with high production values for an indie sci-fi/thriller. The contrast is strong, black levels and white balance are good and flesh tones look natural. Overall, the film presents cleanly with lots of detail on disc. Digitally, this film is available in 4K Ultra HD with Dolby Vision or HDR10. While this Blu-ray version doesn't have the same sort of three-dimensionality and 'pop' as that version does, it still looks good.
The Audio
Replicas arrives with a DTS-HD Master Audio 5.1 mix on Blu-ray. It's a well-balanced mix with good dynamics and clean dialogue. There's good atmospherics and the pulsating score is well placed throughout the soundfield. Low-end is not too extended, but it's weighty enough for this sort of thriller.
The Supplements
The included 'making of' is interesting, but nothing here is really unmissable.
Digital Copy
Audio commentary with director Jeffrey Nachmanoff and producer James Dodson
Imprint Complete: The Making of Replicas (1.78:1; 1080p; 00:25:35) – Actor/producer Keanu Reeves and his accomplished cast and crew journey to Puerto Rico to bring Replicas to life. This behind-the-scenes exploration of the story explores the theoretical science, characters and visual design, and though provoking score.
Deleted Scenes (1.78:1; 1080p; 00:08:13)
The Final Assessment
Replicas is a great looking but ultimately confusing and forgettable sci-fi romp that misuses its big-named cast. I'm not so sure this one is necessary as a purchase. Rent the disc or rent it digitally on a slow day.
Replicas is out on Blu-ray Combo Pack April 16, 2019 from Lionsgate Home Entertainment
---
PG-13 (for thematic material, violence, disturbing images, some nudity and sexual references)
Rating Certificate
Company Films | Di Bonaventura Pictures | Riverstone Pictures | Remstar Studios | Fundamental Films | Lotus Entertainment (I) | Ocean Park Entertainment | Lionsgate Home Entertainment
Studios & Distributors
Jeffrey Nachmanoff
Director
Chad St. John (screenplay by) | Stephen Hamel (story by)
Writer
English DTS-HD MA 5.1
Audio
English SDH | Spanish
Subtitles
Summary
A neuroscientist (Keanu Reeves) working on transfering human conciousness to a computer tries to resurrect his family after they die in a car accident by cloning them and transferring their consciousnesses into the clones, which puts them all in danger with the secretive corporation he works for. Replicas is a slick looking indie sci-fi/thriller that ultimately has a confused and forgettable plot.
What people say... Login to rate
Be the first to leave a review.
Show more