Aspect Ratio: 1.67:1

Video Codec: VC-1

Resolution: 1080p/24

Audio Codec: English DTS-HD Master Audio 2.0; French, German, Italian, Portuguese, and Spanish (Castilian)DTS 2.0
Subtitles: Dutch, French, Italian, Japanese, Portuguese (Portugal), Portuguese (Brazil), Spanish (Castilian)

Region: AB

Rating: 16

Discs: 1

Studio: Kinowelt Home Entertainment
Release Date: May 20, 2009

List Price: EUR 17.95
Purchase Leaving Las Vegas [German Release] on Blu-ray at Amazon.de
Shop with us for more Blu-ray releases at Amazon.com
Shop with us for more Blu-ray releases at Amazon.de
Overall
[Rating:3/5]
The Film
[Rating:5/5]
Video Quality
[Rating:3/5]
Audio Quality
[Rating:4/5]
Supplemental Materials
[Rating:1.5/5]
Click thumbnails for high-resolution 1920X1080p screen captures
More Screen Captures (22 Total)
(Screen captures are lightly compressed with lossy JPEG  thus are meant as a general representation of the content and do not fully reveal the capabilities of the Blu-ray format)
The Film
[Rating:5/5]

Leaving Las Vegas is writer/director Mike Figgis' bleak and doleful look at lost souls, alcoholism, and surprising love starring the worthy Oscar winner Nicolas Cage and Oscar nominee Elisabeth Shue. It is a dark look at the underbelly of the "Sin City" and that all-too-common tale of love between a man and a beautiful hooker.
Cage plays Ben Sanderson, a man who has hit rock bottom. He's lost his family and his high paying job, either due to his drinking or he has started drinking because of it. He goes to Las Vegas to drink himself to death, literally. He stocks up on all the booze he can afford, clearing out his bank account, even borrowing money from one of his former colleagues to help fund his suicidal binge.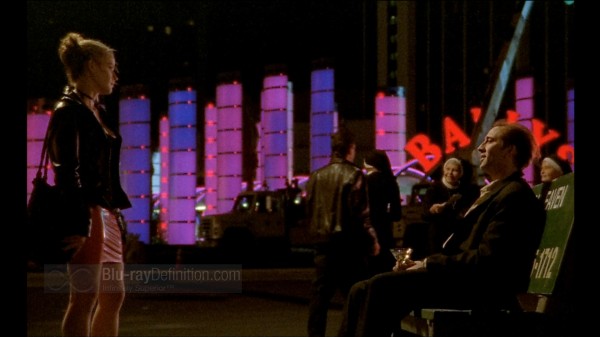 In Vegas, he meets Sera (Shue), the beautiful kindhearted prostitute and the two fall in love forming what must be one of the most self-destructive, dysfunctional and fast romances in the history of the screen. "We both know that I'm a drunk. And I know you are a hooker. I hope you understand that I am a person who is totally at ease with that. Which is not to say that I'm indifferent or I don't care, I do. It simply means that I trust and accept your judgment." He tells her. In a moment of despair, Sera says to Ben, "You go back to your hotel and I'll go back to my glamorous life of being alone. The only thing I have to come home to is a bottle of mouthwash to get the taste of cum out of my mouth. I'm tired of being alone. That's what I'm tired of." That should give you an idea of the sort of relationship the two of them have.
They are two people, both lost, lonely and broken, searching for someone or something to help fill the void in their lives and in their souls. In each other they find the ideal companion, even though each is obviously flawed.  In Sera, Ben has found a beautiful woman who understands his need to drink himself to death and she won't complain about his drunkenness or try to stop him and in Ben, Sera has found a man who accepts her profession and still wants to be with her, even if it is only going to be for a short while.
Both Cage and Shue turn in riveting and complex performances that are multi-layered. In the case of Cage, it may still be the best performance of his career, and for Shue it was an eye opener. Up until that point she was just the pretty girl in throwaway comedies like Back to the Future III or Adventures in Babysitting, but her sad, human, and dignified portrayal of Sera proved she had real acting chops that earned her a much-deserved Oscar nomination.
Video Quality
[Rating:3/5]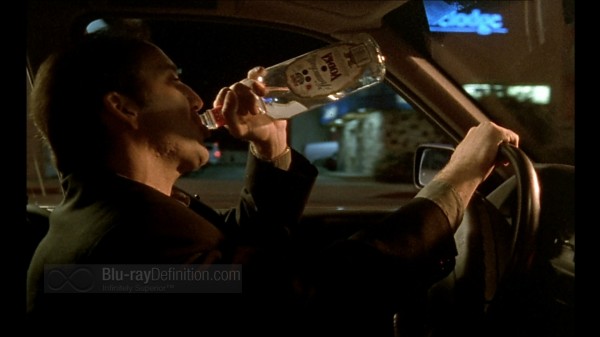 Given the fact that Leaving Las Vegas was filmed in Super 16mm, I might have been inclined to be very forgiving with this 1.67:1 VC-1 transfer from Kinowelt were it not for some other obvious flaws that show up in the picture. Of course, being originally filmed in 16mm there is only so much detail one can expect from Leaving Las Vegas, but there is an overall softness that is pervasive and film grain often degrades into video noise in darker areas. There is also use of some obvious edge enhancement in certain scenes and source damage in the 14-year-old film also shows up quite often.
Audio Quality
[Rating:4/5]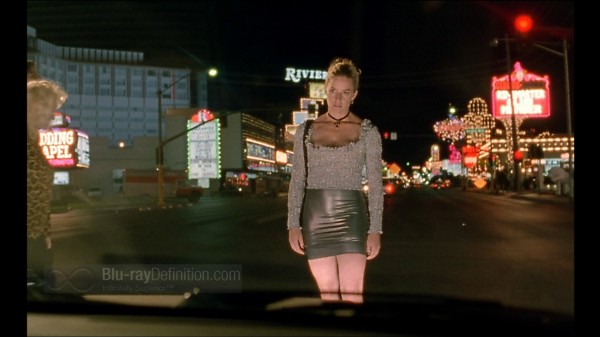 Leaving Las Vegas is provided with an English DTS-HD Master Audio 2.0 soundtrack that serves the film well and proves that "5.1" is not always necessary. There is a good balance of activity across the two channels and the dialogue is clean. The midrange is punchy, low frequencies are well extended and the film's jazzy soundtrack has a good dynamic range with smooth high frequencies.
There are also French, German, Italian, Portuguese (Portugal) and Spanish (Castilian) DTS 2.0 soundtracks available.
Supplemental Materials
[Rating:1.5/5]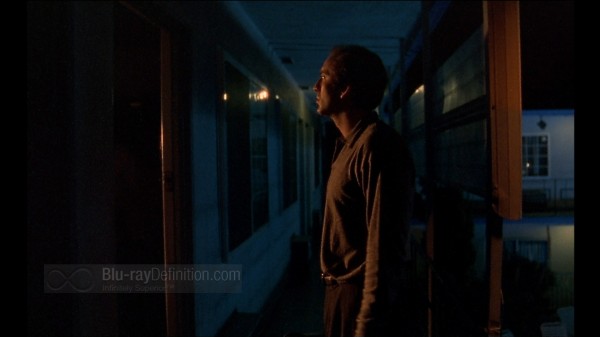 The video supplements on Leaving Las Vegas all have a very promotional feel to them, with the actors and filmmakers patting themselves on the back for a job well done. They are also all in standard definition PAL, so if your player or television do not support PAL, then you will not be able to access them.
The supplements provided on this release are:
Making Of (1.33:1; PAL) — Director Mike Figgis and the actors talk about the characters at the heart of the film.
Interviews (1.33:1; PAL) — In a series of sit down interviews with actors Nicolas Cage, Elisabeth Shue, Julian Sands and director Mike Figgis, the characters and their motivations are dissected.
Behind the Scenes (1.33:1; PAL) — Behind-the-scenes footage of the filming of Leaving Las Vegas.
Trailer (1.33:1; PAL)
Video Configuration — HD test pattern to adjust your HDTV.
Audio Configuration — Audio test tones to set the balance of your 5.1 sound system.
The Definitive Word
Overall:
[Rating:3/5]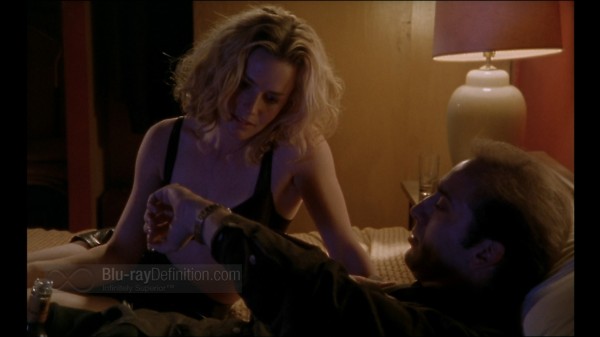 Mike Figgis' Leaving Las Vegas drops viewers right into the middle of a gripping emotional love story that isn't necessarily easy or uplifting, but it is full of wonderfully acted drama. It is made all the more poignant with the knowledge that the author of the original semi-autobiographical novel, John O'Brien, the film was based on committed suicide shortly after learning his book was to be made into a film.
The video quality on this German release of Leaving Las Vegas may not be perfect, but this release will still be the best version of the film currently available on home video and the sound is still top notch as well.

Shop with us for more Blu-ray releases at Amazon.com
Shop with us for more Blu-ray releases at Amazon.de