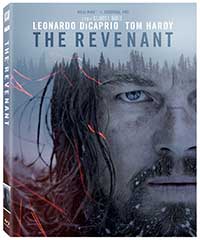 Leonardo DiCaprio finally took home an Oscar for his portrayal of an earl 19th century frontiersman and fur trapper in the gripping revenge/survival epic from director Alejandro G. Iñárritu, The Revenant.
In the 1820, infamous frontiersman and scout Hugh Glass (DiCaprio) with his half-native son Hawk (Forrest Goodluck) leads a pelt-gathering expedition. The expedition is attacked by Arikara Native Americans, dwindling their numbers down to only ten. Glass is then forced to try to find the expedition a different route back to the safe harbor of the American fort. When he goes out alone hunting for food early one morning, he is gruesomely attacked by a bear and survives with his life barely intact. Unable to carry him through the snowy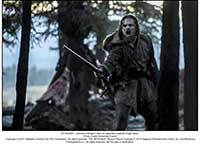 mountain pass, the captain (Domhnall Gleeson) instructs the belligerent and mendacious John Fitzgerald (Tom Hardy) and the young naïve Bridger (Will Poulter) to watch over Glass with his son Hawk and give him a proper burial when he finally passes. But Fitzgerald kills Hawk in front of Glass, buries Glass alive in a shallow grave, and eventually forces Bridger into going along with his plan to collect the extra money they were promised by the captain. Glass, however, finds a new sense of hope and resolution to get revenge on the man who killed his son and he doesn't die. Instead, he pulls himself out of the grave, somehow manages to nurse himself back to health, and goes on an improbable journey to avenge Hawk's death.
While The Revenant can be brutal – doesn't waste much time in that area, starting us off with a bloody battle between the Native Americans and the white expedition, before not too long after the gruesome mauling of Glass by the bear – it can also be rather quiet and beautiful, almost poetic in its portrayal of the human will to survive. DiCaprio gives a well-earned performance, for almost the entire film depicting a range of emotions making naught more than a grunt – his throat damaged by the bear attack – or the look in his eyes. Kudos to Iñárritu (who won for Best Director) for helping to coax such a performance out of him and for using the surroundings to their best effect, with the aid of director of photography Emmanuel Lubezki (who won for Best Cinematography) who helps create a gritty yet intimate feel in what are mostly cold and vast open spaces shot on location in places like Alberta and British Columbia, Canada, or White Mountains, Arizona.
The Video
The Revenant was shot on various cameras at various resolutions all the way from 3.4K to 6K and processed utilizing a 4K DI, which naturally made it a prime candidate for a UHD Blu-ray release (there is one available). This standard Blu-ray edition looks magnificent, however, even despite the fact that much of the film has a bland, desaturated color palette in cool greys and blues. There are some moments where the picture pops with warm amber tones, however, such as when someone lights a torch or we move to inside the American fort. The picture is clean and free from artifacts like color banding, video noise and edge enhancement.
The Audio
The Revenant ran in theaters with an Atmos soundtrack, but it arrives on Blu-ray with a DTS-HD Master Audio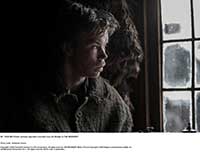 7.1 mix, no Atmos or even DTS:X to be found. Still, it is a wonderfully done mix with superb balance of the melancholic score by Ryuichi Sakamoto and Carsten Nicolai and excellent use of the surrounds for atmospheric sounds like wind, crackling of firewood, or the rush of a distant river. Dialogue is full and clear and the spread of sounds across the front when things get active is well done. The low-end comes into play more than one may think in this often quiet film, and when it does, we get strong extension but one that doesn't get out of hand.
The Supplements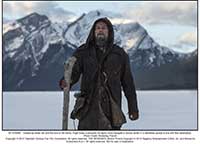 This Blu-ray release of The Revenant from Fox Home Entertainment is disappointingly light on extras. That said, the 44-minute making of documentary, A World Unseen, is actually a fascinating watch and very artistically shot, fittingly for a film like this.
Digital HD UltraViolet
A World Unseen (2.35:1; 1080p/24; 00:44:04)
Gallery (1080p/24)
The Final Assessment
The Revenant is a dark film that plums the depths of the human psyche, of human endurance itself, and of the morality (or lack thereof) of being driven purely by revenge. That Iñárritu, Lubezki and DiCaprio all take us on that journey in such a wholly engrossing way without a hint of moralizing or shying away from the darker corners of humanity is a testament to their filmmaking abilities. This is certainly excellent filmmaking, and will be seen as such even after all the hype has faded into the backdrop. I still believe that The Hateful Eight should have won for cinematography (first film in forever to be shot on 65mm, and looks as gorgeous, maybe even better than Revenant). Still, The Revenant more than earned every accolade it attained.
The Revenant (TheaterByte Blu-ray Review)
R (for strong frontier combat and violence including gory images, a sexual assault, language and brief nudity)
Rating Certificate
Fox Home Entertainment
Studios & Distributors
Alejandro G. Iñárritu
Director
Mark L. Smith (screenplay), Alejandro G. Iñárritu (screenplay), Michael Punke ... (based in part on the novel by)
Writer
$39.99
MSRP
English DTS-HD MA 7.1 | English DVS 5.1 | French Dolby Digital 5.1 | Portuguese Dolby Digital 5.1 | Spanish Dolby Digital 5.1
Audio
Summary
The Revenant is a beautiful, gripping, bleak film and excellently done in this Blu-ray edition from Fox Home Entertainment.
What people say... Login to rate
Be the first to leave a review.
Show more