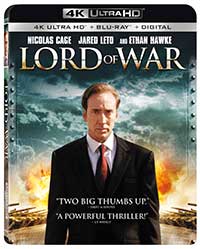 The 2005 film Lord of War from writer/director Andrew Niccol (The Truman Show) is one of the rare performances from Nicolas Cage where the actor manages to show some restraint throughout and as a result puts in a quite riveting performance.
The story, supposedly based on true events, follows Yuri Orlov (Cage), a Ukrainian-American who spends 20-years as an illegal gunrunner throughout the 1980s and 1990s rubbing shoulders with some of the world's most ruthless dictators and outmaneuvering federal agents trying to bust him, namely one agent Jack Valentine (Ethan Hawke). Though Orlov does find time to acquire a trophy wife in the form of a beautiful supermodel, Ava Fontaine (Bridget Moynahan), who came from his same Brooklyn neighborhood and manages to turn a blind eye to what she suspects are his criminal activities, his moral compass has long been broken. He convinces himself and his early partner in crime, his younger brother Vitaly (Jared Leto), that the death and chaos spread by the light arms and other miscellaneous weapons he trades in aren't his fight.
Lord of War is both an intriguing crime drama and a poignant treatise on the post-Cold War 'New World Order' propagated by Western alliances, arms manufacturers and the dealers that operate both in the shadows and in the harsh light of day. From the cold steel, the amoral money makers and the child soldiers around the world left in their wake, this film captures them all and does it with a removed sense of clarity thanks to the taut direction if sometimes languid screenplay of Andrew Niccol.
Cage is the real star power in this film, practically willing it forward with a singular performance and everyone else, even the inimitable Ian Holm, falls to the wayside. Bridget Moynahan is tragically underused, Jared Leto's character is almost forgotten and randomly inserted, while the only other actor who holds up is Eamonn Walker as the brutal West African dictator.
In all, however, despite some flaws, Lord of War is a powerful and provocative piece that is more than the sum of its parts.
The Video
Lord of War was originally shot in the Super 35 format with the Panavision Panaflex Platinum using Panavision Primo lenses. The 4K Ultra HD restoration arrives in a 2.40:1 2160p (4K) HEVC encodement with Dolby Vision HDR. It looks superb, giving up only the slightest hint of sparkle in some spots, but basically giving a rich and crisp looking presentation that is one would expect from a Super 35 production. It can tend to look a little grainy at times, but this is natural. The Blu-ray looks gritty as well, but the grain structure isn't as well defined on Blu-ray, taking a bit of the edge off. The colors are so vibrant thanks to the wide color gamut of the Dolby Vision, offering lots of nuance in the bright West African scenes and the shadows, plus there superb 'pop' in highlights.
The Audio
Lord of War comes with a fantastic Dolby Atmos remix. From the opening scene one can already tell this one is going to be special, with sound effects like the closing of a car trunk sound like it is shutting with you right inside the boot. Sound of gunfire in West Africa come from distant spots off to the sides and from behind. But this isn't just a gimmicky mix, it has excellent balance and often goes subtle and dialogue-driven when needed.
The Supplements
The special features are not much, but they are well worth watching and listening. The Making a Killing documentary is especially enlightening.
Digital Copy
Blu-ray with feature film
Audio commentary with writer/director Andrew Niccol
The Making of Lord of War (1.33:1; 1080p/24; 00:20:28)
Making a Killing: Inside the International Arms Trade (1.33:1; 1080p/24; 00:15:14)
Deleted Scenes (2.40:1; 1080p/24; 00:06:34)
The Final Assessment
A gritty, visually stylish and taut thriller about gun running that is lifted by an unusually reserved performance from Nicolas Cage. Lord of War also looks stunning in this wonderful new 4K Ultra HD transfer from Lionsgate and has a brilliant Atmos audio mix as well.
Lord of War is available on 4K Ultra HD Combo Pack March 19, 2019 from Lionsgate
---
R (for strong violence, drug use, language and sexuality)
Rating Certificate
Entertainment Manufacturing Company | VIP 3 Medienfonds | Ascendant Pictures | Saturn Films | Rising Star | Copag V | Endgame Entertainment | Majority Entertainment | Lionsgate Home Entertainment
Studios & Distributors
$22.99
MSRP
HEVC (H.265) 2160p (4K) | AVC 1080p (Blu-ray)
Video
Dolby Vision (Compatible w/ HDR10)
HDR Format
English | English SDH | Spanish
Subtitles
HDR Effect (If Applicable)
Summary
A Ukrainian-American illegal arms dealer (Nicolas Cage) rubs shoulders with brutal dictators around the world while avoiding a federal agent on his heels for two decades spanning the 1980s and 1990s in this taut, gritty, and poignant crime/drama that yeilds a surprisingly restrained perforance from Cage and stylish visuals. The new 4K Ultra HD Blu-ray disc brings the film to life with a fine 4K transfer in Dolby Vision along with an excellent Atmos audio mix.
What people say... Login to rate
Be the first to leave a review.
Show more