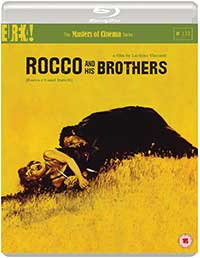 Luchino Visconti, one of the preeminent directors of the Italian neorealist movement took his style to the level of operatic melodrama with his 1960 masterpiece Rocco and His Brothers (Rocco e i suoi fratelli). The film charts the story of the Parondis, a poor family from rural southern Italy who, like many other families of the era, make the journey to the more modern, metropolitan northern city of Milan to scratch out a better life for themselves. After the death of her husband, matriarch Rosaria (Katina Paxinou) takes her sons Simone (Renato Salvatori), Rocco (Alain Delon), Ciro (Max Cartier), and Luca (Rocco Vidolazzi) to Milan to surprise her eldest son, Vincenzo (Spiros Focas), who himself is already preoccupied with the celebration of his engagement to the lovely Ginetta (Claudia Cardinale). Unfortunately for Vincenzo, his mother Rosaria's clash with his soon-to-be mother-in-law leaves him out in the cold, with no place to stay and with no fiancee. The family find themselves living together in a one room apartment, with the brothers all taking on odd jobs to get by. Eventually Simone, the most brutish one of the bunch, manages to start squeezing out a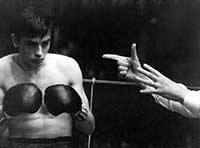 living as a half-rate boxer and Simone is drafted into the military. The film is broken into chapters that roughly correspond to stories related to each brother, but much of the second half of the film deals with the conflict that arises between Rocco and Simone as they both get romantically involved with the beautiful prostitute Nadia (Annie Girardot). This fraternal rivalry that leads to very tragic consequences for all involved is where the highest levels of Visconti's operatic melodrama arises. And adding to the sense of drama is the beautifully done camera work of Giuseppe Rotunno that takes the realism of the new wave to new artistic heights. One particular scene where Rocco and Nadia ride a streetcar moves with such dizzying beauty it captures the rocky emotional fray of things to come.
The Video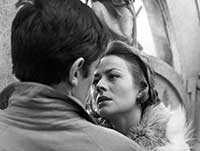 Visconti's sumptuous palette, courtesy of cinematographer Giuseppe Rotunno is presented fairly well in this Masters of Cinema release from Eureka. The 1.85:1-framed black and white film gets a pleasing AVC 1080p encodement that, apart from some film softness and some blacks that at times look a little greyish and a little too shifty, comes across with a strong, organic presence, rich details, and little to complain about as far as source damage is concerned.
The Audio
The Italian monaural track is presented in LPCM 1.0 (48kHz/24-bit) and as far as the audio goes, it sounds more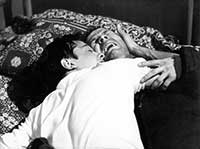 than good enough, despite just a little edginess in the dialogue. Sounds are distinct from one another and dialogue is clear.
The Supplements
Eureka really packs the extras in for this release. We get a lot of interviews and documentaries, all worth watching. We also get excellent essays and interviews in the lengthy 40-page booklet.
Cineronaca Newsreel (1.33:1; 1080p/24; 00:07:15)
Caleidoscopia Newsreel (1.33:1; 1080p/24; 00:01:52)
Original Italian Trailer (1.78:1; 1080p/24; 00:03:24)
Les coulisses du tournage (1.33:1; SD; 00:20:37) –This 2003 French documentary about Rocco and His Brothers features Claudia Cardinale and explores Visconti's interest in the mass migration of families from the rural south to the industrialized cities of the north; problems with filming; his uses of black & white film stock; and location hunting.
Giuseppe Rotunno Interview (1.33:1; SD; 00:26:31) – Visconti's cinematographer on Rocco and His Brothers is interviewed here for Italian TV in 1999.
Annie Girardot Interview (1.33:1; SD: 00:30:17) – In a 2002 French interview Annie Girardot offers her thoughts and experiences on making Rocco and His Brothers.
Claudia Cardinale Interview (1.33:1; SD; 00:23:18) – Claudia Cardinale was interviewed in 1999 as part of the Italian RAI series Memories of Italian Cinema.
Luchino Visconti Documentary (1.33:1; SD; 01:00:35) – This 1999 Italian RAI documentary about the life and work of Luchino Visconti features interviews and Burt Lancaster, Claudia Cardinale, Suso Cecchi d'Amico, Giuseppe Rotunno, Jean Marais, and Francesco Rosi, amongst others.
40-page booklet featuring writing by Guido Aristarco, an essay written by the director in 1960, a vintage interview with Visconti and rare archival imagery.
The Final Assessment
A film of stark beauty, elegance and yet raw emotional power, Visconti's Rocco and His Brothers manages to capture both the realistic struggle of families trying to escape the grip of poverty, and the eternal battle of logic and passion versus filial obligations. The seamless blend of realism and operatic melodrama is riveting, and this Masters of Cinema release captures it quite well.
Rocco and His Brothers [Masters of Cinema] [UK] (TheaterByte Blu-ray Review)
Masters of Cinema/Eureka Entertainment
Studios & Distributors
Luchino Visconti, Suso Cecchi D'Amico, Vasco Pratolini, Pasquale Festa Campanile, Massimo Franciosa, Enrico Medioli
Writer
£17.95
MSRP
14 March 2016
Release Date
Italian LPCM 2.0 (48kHz/24-bit)| French LPCM 1.0
Audio
Summary
Rocco and His Brothers is a riveting Luchino Visconti masterpiece that reaches emotional and visual heights, presented in a beautiful, stark black and white production on Blu-ray from the Masters of Cinema series.
What people say... Login to rate
Be the first to leave a review.
Show more