Superman and Batman are major DC comic book superheroes that are renowned globally for their vigilante justice actions aimed toward saving innocent civilians in their respective cities. Since Superman's origin in comics in 1938 and Batman's conception in 1939, the two superheroes have appeared in multiple hit movies and television series throughout the decades. Since superheroes always need to be counteracted by a villain they can fight and eventually defeat to demonstrate the ultimate triumph of good over evil, there have been countless villains who have appeared as foils to Superman and Batman on-screen. While these minor and major villains are too numerous to list in their entirety, some of the most menacing and powerful super villains simply cannot be forgotten.
Batman Super Villains
1. Poison Ivy (Batman & Robin/1997)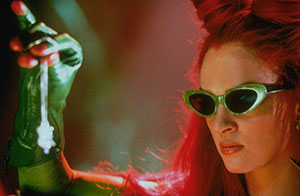 Poison Ivy is a murderous super villain who fights against Batman and his gang in the hero's comic series and is a starring villain in the 1997 movie Batman & Robin. Poison Ivy's real name is Pamela Isely, but she gets her villain title from both her green, leaf-wrapped suit as well as her desperate desire to save the earth. While environmentalism may not sound like such an evil motive for a super villain, Poison Ivy unfortunately chooses to carry out her plans to save Mother Earth through psychotic, violent, and murderous actions that necessitate the involvement of Batman in order to save innocents from getting caught in the crossfire. In the 1997 film, Poison Ivy is played by actress Uma Thurman.
2. Bane (The Dark Knight Rises/2012)

Bane, who is the primary villain in The Dark Knight Rises, the last installment of the latest Batman film trilogy, makes the cut on the super villain list if only for his terrifying, metal-mouthed appearance that is strongly reminiscent of Silence of the Lamb's Hannibal Lecter and his classic facial attire. Bane was raised in a hellish prison, where he sustained the brutal injuries that force him to wear the metal mask that covers the majority of his face. Bane is known as the commander of the League of Shadows and he horrified superhero fans everywhere when he defeated Batman in combat. He then proceeded to rule and manipulate the citizens of Gotham City as a feared tyrant until Batman recovered from his attack and returned to free the citizens from the reign of Bane and his cohorts in the League of Shadows.
3. The Joker (The Dark Knight/2008)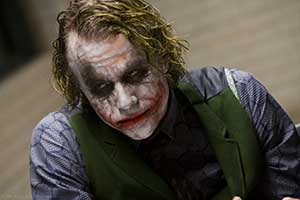 The Joker is the quintessential Batman super villain. Originating as Batman's foil more than seventy-five years ago in the first début comic issue of Batman in 1940 and appearing in countless Batman TV series, movies, and video games since then, The Joker is much more than simply a villain for Batman to fight. The Joker, recognizable by his sinister clown makeup and lips carved into a perpetual, bloody smile, is Batman's nemesis. Played by renowned actor Heath Ledger in The Dark Knight, The Joker is a mysterious enigma with a past that remains unknown even after he is captured and studied by detectives and authorities. He consistently terrorizes the citizens of Gotham City and murders many people in tricky, darkly satirical ways while continuing his constant game of violent cat-and-mouse with Batman.
Superman Super Villains
1. General Zod (Man of Steel/2013)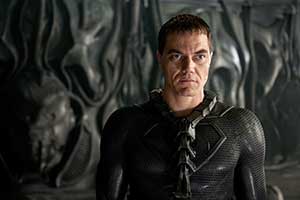 General Zod is a major villain in the 2013 Superman film Man of Steel. His background story involves his position as a renowned military commander of Krypton, Superman's home planet, where he gradually becomes upset with the society there, rises to power as a corrupt dictator, and initiates a harmful war. However, following the destruction of Krypton, General Zod shows up on earth and eventually announces his plans to transform the planet of earth into a new Krypton, where he can rule the empire he always wanted, just on a different planet than he had originally planned. General Zod's plan also involves taking on Superman and making him his lowly slave within his new empire, which, of course, requires Superman's immediate attention and intervention in order to stop Zod's heinous plan from coming to full effect. In the Man of Steel film installment in 2013, super villain General Zod is played by actor Michael Shannon.
2. Metallo ( The New Adventures of Superman/1966 TV series)
Metallo is a frequently underrated Superman villain who still deserves to qualify within the top ranks of super villains who have gone up against the classic superhero. Like all superheroes and villains alike, Superman has a fatal weakness that renders him powerless against any enemy that uses it against him. His weakness happens to be Kryptonite, and Metallo has harnessed an ingenious way to use that weakness against Superman. After all, if you're a villain bent on destroying a superhero and you know that superhero's weakness, why wouldn't you use it to your advantage as much as possible? While many other comic book villains seem to underestimate that concept, Metallo milks it to the best of his abilities through an injury that left him unable to be saved by anything except robotic pieces powered by Kryptonite bound to his flesh. Although Metallo often shows up as a secondary villain or assistant villain, he still deserves credit as a menacing super villain since he is literally constantly attached to the one thing that is guaranteed to bring Superman and all of his strength tumbling down.
3. Lex Luthor (Superman Returns/2006)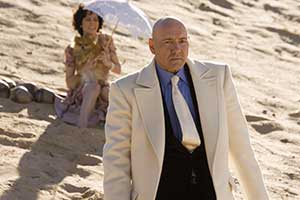 Much like The Joker to Batman, Lex Luthor plays the role of the primary nemesis to Superman. He is a majorly egotistical super villain with an evil streak and a huge superiority complex. His main goal is always to defeat Superman, no matter what, in order to prove that he is the best and most powerful being in the universe. However, despite Lex Luthor's clear-cut maniacal goals, he undergoes an interesting background that ranges from a corrupt businessman to being instated as the president to acting as a member of the Justice League to, of course, combating Superman. In the 2006 Superman film installment Superman Returns, the classic super villain Lex Luthor is played by actor Kevin Spacey.