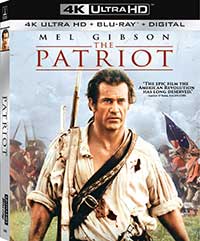 Mel Gibson played a reluctant war hero in the historical drama Braveheart and  In The Patriot, he assumes a similar role as Benjamin Martin, actually a composite of several American Revolutionary War heroes, most notably South Carolina's Francis Marion, the "Swamp Fox."
It is 1776 and the fight for American independence has begun. The former South Carolina militiaman and now widower, and pacifist Martin abstains from a vote to support the new Continental Army. Martin has a bloody backstory, stemming from a massacre his troops conducted at Fort Wilderness during the French and Indian War, which explains his abhorrence of armed conflict.  Gabriel (Heath Ledger), the oldest of Martin's seven children, joins the Army and, after he is wounded, returns to the Martin farm where other injured soldiers also receive care.
The film's villain, British Colonel William "The Butcher" Tavington (Jason Issacs) brings his superior forces to arrest Gabriel and the freed slaves working on Martin's farm. In the melee that follows, Tavington kills Martin's son Thomas (Gregory Smith) and his troops burn down their home. Benjamin abandons his peace-loving stance and, with Gabriel at his side, wages his own campaign against the British. Colonel Harry Burwell (Chris Cooper) gives Martin command of the local militia that is charged to keep Lord Cornwallis's (Tom Wilkinson) British army at bay. The fight scenes receive brief respite from the much calmer vignettes featuring the love interests of Benjamin, his sister-in-law Charlotte Selton (Joely Richardson), and of Gabriel, Anne Howard (Lisa Brenner).
Tavington's men visit unspeakable acts of death and destruction upon the Martins and other militia sympathizers, including the burning of the town church with all inside, including Gabriel's wife Anne.  We finally get the big battle scene, culminating in a fight to the death between Martin and his nemesis Tavington. The well-known conclusion of the war takes place in 1781 in Yorktown and America emerges as a new nation.
While dramatic liberties are taken with some of the characters and the purported savageries committed by both sides, Gibson is the glue that holds together a long and sometimes unwieldy script from screenwriter Robert Rodat (Saving Private Ryan) that reportedly underwent sixteen revisions. The Patriot is blessed with huge vistas realized by Oscar-nominated cinematographer Caleb Deschanels (The Right Stuff) and with another heroic score penned by legendary composer John Williams. In spite of some strong supporting work turned in by Gibson's numerous colleagues, this three-hour epic plays long and will place demands on viewers' patience to slog through its gruesome and violent acts of war.
The Video
Panavision cameras and lenses produced the original 35 mm sources that were quite impressively remastered in the 4K HEVC 2160p (4K) version with superb details and contrasts. The HDR encodement does more than justice to this film's wide-ranging color palette, particularly the reds of the British uniforms. The accompanying Blu-ray is also quite good if not up to the standard of the 4K Ultra HD disc. 
The Audio
The Dolby Atmos (Dolby TrueHD 7.1 default) upgrade is sensational, particularly in the large battle scenes where bullets whiz by from all directions. There is also substantial LFE that will put your subs through their paces. Dialogue is clearly reproduced (and there is plenty of it) and Williams's score gets an expansive presentation that will stir the blood of all patriotic Americans.
The Supplements
The Ultra HD disc has the following extras:
Commentary by director Roland Emmerich and producer Dean Devlin
Seven deleted scenes with commentary (English Dolby Digital 48k/16b) (13:01)
The Art of War Featurette (English Dolby Digital 48k/16b) (9:45)
The True Patriot Featurette (English Dolby Digital 48k/16b) (9:57)
Visual Effects Featurette (English Dolby Digital 48k/16b) (9:20)
Conceptual Art to Film Comparisons (English Dolby Digital 48k/16b) (4:48)
Photo Gallery
Theatrical trailer (English Dolby Digital 48k/16b) (2:39)
The Blu-ray disc has the following extras:
Unrated cut of the film
The Art of War Featurette
The True Patriot Featurette
Rounding out the extras is a Movies Anywhere digital code allowing you to watch the film at your digital provider of choice (iTunes, Amazon Prime Video, Vudu, Fandango Now, Google Play, and the Movies Anywhere app)
The Final Assessment
In spite of Mel Gibson's heroic contribution and a strong supporting cast, the weak link of this re-release remains its overly long script that seems to revel in graphic blood and gore. Still, the 4K Ultra HD makeover of The Patriot is a technically great watch with demonstration-quality sights and sounds.
The Patriot is out on 4K Ultra HD Combo Pack May 22, 2018 from Sony Home Entertainment
Columbia Pictures Corporation | Centropolis Entertainment | Mutual Film Company | Global Entertainment Productions GmbH & Company Medien KG | Sony Pictures Home Entertainment
Studios & Distributors
HEVC (H.265) 2160p (4K) | AVC 1080p (Blu-ray)
Video
English Dolby Atmos
Primary Audio
English DTS-HD MA 5.1 | English, French, Czech, Portuguese, German, Russian, Italian, Hungarian, Thai, Spanish, Japanese Dolby Digital 5.1
Secondary Audio
Czech | Hindi | French | Portuguese | German | Finnish | Polish | Swedish | Croatian | Arabic | Korean | Italian | Dutch | Hebrew | Norwegian | Mandarin | Icelandic | English | Spanish | Japanese
Subtitles
HDR Effect (If Applicable)
Summary
After a sadistic officer murders his son, British farmer Benjamin Martin (Mel Gibson) leads the Colonial Militia during the Revoluionary War to avenge his death. A Mel Gibson hero-themed historical drama that retraces the American Revolutionary War in South Carolina through its overly long and leisurely paced script that lasts nearly as long as the war itself.
What people say... Login to rate
Be the first to leave a review.
Show more