As my sixteenth Father's Day approaches, I can attest to a lot of the clichés surrounding paternity. Dads like action, and plenty of it, as well as tales of true heroism. We like to laugh, sometimes we just need to escape, and other times we can't help but feel a tug on the heartstrings when a movie dad feels our pain. With these criteria in mind, I submit this father-friendly list of highly watchable, highly giftable discs (and more).
The Patriot 4K Ultra HD Blu-ray (Sony)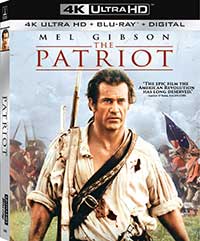 A history lesson from the guys who made Independence Day (and Godzilla) might seem like heresy, but between the vehement performance of Mel Gibson as patriotic Benjamin Martin (loosely based upon the real-life "Swamp Fox," Francis Marion) and a smart, intense script by Robert Rodat (Saving Private Ryan, keep reading…), it manages to work brilliantly. Martin is a loving and involved single dad with a big brood, but also a dark past that comes back to haunt him when the Revolutionary War literally arrives on his doorstep. What ensues is an R-rated journey through fact and fiction that lays bare the often-gruesome sacrifices our forefathers made to build a new nation. Caleb Deschanel's cinematography is magnificent, more so with this 4K/HDR update. In terms of both LFE and surround activity, The Patriot has been go-to demo material for me since I first spun the DVD, particularly the scene of son Gabriel's rescue, now better than ever in Dolby Atmos. Surprisingly, Sony has loaded the 4K platter with archival bonus materials, while Disc Two is a Blu-ray of the 10-minute-longer "Extended Cut," with a couple of the same featurettes. A Digital Copy is also supplied.
Read our full review of The Patriot on 4K Ultra HD Combo Pack
[amazon_link asins='B07B5Y6TVD' template='ProductAd' store='theaterbyte-20′ marketplace='US' link_id='2f7a0783-6f3b-11e8-9564-dd6d80f0df43′]
Saving Private Ryan 4K (Paramount)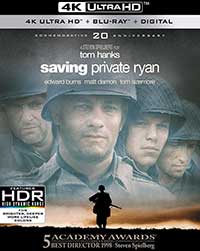 More than half a century after the end of World War II, Steven Spielberg gave the world one of the greatest war films of all time. Inspired the true story of the Niland brothers, Robert Rodat's script gets to the heart of why we fight, while confronting the harshest realities of the battlefield as never before depicted. A marvel of Dolby Vision and Dolby Atmos, this newest presentation of the 20-year-old Ryan is now as enthralling as when I first experienced it on a 30-foot cinema screen. Practically every scene dazzles, but it is the protracted D-Day invasion which opens the film that not only sets the scene dramatically but awes (and exhausts) the viewer with its unrelenting depiction of palpable danger. A slew of veterans reportedly approached the filmmakers to praise the remarkable authenticity they achieved. As Steven Spielberg has never provided a commentary for any of his films, favoring instead video supplements, a third disc collects all of the extras, comprised of short topic-specific vignettes and the feature-length Shooting War, narrated by Tom Hanks. A Digital Copy is included.
Read our full review of Saving Private Ryan on 4K Ultra HD Combo Pack
[amazon_link asins='B07B12HNN1′ template='ProductAd' store='theaterbyte-20′ marketplace='US' link_id='f976dfdd-6f0f-11e8-ba26-d34eac2f0644′]
Trading Places
Coming to America (both Paramount)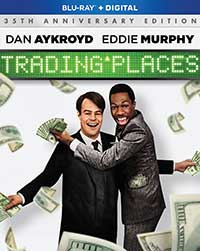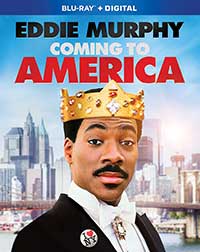 Not just any dads, but those of a certain age hold in special regard the R-rated antics of Eddie Murphy. 2018 marks the 30th anniversary of Coming to America and the 35th for Trading Places. Largely owing the Mr. Murphy's once-in-a-generation comedic gifts, with no small contribution from director John Landis, the movies are still tremendously funny, quotable and often imitated. Whether it's the social experiment that switches a fast-talking homeless man and a well-heeled fop, or a prince-in-disguise's quest for blue-collar love, these are bona fide '80s gems. Archival extras are ported to Blu-ray, both from previous disc releases and from the original theatrical publicity materials. To suit contemporary viewing habits, both Trading Places and its unofficial "sequel" Coming to America have Digital Copy codes.
Read our full review of Trading Places [35th Anniversary Edition] on Blu-ray
Read our full review of Coming to America [30th Anniversary] on Blu-ray
[amazon_link asins='B07BR9FHHN,B07C9D5P7X' template='ProductCarousel' store='theaterbyte-20′ marketplace='US' link_id='0f342815-6f3b-11e8-b66f-2119107ff6f0′]
Jurassic Park 25th Anniversary Collection 4K Ultra HD Blu-ray (Universal)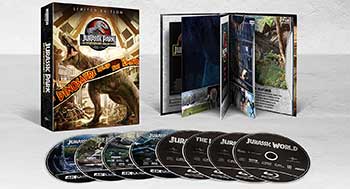 Truth be told, I was never that crazy about dinosaurs, at least not to the extent of some of my peers. But the Jurassic movies have consistently dazzled technically, and when orchestrated by the likes of Steven Spielberg, Joe Johnston and Colin Trevorrow, they're surely worth a look, and a listen. The occasional presence of cinematic charmers like Jeff Goldblum and Chris Pratt doesn't hurt either, so what if the plot largely devolves into "Run from the CGI critters!"?
The recent Jurassic World was already released in 4K, but now the three predecessors–Jurassic Park, The Lost World: Jurassic Park and Jurassic Park III–have been given 2160p remasters. In brief, I and III are plagued by a disappointing variety of issues, while the even-numbered entries are more indicative of what he format has to offer. Since 1993's Jurassic Park was the first feature film ever released with a DTS soundtrack, it's only fitting that these four have DTS:X immersive soundtracks, with cores of DTS-HD Master Audio 7.1. Each offers listeners a thrilling ride full of little surprises, only rarely straining against the limitations of their source material. All of the movies in this sturdy slipcase are paired with a Blu-ray copy as well, seemingly porting all of their pre-existing extras, plus a Digital Copy.
[amazon_link asins='B07B14J2PK' template='ProductAd' store='theaterbyte-20′ marketplace='US' link_id='44abf8ab-6f39-11e8-b5b2-e30d7dac457f']
The Matrix 4K Ultra HD Blu-ray (Warner)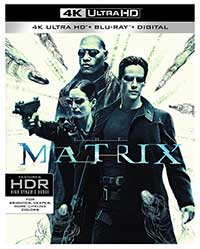 Warner has gone all out for the 4K debut of one of the crown jewels in their catalog, a favorite of every movie buff I know, dad or otherwise. Reportedly sourced from the original camera negative (kinda weird that a tale so computer-y was captured analog-ly, right?) and given a painstaking Dolby Vision grading, this disc is as eye-opening as dropping a red pill, with enhanced colors and newly delineated shadows. It still bears the mark of excessive green that was applied retroactively by The Wachowskis to make it align visually with the sequels, but even this master's shortcomings are more palatable in 4K and HDR. (The first of the two bundled Blu-rays here appears to come from this same remaster, rather than a mere repack of the previously released disc.)  The new Dolby Atmos mix on both the 4K and 1080p versions of the movie is simply stunning, too. Four audio commentaries adorn the Ultra HD platter, including the combination insight/isolated-music track from composer Don Davis. A second Blu-ray is dedicated to archival extras, and a code for a Digital Copy is packed inside.
Read our full review of The Matrix on 4K Ultra HD Combo Pack
[amazon_link asins='B07BF1Z37P' template='ProductAd' store='theaterbyte-20′ marketplace='US' link_id='9ee3a939-6f10-11e8-bca9-8d084a134e54′]
It's Alive Trilogy Blu-ray (Shout! Factory)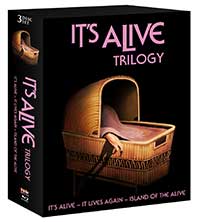 From the wonderful grindhouse auteur Larry Cohen comes this startling threesome about a mutant baby who kills at an eighth-grade level. Originally brought to life by a pre-King Kong Rick Baker, the murderous moppet offended many upon his 1974 debut in It's Alive, and yet found a way to return for the sequels It Lives Again (1978) and It's Alive III: Island of the Alive (1987). Perhaps owing to subtle yet sincere messages about family unity, safe pregnancies and oppressive government, they continue to captivate fans of low-budget horror that punches above its weight.
Shout's box marks the first time all three movies have been released on Blu-ray, born of new 2K scans that are mostly clean and filmic, if sometimes a bit too clean. Audio is respectable dual-mono/dual-mono/stereo. Mr. Cohen provides mostly-outstanding (archived) commentaries for all three in addition to on-camera interviews as part of a substantive new featurette on Disc One. Film marketing is a popular topic of his, and so the gallery of vintage advertising here is a welcome bonus.
[amazon_link asins='B079NCCK2P' template='ProductAd' store='theaterbyte-20′ marketplace='US' link_id='e5acffbf-6f35-11e8-8277-f3fa5146769f']

Mystery Science Theater 3000 The Singles Collection DVD
MST3K Season 11 Blu-ray (both Shout! Factory)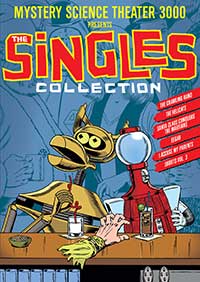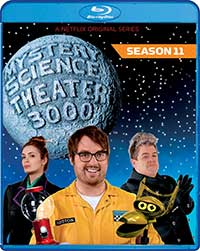 I've long contended that if I had the time, I would kick back and fill my days with the guilty pleasure of MST3K and their indulgent riffs of otherwise unwatchable movies. Shout! Factory continues to plumb the satellite o'love's deep-and-growing library, now with two convenient new sets for my dad-time. The early era of MST3K on DVD at the dawn of the millennium featured a bunch of individual discs, as opposed to the numbered volumes later assembled by the studio, long since fallen out-of-print and much sought after. The shelf-friendly six-DVD Singles Collection now houses the triumphant return of  Richard Kiel as the titular caveman in Eegah, in addition to the horror and "drama" of such classics as The Crawling Hand, The Hellcats, I Accuse My Parents, Shorts Volume 3 and the notorious Santa Claus Conquers The Martians. Creator/host Joel Hodgson provides new introductions, and a handful of featurettes maintains the proper spirit.
Our long cultural fast was broken when MST3K returned in 2016 with new episodes for Season 11, which is actually Season 1 of its Netflix run. The eight-disc/14-movie set marks the first full-season release, and the show's first-ever Blu-ray (not counting the theatrically released Mystery Science Theater 3000: The Movie). I'm old enough now to remember when some of these movies were first released on the big screen, or to be taken at face value as reruns… albeit on Saturday afternoons or at 3 a.m. It's a mixed bag, no doubt, but all ripe for the gang's unique brand of inspired mockery: Reptilicus, Cry Wilderness, The Time Travelers, Avalanche, The Beast of Hollow Mountain, Starcrash, The Land That Time Forgot, The Loves of Hercules, Yongary, Wizards of the Lost Kingdom plus Wizards of the Lost Kingdom II naturally, as well as Carnival Magic, The Christmas That Almost Wasn't and At the Earth's Core. With a new cast (Jonah Ray, Felicia Day, the always delightful Patton Oswalt), some unexpectedly A-list guest stars (Jerry Seinfeld?!? perhaps tied to the deal for his Netflix series, Comedians in Cars Getting Coffee?) and the feature-length "We Brought Back MST3K" documentary, this reboot is an event worthy of celebration.
[amazon_link asins='B079NCCK2M,B078X95TQB' template='ProductCarousel' store='theaterbyte-20′ marketplace='US' link_id='42512a9d-6f37-11e8-a4f0-515e6163ec6e']
Father Figures Blu-ray (Warner)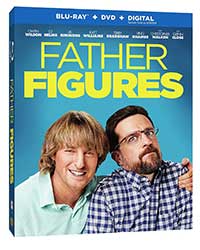 I didn't much care for this recent R-rated comedy… but, y'know… fathers. In a weird flip of her storyline on the Simpsons, Glenn Close stars as a mom who lies to her twin boys (Ed Helms and Owen Wilson) and tells them that their father has died, when he's actually out there somewhere, and the search begins, a clichéd road trip that never quite gets where it's going. Dads are known for their skewed sense of humor though, so that leeway and a pretty amazing array of cameos might make this worth a look. The disc additionally serves up deleted scenes and a "hilarious gag reel."
[amazon_link asins='B077Z82BGJ' template='ProductAd' store='theaterbyte-20′ marketplace='US' link_id='2e20c06b-6f38-11e8-8c6f-81bc9f411fca']
15:17 to Paris Blu-ray (Warner)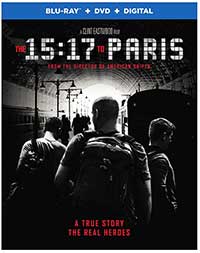 Would any list really be complete without at least one Clint Eastwood entry? Mr. E. has chosen a novel approach to his telling of a thwarted real-life terrorist attack by casting the actual heroes of the day, despite the fact that none are professional thespians. With the help of a British passenger, three Americans (Alek Skarlatos, Anthony Sadler, Spencer Stone), vacationers who happened to be in the right place at the right time, managed to take down a crazed gunman on the now-infamous locomotive on August 21, 2015. Clint's Audie Murphy-esque bit of cinéma vérité might be the movie's ultimate undoing, but while this 94-minute outing lacks the impact of his similarly patriotic yet more significant American Sniper, it is certainly earnest in its recognition of the best and bravest among us. Blu-ray A/V quality is solid, while the two featurettes add a bit of perspective.
Read our full review of 15:17 to Paris on Blu-ray Combo Pack
[amazon_link asins='B077ZCTV4L' template='ProductAd' store='theaterbyte-20′ marketplace='US' link_id='fb691e24-6f10-11e8-8198-1ff2ad3ac08e']
Mission: Impossible 1-5 4K (Paramount)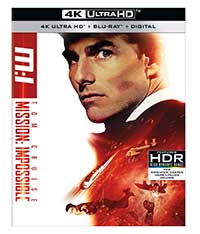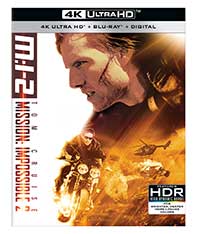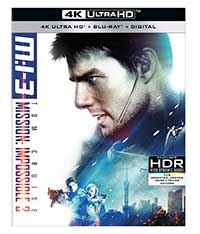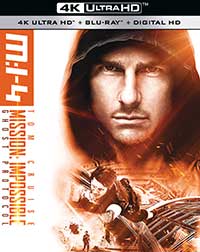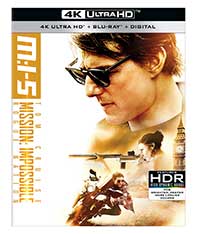 Timed for both Father's Day and the release of the new Fallout, the first five installments of the globe-trotting Mission: Impossible secret-agent franchise have now been upgraded to 4K. The movies were originally going to feature a rotating roster of A-list directors (Brian DePalma, John Woo, J.J. Abrams, Brad Bird et. al.) and so the style and effectiveness of each varies. But by now we rightly expect and receive thrilling setpieces, mind-blowing gadgets and over-the-top stunts, more often than not performed personally by star Tom Cruise. Like him or not, there's no denying his unwavering devotion to the film series that he has spearheaded since the mid-'90s.
The accompanying audio evolves from Dolby TrueHD 5.1 (1, 2, 3) to 7.1 (4/Ghost Protocol) to Dolby Atmos with a Dolby TrueHD 7.1 core (5/Rogue Nation), whereas all are impressively presented with Dolby Vision high dynamic range, proof of Paramount's commitment to the highest standards for 4K, even for catalog titles. Each of the movies were at least partially shot on 35mm film, and although the results can differ, all are a welcome improvement over their 1080p counterparts. Every one is bundled with an HD Blu-ray disc and an iTunes/UltraViolet-compatible Digital Copy, and all but the first two include a third platter, a Blu-ray of extras. 2 and 3 even include director commentary on the 4K disc, with J.J. joined by Tom himself for 3 in a rare-ish audio commentary appearance. (Cruise and McQuarrie provide commentary on the Blu-ray only of Rogue Nation.)
[amazon_link asins='B07BZ5F728,B07BZBD1VH,B07BZBZ17T,B07BYWVM15,B07BZBD1VJ' template='ProductCarousel' store='theaterbyte-20′ marketplace='US' link_id='c13dc6f6-6f2e-11e8-8ced-f14fea9a19f5′]
Game of Thrones The Complete First Season  4K (HBO)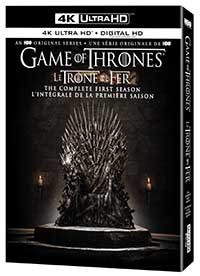 This HBO show was an absolute winner from the very first episode, bringing George R.R. Martin's epic, pseudo-Medieval book series about the high cost of power, brought to life with stunning verisimilitude. At turns beautiful, wondrous and disturbingly harsh, this world is populated by some of the most engaging characters ever to grace the small screen. Undeniably, Season One belonged to Ned Stark (Sean Bean), Lord of Winterfell, whose strong paternal streak extended beyond his four kids, his bastard son Jon Snow (that's not me being mean, that's the show), indentured servant Theon Greyjoy… and just about everyone he meets. (Except that unreachable Joffrey Baratheon, grrr….)
Its legendarily high budgets certainly come across in the enhanced viewing experience of 4K resolution and Dolby Vision HDR, from the comely international cast to the filthiest recesses of Westeros. I'm not aware of any other way to watch HBO shows in 4K, so this is truly the best way to enjoy their finest creation. (The Dolby Atmos remix had been shared previously on the 2015 Blu-ray reissue.) Despite porting extensive supplements here from past special editions, this is definitely the slimmest Game of Thrones set yet released, notably eschewing the typical inclusion of HD Blu-ray discs but bestowing a Digital Copy of the entire season.
Read our full review of Game of Thrones: The Complete First Season on 4K Ultra HD Blu-ray
[amazon_link asins='B07BZBD1K1′ template='ProductAd' store='theaterbyte-20′ marketplace='US' link_id='68705776-6f11-11e8-9851-43837c8a3a6b']
It's going to be a long, cold winter until the remaining Starks, their allies and enemies are back on the air, so to help Dad fill the void:
Game of Thrones Premium Box Collection, Box II: "The North and Beyond the Wall" (CultureFly)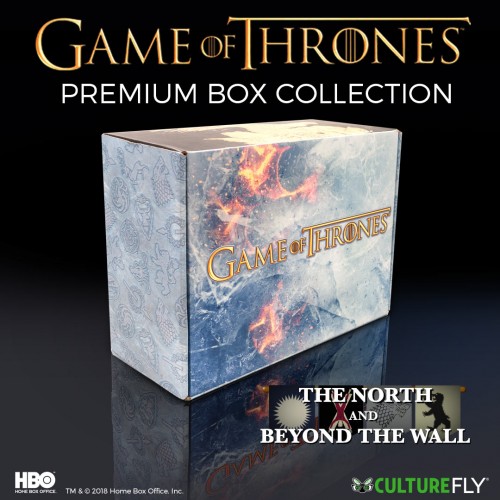 Subscription boxes are all the rage these days, curating an assortment of items around a central theme to deliver a string of happy surprises to our mailbox throughout the year. CultureFly has scored the licenses to several of the most popular fandoms, including Game of Thrones, and their quarterly offerings combine a real love of their subject matter with a bit of whimsy. The spring box contains the makings for a rockin' viewing party–a set of five house sigil coasters and a conversation-starting bottle opener featuring giant Wun Wun–in addition to the almost-too-clever blank journal entitled "Things Jon Snow Knows." There are a total of eight high-quality items this time, all exclusive to this crate, among them another deliciously soft t-shirt.
httpss://www.culturefly.com/pages/game-of-thrones
As much as I enjoyed the GoT box, I am downright enamored of:
World's Finest: The Collection – Issue #3: Justice League (CultureFly)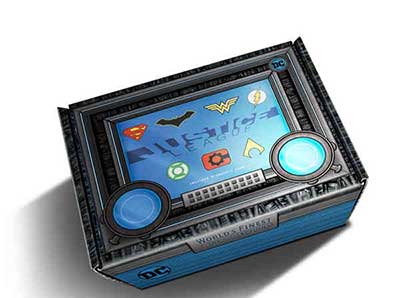 Comic book fandom has come out of the shadows in recent years, and so CultureFly's ongoing exploration of all things DC is a long-awaited treat. To CF's credit, these are mostly quite practical items that can be incorporated into daily life for a little geeky flair, again 100% exclusive. The Justice League edition contains a well-made, understated belt buckle that's a little Batman, a little Bruce Wayne, with a discrete space for ID/credit cards/cash hidden within. For those without a green thumb (or ring finger), the Green Lantern planter can also be repurposed as a snazzy pencil holder, just not a drinking vessel, because of the drainage hole at the bottom. Techies will appreciate an always-handy charging cable in the style of Princess Diana's golden lasso, the first I've ever seen with plugs for USB Type-C as well as Lightning and Micro-USB (Android).  Did somebody say "Android"? Cyborg, one of the team's newest members, is here as a vinyl figure. Surely the star of this box, however, is the wearable tribute to The Flash: Turn this comfortable scarlet track jacket inside out and–ZOOM!–you've got Reverse Flash.
httpss://worldsfinestcollection.com/
At least one day out of the year is great for dads — and that's Father's Day.