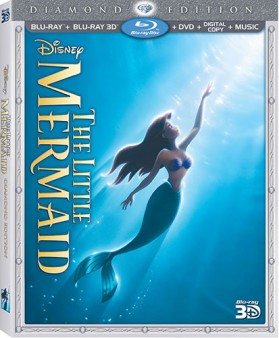 Mouse -Over Cover Art for Details –
The Film
[Rating:5/5]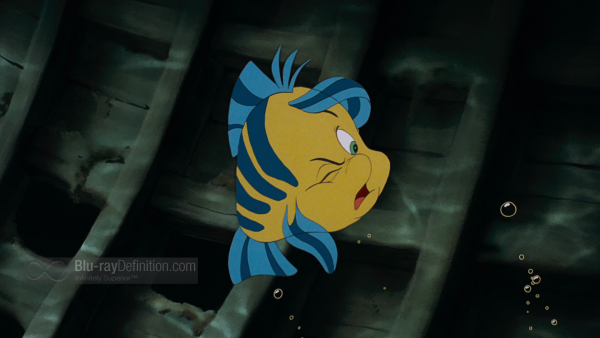 The Little Mermaid tells the story of Ariel (Jodi Benson), a mermaid living far under the sea with her friends Sebastian (Samuel E. Wright) and Flounder (Jason Marin.) Her father, Triton (Kenneth Mars), rules this kingdom; however, he's always butting heads with Ursula (Pat Carroll.) While life under the ocean may be fun, Ariel longs to live above the seas, with the humans, despite the disapproval of her father. Wishing to fulfill this dream, Ariel travels to see Ursula, who agrees to make Ariel human in exchange for Ariel's voice. Even though Ariel now may be living said dream, she soon realizes that Ursula has greater, more devious desires for her and her father. What results is yet another instance of a classic film from the Disney renaissance era.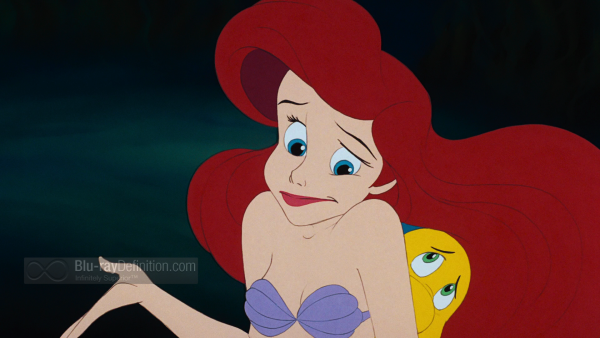 What helps to make The Little Mermaid one of the best Disney films ever made, lies not necessarily in the story, but more in the film's villain – Ursula. She helps to bring a sense of horror to the film. She's downright devious at times, only thinking of herself while taking advantage of Ariel's innocence. This aspect makes the story rise above its normal tones (you know, the standard girl longing for a world her father disapproves of, only to seek help from the one person her father despises.) It almost makes the plot seem rather clever, a trait that I had never seen at the time of the film's release.
Also worthy of mention is that the film is simply a joy to watch, something that seems to be all but missing from modern Disney films (well, outside of their combined Pixar efforts and Wreck-It Ralph.) Watching this one again was purely entertaining, something I'm sure fans who grab this title will certainly agree with me on.
Video Quality
2D HD: [Rating:4.5/5]
3D Effect: [Rating:4.5/5]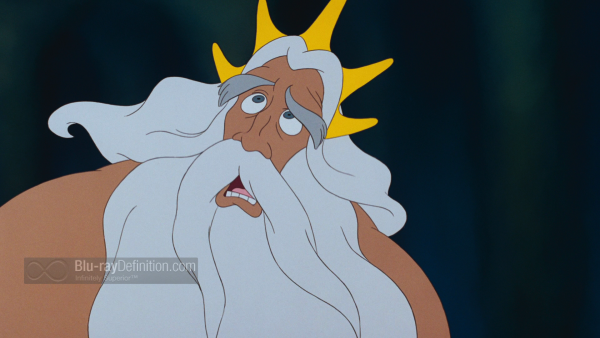 Arriving with a 1:78:1 framed, AVC MPEG-4 encoded transfer, Disney's The Little Mermaid contains a solid effort. While this transfer may not rank at the top of their animation shelf, I was still pleasantly surprised at the quality. Colors pop off the screen, whether it be the blues of the oceans, the whites of Trition's beard or the fireworks during Eric & Ariel's 'Kiss the Girl' scene. Detail is as strong as one might expect, with facial close-ups (like the screenshot directly below) result in accurate colors and no notice of image blurring. The film's print is also in fine condition, despite its 24-year age. The restoration work that Disney put in easily shows from the opening moments. Gone is the layer of source noise. There's no notice of blips, scratches or any other anomalies here.
Equally solid is the film's 3D effort. With this being a film with an underwater locale, there's numerous instances where 3D can shine. Little instances like  bubbles moving towards the surface, 'pop' off the screen giving us a fine 3D effect. Common 3D issues like that of ghosting, were not noticeable at all. Like its 2D sibling, detail is quite strong here. Colors pop as strongly as the 2D counterpart, and there's no real 'gimmicky' use of 3D that most modern live-action 3D films use.
Again, while this may not be as demo worthy as releases like Beauty and the Beast, Disney has still delivered a technical effort fans will appreciate.
Audio Quality
[Rating:5/5]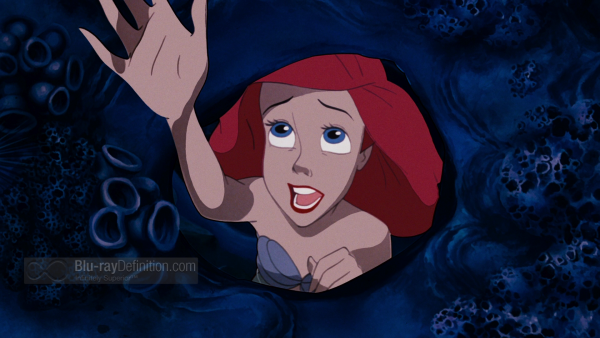 Audio-wise, the film's DTS-HD Master Audio 7.1 Mix is excellent. Dialogue is well reproduced throughout via the center channel. Atmosphere impressed me the most. Whether it be the sequence where Ariel rescues Eric and brings him to shore, or the varying musical moments, every little effect has been carefully placed to create a truly fine sense of atmosphere. LFE, especially during the closing battle against Ursula, is deep and immersive, giving us a nice little 'oomph'. The film's score is also quite excellent, mixing in both songs and little musical moments that help to draw us into the story. All in all, this is the best The Little Mermaid has ever sounded, and I can't ask for much more here.
Supplemental Materials
[Rating:3/5]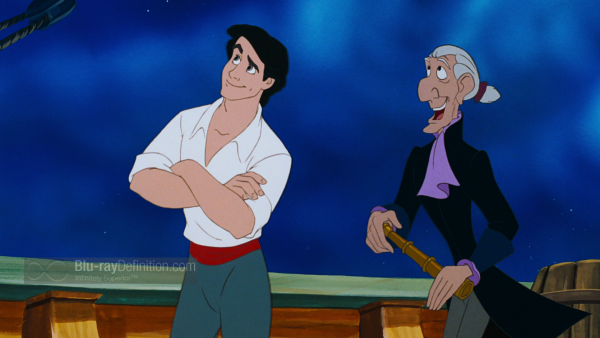 All included features are presented in High Definition:
Music Video – "Part Of Your World" by Carly Rae Jepsen
Crab-E-OKE Sing Along
Never-Before-Senn Deleted Character (Harold The Merman)
Part Of Her World: Jodi Benson's Voyage To New Fantasyland
@Disney Animation: Behind The Scenes
Howard's Lecture: Music In Movies
Under The Scene
Music Downloads – A 10 Music Track Download has been made available via MermaidOffers.com with the included code.
7 Deleted Scenes – 7 scenes are shown.
Treasures Untold: The Making of the Little Mermaid
Storm Warning: The Little Mermaid Special Effects Unit
The Story Behind the Story
The Little Match Girl
Early Presentation Reel
Original Theatrical Trailer
Music Video "Kiss the Girl" by Ashley Tisdale
DisneyPedia: Life Under the Sea
Behind The Ride That Almost Was with Disney Imagineers
Ride the Attraction
Platinum Edition Easter Eggs – The following Easter Eggs are available. John Musker and Ron Clements doing caricatures of one another, comments from the animators Ruben Aquino, Glen Keane and Mark Henn and Musker and Clements demonstrating "The Little Mermaid handshake."
DVD – A DVD Copy has been included on a separate disc.
Digital Copy – A Digital Copy, playable in iTunes, has been included.
The Definitive Word
Overall:
[Rating:4.5/5]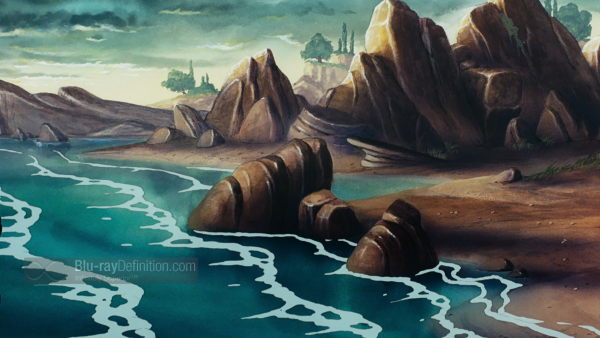 The Little Mermaid has stood the test of time, easily being one of Disney's greatest animated efforts. Equally great is Disney Blu-ray effort with an all around impressive effort on virtually every front. This one earns my highest recommendation.
Additional Screen Captures
[amazon-product]B00C7607FS[/amazon-product]
[amazon-product]B00C7607BC[/amazon-product]
[amazon-product]B0036TGT2A[/amazon-product]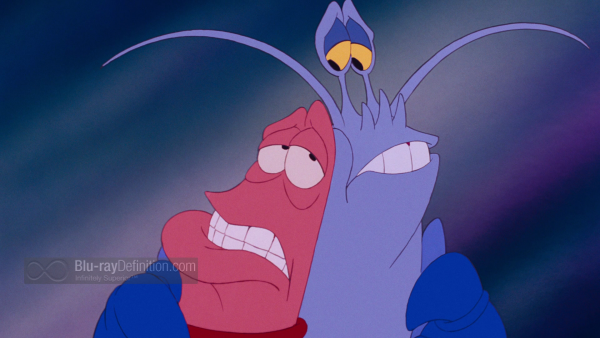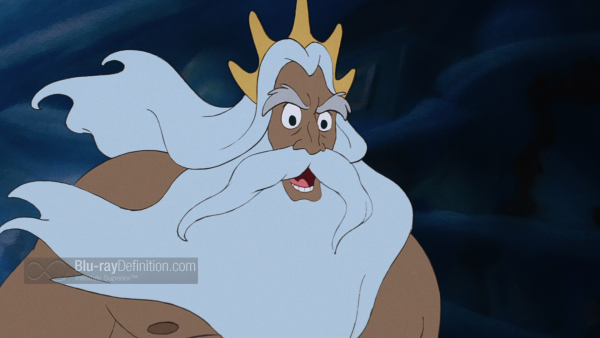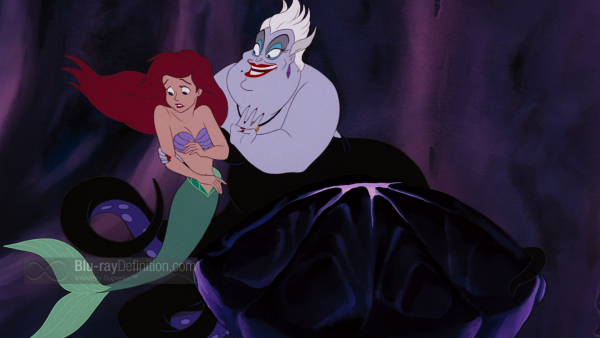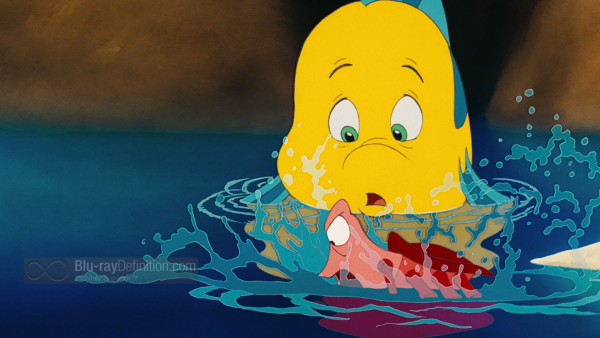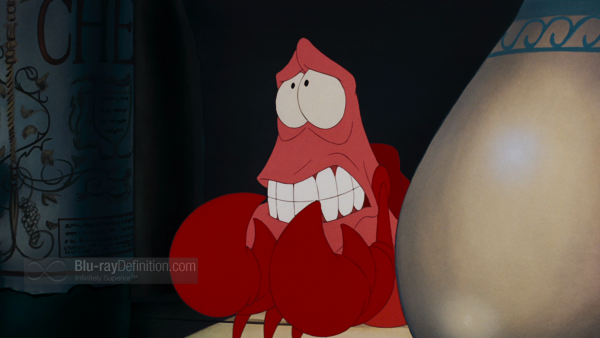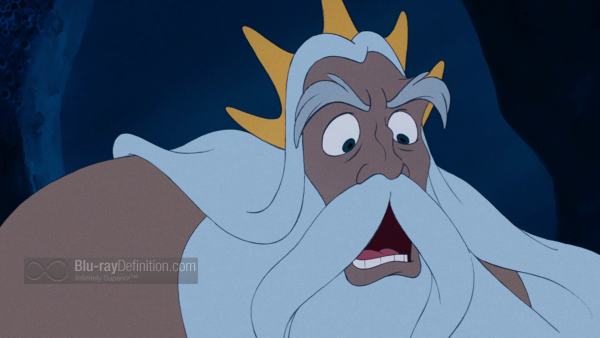 [amazon-product]B00C7607FS[/amazon-product]
[amazon-product]B00C7607BC[/amazon-product]
[amazon-product]B0036TGT2A[/amazon-product]