– –
The Series
[Rating:4.5/5]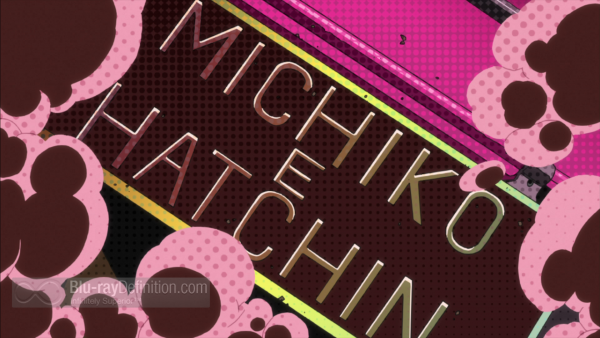 A stylish journey through an unnamed South American country following an female outlaw, Michiko Malandro, and her young, 9-going-on-10-year-old companion Hanna "Hatchin" Morenos, Michjiko & Hatchin is noteworthy for many things, not the least of which is the casting of two prominent Japanese actresses, Maki Yōko ("Michiko", The Grudge) and Ōgo Suzuka ("Hatchin", Memoirs of a Geisha) in the titular roles. Apart from the unusual (for an anime series) A-list casting, however, the series is dazzlingly animated, from the realistic character designs and atmospheric backgrounds right down to the earth tones that set the mood of the warm, South American settings.
From the perspective of the story, we are thrust immediately into an exciting adventure from the opening scene where Michiko Malandro breaks out of prison. A notorious member of the crime world whom we will eventually learn is connected to a long-thought dead, but possibly alive former big wig in the crime underworld, she's a tough lady, sexy, fast-talking, and leaves a lot of beat up men (and women) in her wake. Upon her escape, she heads off to kidnap the orphan girl Hanna from her cruel foster parents so that together the two may hunt down a man from both of their pasts. Hanna is wise beyond her years, but displays flashes of immaturity, and together the pair form a makeshift family, a sort of ad hoc duo of mother and daughter that slowly builds in closeness. The story is as much about the pair finding whom they are looking for (and evading the law while they try) as it is about the ever changing dynamic between the two female characters and finding and creating family wherever they can.
Part 1 of this series deals mostly with Michiko and Hatchin building trust for one another and evading Michiko's childhood foster sister turned detective Atsuko. It provides for plenty of thrills, plot twists and character development, as well as incredibly fantastic animation.
Video Quality
[Rating:3.5/5]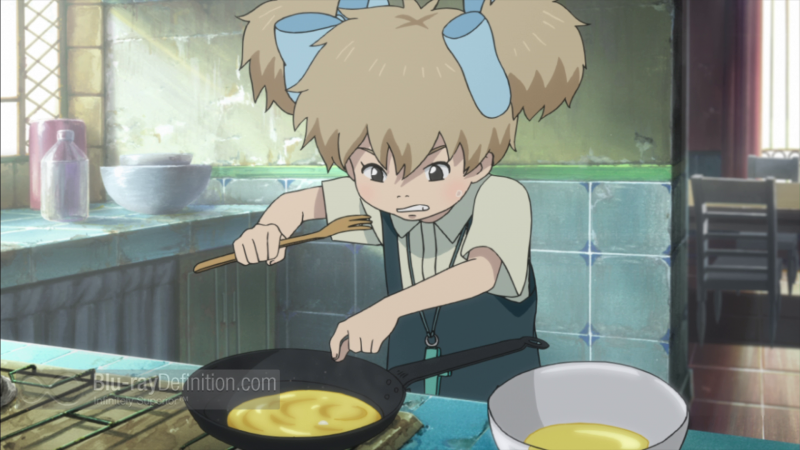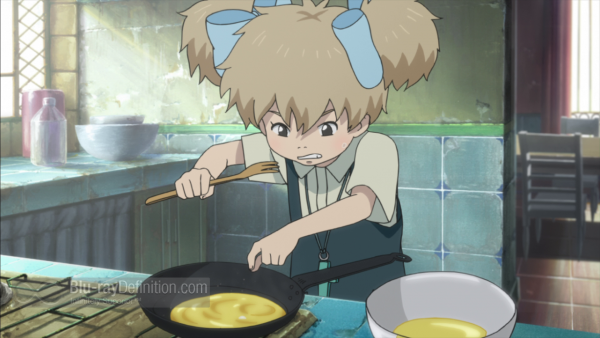 The AVC/MPEG-4 1080p encodement to Blu-ray from FUNimation doesn't really pop, but, granted, it's not exactly working with the greatest of sources here. Michiko & Hatchin has a bland color palette that lingers in earth tones that won't dazzle the eyes much, and, on top of that, the imagery seems purposely softened and many times layered with artificial grain. I don't see any real issues with motion artifacts or aliasing, but this doesn't stand out as a reference animated release on Blu-ray at all.
Audio Quality
[Rating:4.5/5]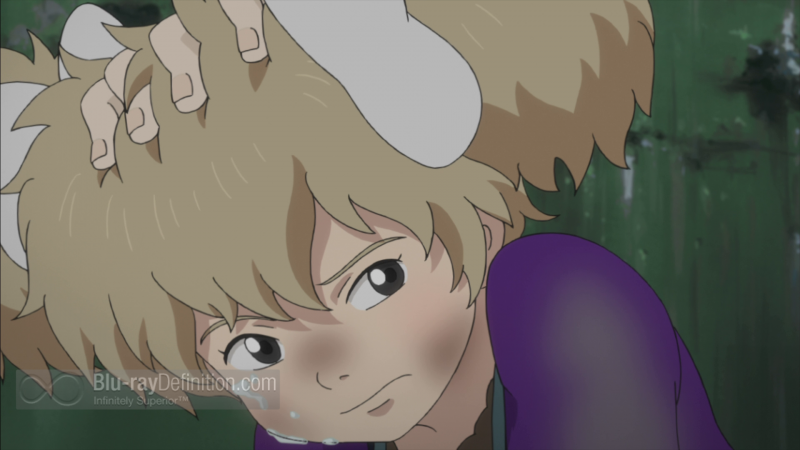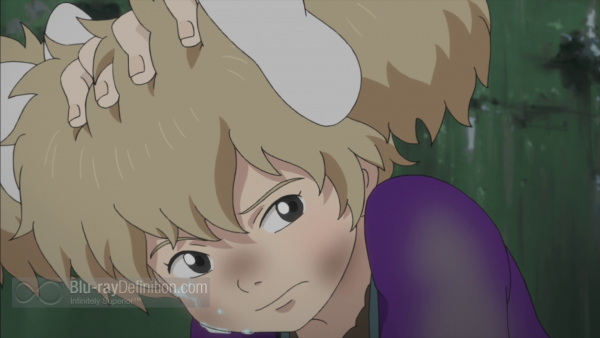 The audio quality is a different story. Both lossless tracks sound really good, whether it's the English dub in Dolby TrueHD 5.1 (48kHz/24-bit) or the original Japanese-language track in Dolby TrueHD 2.0 (48kHz/24-bit) stereo. While the 5.1 offers a balanced mix with good atmospherics and a nice bit of low frequency extension, but it's worth noting again that, the Japanese track, which is almost always superior in this reviewer's opinion, is even more so here, with the two notable film stars Maki Yōko and Ōgo Suzuka in the titular roles.
Supplemental Materials
[Rating:3.5/5]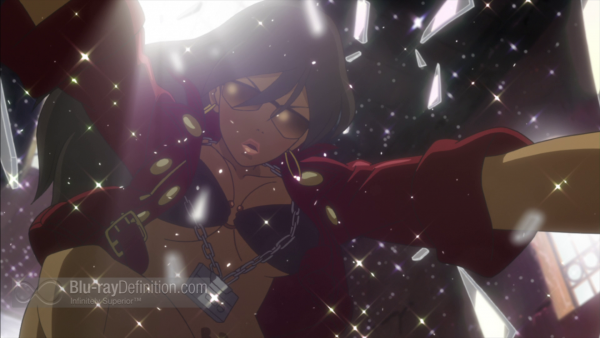 We get more than usual here from FUNimation.
The supplements:
Episode 01 Commentary
Episode 02 Commentary
Michiko: The Woman Behind it All (1.78:1; 1080p/24; 00:14:56) – An interview with Monica Rial
Unveiling Press Conference (1.78:1; SD; 00:10:47)
Live Action Promo Video (1.78:1; 1080i/60)
Anime Promo Video (1.78:1; 1080i/60)
Textless Opening Song
Textless Closing Song
FUNimation Trailers
The Definitive Word
Overall:
[Rating:4/5]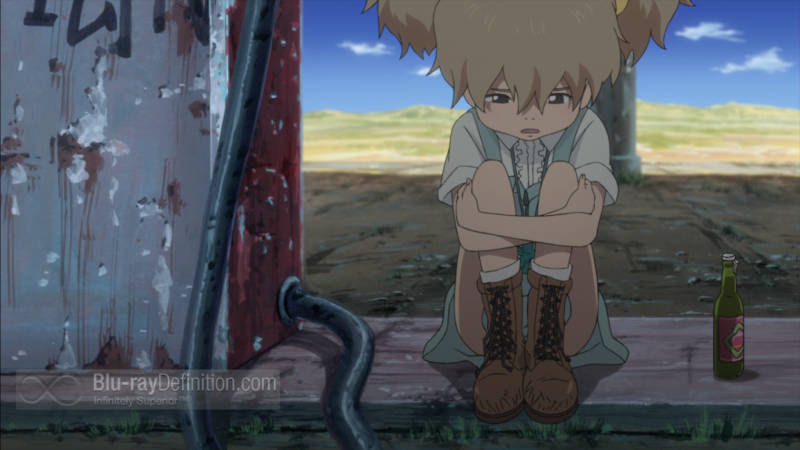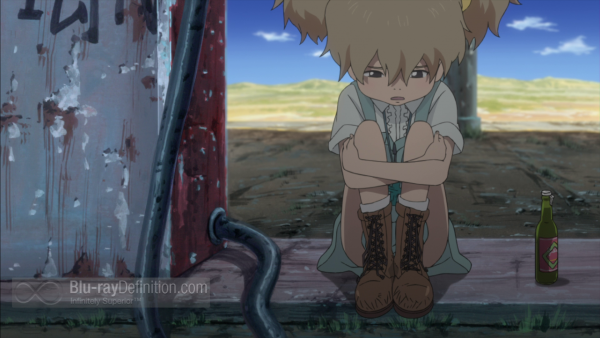 The animation impresses, breaking new ground, and the voice acting for the two Japanese leads is beyond impressive for an anime series, dwarfing the English voice cast. Michiko & Hatchin is an instant classic that is a must see.
Additional Screen Captures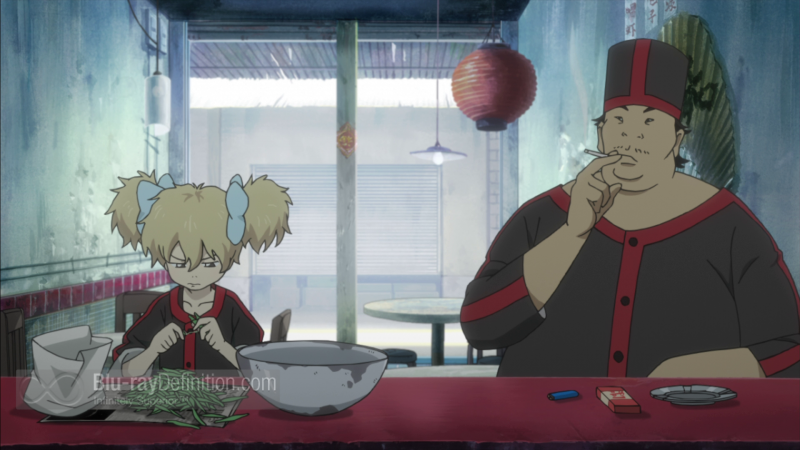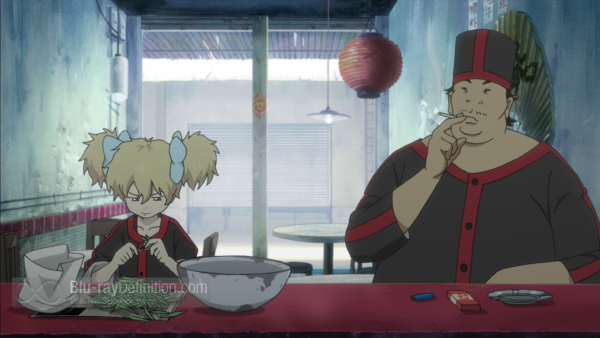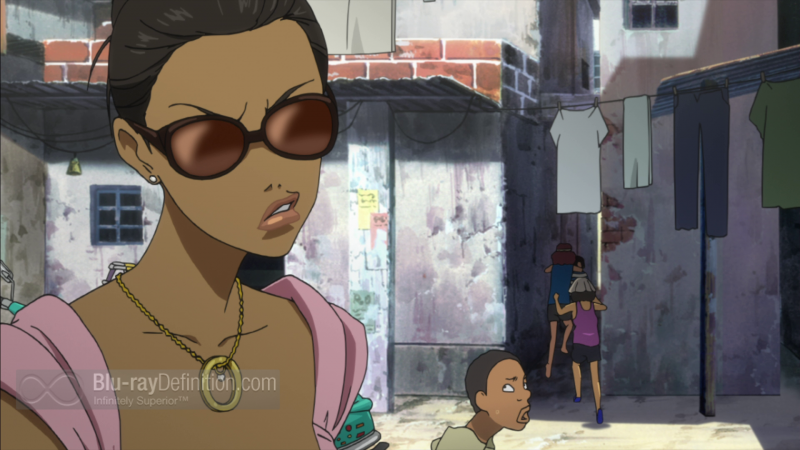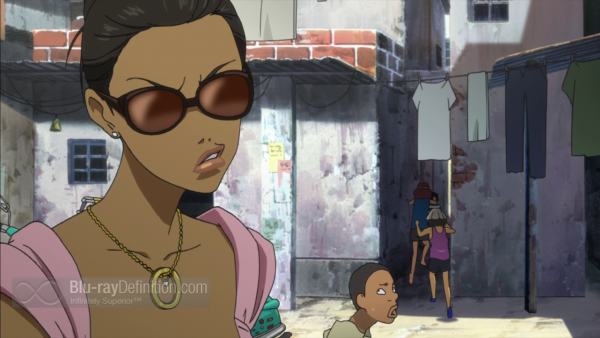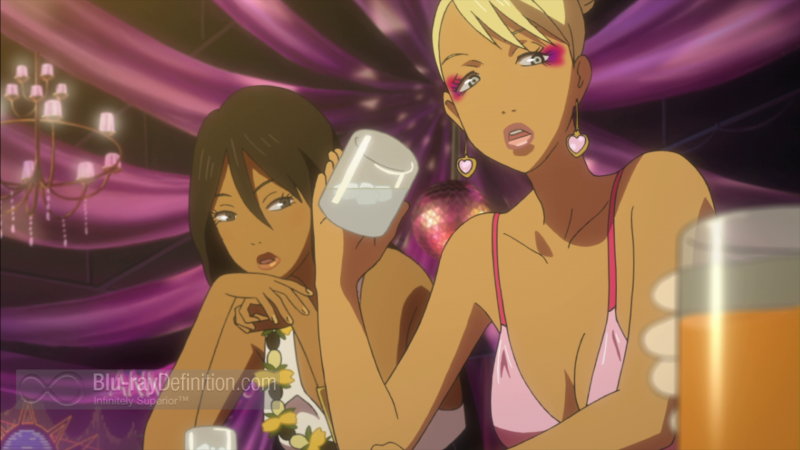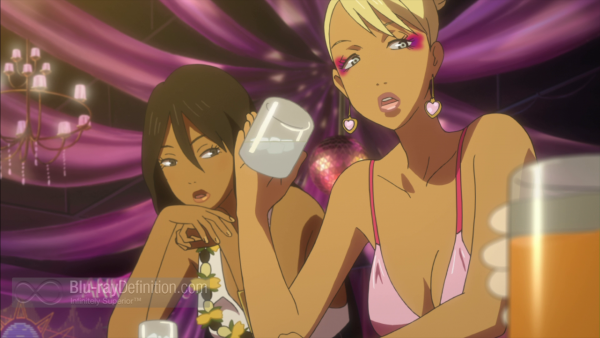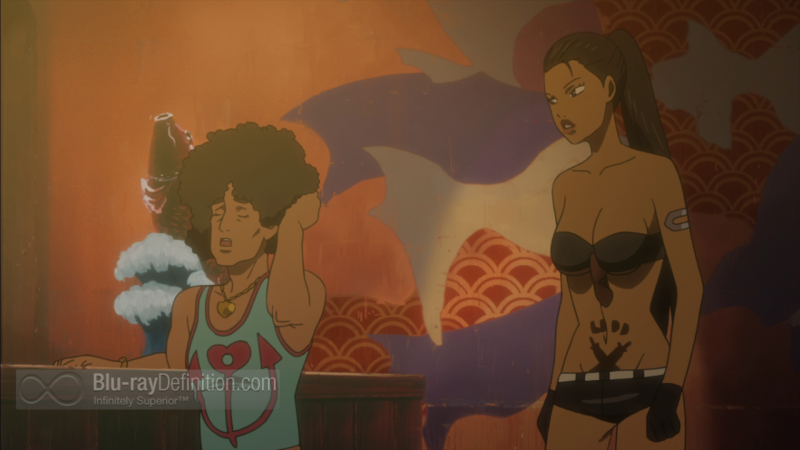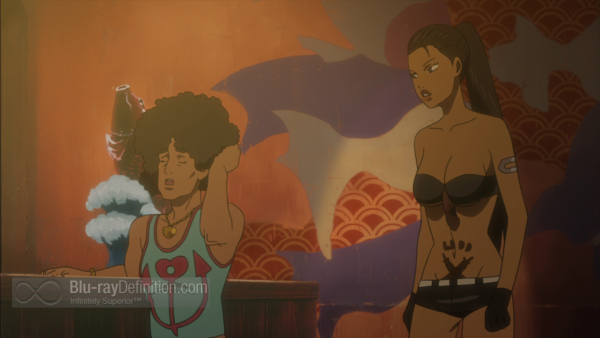 [amazon-product]B00DJ5IOM4[/amazon-product]
[amazon-product]B00DJ5IPBE[/amazon-product]