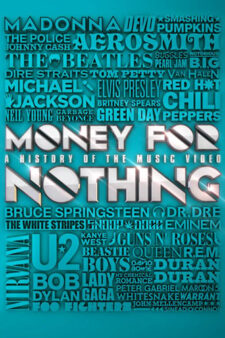 – –

The Film
The new documentary Money For Nothing is not about the history of MTV, it's about the history of the music video – though of course MTV plays an extremely big part in this.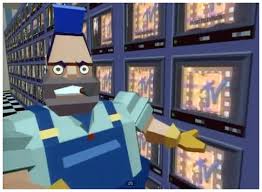 We learn from the documentary that music videos existed way before the birth of MTV, which was in 1981. Music seen in a video first began with the first talking motion picture in 1927, when The Jazz Singer was released, with Al Jolson singing, including the memorable "My Mammy." In fact, old Hollywood musicals had a huge influence on all music videos produced, even today. But what exactly is a music video? We are told that it's basically a hybrid form — not a film or a musical, but both combined. Perhaps it also can be somewhere between an avant garde film and a television ad, or also a very successful advertising campaign where it's possible to make its customer forget what is being sold. In a music video, three minutes (or so) is all is needed to communicate everything they know or ever will know about a certain song.
Music videos have always appeared in the movies, but they were just part of a larger story. 1940's Fantasia, Walt Disney's animated opus, was an avatar of the music video in more ways than one. Not only did the film create a visual world to accompany its musical selection, its placing of short films in close quarters linked by material, presaged the format of music video channels to come. Did Walt Disney actually invent the music video? Money for Nothing tells us he could've done, unintentionally. In the 1950s and 1960s, rock 'n' roll films were known to include music by their stars in the film. Who can forget the many Elvis Presley films, all vehicles for (and named after) his hit songs, Jailhouse Rock being one of many? The Beatles fall into the same category, as do The Monkees. Their films seemed to have been made around their songs as a vehicle to sell tickets, and more records no less. Queen had one of the most memorable videos ever, whether it was a video clip or a music video, you decide, with their "Bohemian Rhapsody." It was actually a promotional clip that still stands up with today's best produced videos.
We are taken through a journey in Money for Nothing of the best videos from the past 35 years. Who can forget "Video Killed the Radio Star" by The Buggles, which was NOT, as is widely believed, the first music video that MTV played. Duran Duran were a group who it seems like the music video was made for with their good looks and long hair, oh yes, and their catchy tunes. "Take on Me" by Aha in 1985 showed that music videos could be radically different, as did "Sledgehammer" by Peter Gabriel. But women dominated the music video scene in the late 80s, with Madonna ruling the roost but Pat Benatar and Cyndia Lauper proving very popular as well. Sinead O'Connor's "Nothing Compares 2 U" video in 1990 was a stripped down version of the music video, showing just her face singing her song with a black background and black top, and that's it. Hip hop and heavy metal were the next type of music that became popular, with heavy metal videos being an ode to the white man and using women as objects ("Hot for Teacher" by Van Halen). Fast forward to 2002 and it was Johnny Cash's music video for his song "Hurt" that showed the music video could do more than just promote a song and an artist. Cash was nearing the end of his life when he shot the video, and death is present, in his face, in his body language, and in the song; it's a song and a video that is both haunting and memorable.
Music videos, unlike Hollywood, are disarmingly honest. Each video is an unfulfilled promise of unimaginable pleasures. They are for pure consumption, all they ask for in return is to be swallowed graciously. And this is what Money for Nothing asks us to do. We are shown dozens and dozens of videos, all of which fall into different categories (Juvenile Delinquency, Video Follies) – categories that pop up on the screen every few minutes or so, time that could've been used to show us more videos. Of course, some of the most memorable videos ever are included in Money for Nothing like the unforgettable, misogynistic imagery of interchangeable gyrating women swaying behind Robert Palmer in his "Addicted to Love" and any one of Madonna's videos, though mostly her "Like a Prayer" video, which is one of the most controversial because it included sexuality, religion, and race issues all in the same video — a trifecta of controversy. Madonna has been known to reinvent herself and it's through her music videos that she has done so. She was lucky enough to be starting her career when MTV was in its infancy.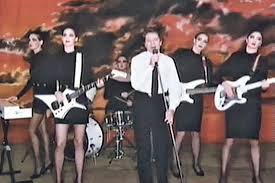 Perhaps the greatest, and longest (at 14-minutes) video ever made is Michael Jackson's "Thriller." It was the most expensive video to date and  was a breakthrough moment for MTV that a black male singer could dominate the form of video in this way. Money for Nothing tells us that this video opened the doors for more black musicians to be on the channel.
And where does the title of this movie come from? It's a 1987 song by the rock group Dire Straits. It shows animated working class men lugging boxes around while watching videos of Dire Straits in concert. And that's it.
Movie Rating
[Rating:3/5]