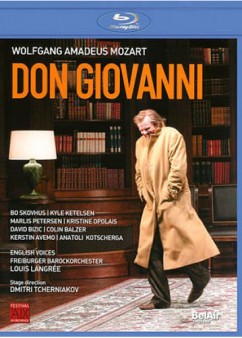 – –

The Performance
[Rating:2.5/5]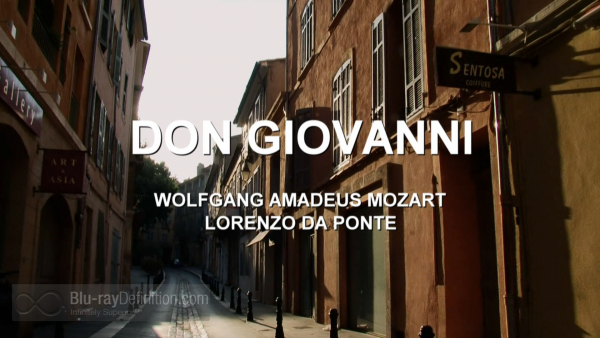 Don Giovanni has always been the centerpiece of the three operatic collaborations between Mozart and his talented librettist, Lorenzo da Ponte.  As an opera that relates the rather seamy tale of an unprincipled womanizer who eventually receives his just deserts, Don Giovanni has been subjected to a multitude of directorial concepts. In this case, Dmitri Tcherniakov updates the characters and sets to present times and makes some serious changes in the natures of the characters themselves.  This 2010 Aix-en-Provence Festival production features a period orchestra, the Freiburger Barockorchester under the leadership of pit veteran, Louis Langree.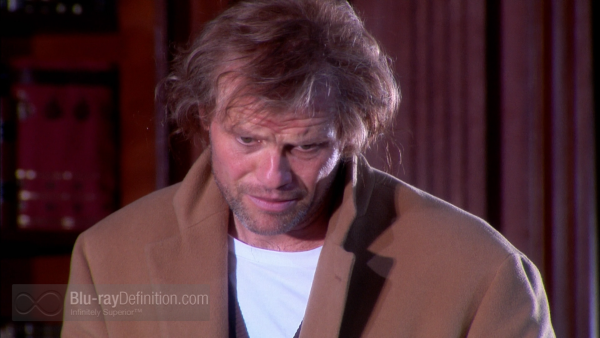 As the opera opens, we see the Don (Bo Skovhus) raping Donna Anna (Marlis Petersen) and when her father the Commendatore (Anatoli Kotscherga) comes to her rescue, he is accidentally killed. The Don escapes with the help of his servant, Leporello (Kyle Ketelsen) while Donna Anna is left to grieve with fiancé Don Ottavio (Colin Balzer).  Meanwhile, Giovanni runs into Donna Elvira (Kristine Opalais) who in this production is his wife and after giving her the slip, he next goes after a naïve young girl, Zerlina (Kerstin Avemo), the Commendatore's grand-daughter who is marrying boyfriend Masetto (David Bizic) that very day. As the act ends, Don Giovanni has invited all of the characters to a party at his house but finds himself accused of the Commendatore's murder.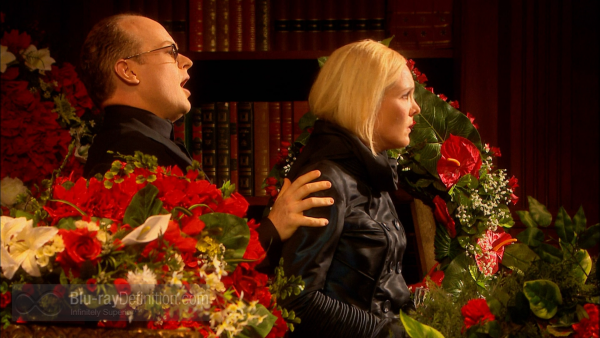 The second act finds the Don who changing identities with the reluctant Leporello to avoid being caught and punished by an angry mob led by Masetto. This disguise nearly gets Leporello beaten to death but he manages to escape. Back at Don Giovanni's house a dinner is in preparation and the late Commendatore is invited. When the Commendatore's "spirit" actually shows up (and in this production he looks reasonably alive) and urges Giovanni to repent his sins, the Don refuses. But rather than being dragged down to Hell, he is simply a middle-aged man downed by an apparent coronary occlusion.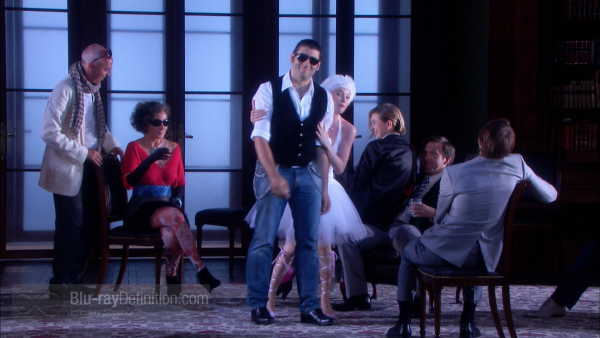 Director Tcherniakov has often created controversial productions and this one is no exception. Updating aside, the recasting of the Don as a scruffy Brando-like character and Leporello as a kind of nancy-boy will not appeal to opera traditionalists.  Further, the cast has a number of strong vocal performances, including those of the female principals, Ketelsen's Leporello and Bizic's Masetto.  Skovhus's understated Don Giovanni may be a casualty of the dramaturgical concept as he certainly has the chops for this role.
Video Quality
[Rating:3.5/5]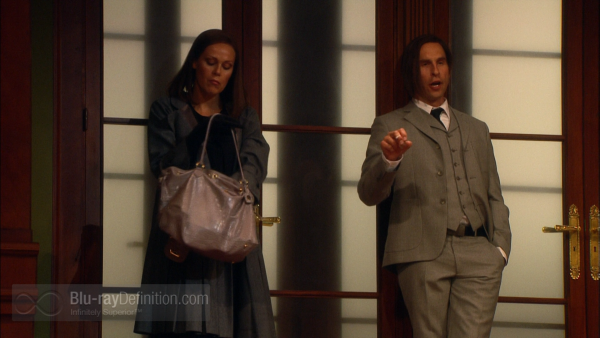 This is a filmed rather than videoed performance and, aside from occasional motion artifacts, produces some decent close ups. The set, entirely within the Commendatore's house, is attractive and the modern costumes, appropriately over-the-top when needed. What becomes hard to countenance is the reinvented stage business like the gratuitous sex scene between Ottavio and Anna, Leporello's yoyo playing during the Catalog Aria, Ottavio's directing "Il mio tesoro" to Zerlina rather than to Anna or Giovanni's failure to connect physically with Zerlina during their "La ci darem la mano" duet.
Audio Quality
[Rating:3.5/5]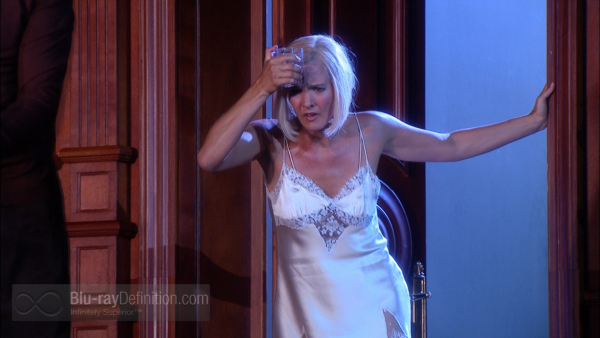 Given that this appears to be a partly outdoors venue, the balances between the orchestra and singers often favors the former over the latter. This makes hearing some of the delightful numbers more difficult to hear than would normally be the case. There is a decent bit of ambience in the surround version that is lacking in the 2-channel option.
Supplemental Materials
[Rating:2/5]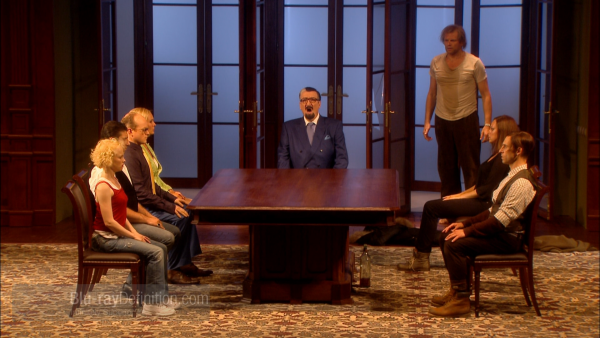 There is an interesting 27-minute mini-documentary on this production, "Don Gioivanni" at Aix-en-Provence" (French 2.0 LPCM 48kHz/16-bit) and a three-language booklet that contains track listings and a synopsis of the opera.
The Definitive Word
Overall:
[Rating:2.5/5]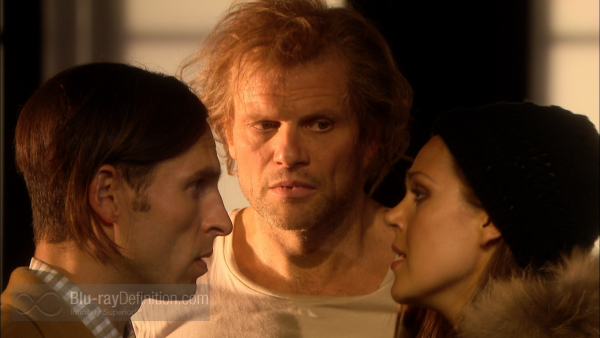 Don Giovanni demands strong vocal principals, deft pacing from the pit, and stage direction respectful of the original intents of composer and librettist. If only one (the first item in this case) out of three is good enough for you, then this Blu-ray will suit you just fine. For many of us, this production will come up short both in the pit and on the stage. A number of Tcherniakov's directorial decisions seem just perverse and nonsensical. I am less troubled by the reinvention of character relationships, Elvira as Mrs. Don G., Zerlina as the Commendatore's granddaughter or the pristine Donna Anna as an out-and-out slut, than I am by what has been done to the title character. Making Don Giovanni an unkempt lout in an overcoat misses the entire point: the Don attracts women by his appearance as well as by his potent come-on lines. In sum, this Don Giovanni features a decently sung performance that is mostly a mess on stage. Pass this one by for any of the previous Blu-ray versions already available.
Additional Screen Captures

[amazon-product region="uk" tracking_id="bluraydefinit-21″]B00CJIBC08[/amazon-product]
[amazon-product region="ca" tracking_id="bluraydefinit-20″]B00CJIBC08[/amazon-product]
[amazon-product]B00CJIBC08[/amazon-product]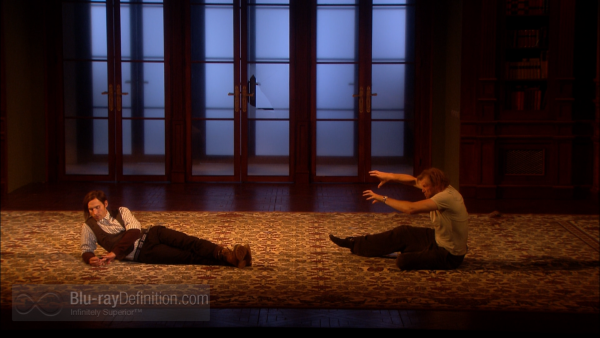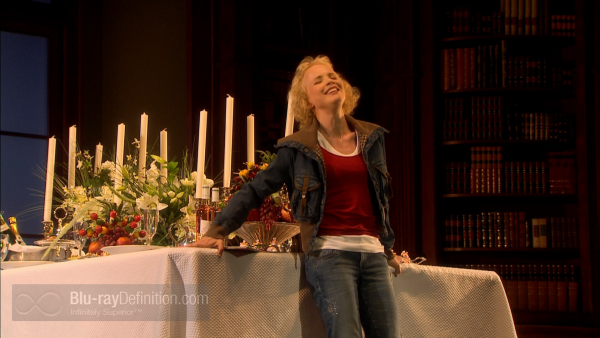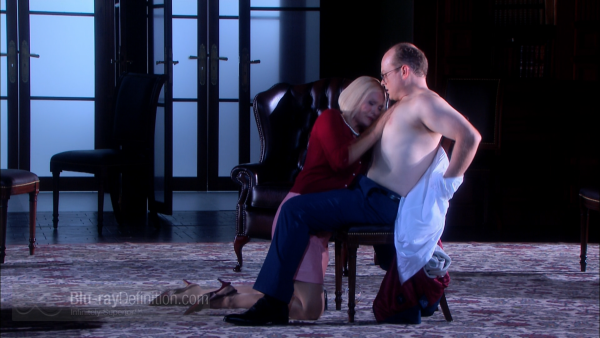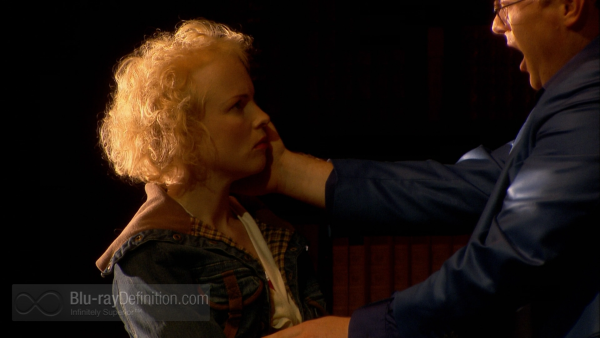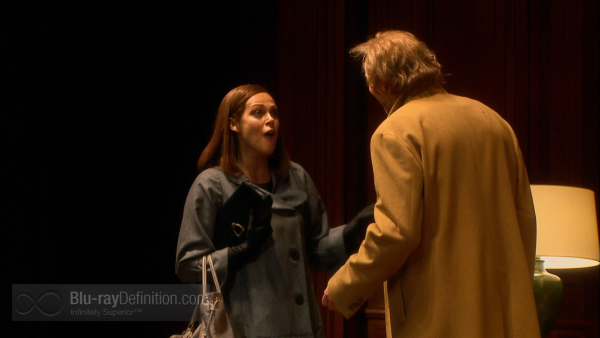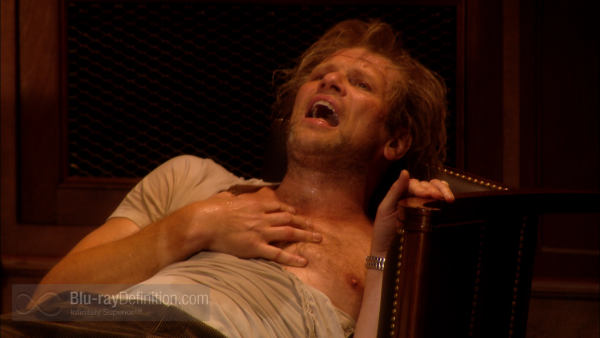 [amazon-product region="uk" tracking_id="bluraydefinit-21″]B00CJIBC08[/amazon-product]
[amazon-product region="ca" tracking_id="bluraydefinit-20″]B00CJIBC08[/amazon-product]
[amazon-product]B00CJIBC08[/amazon-product]