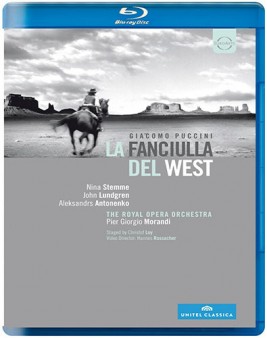 –
The Performance
[Rating:4/5]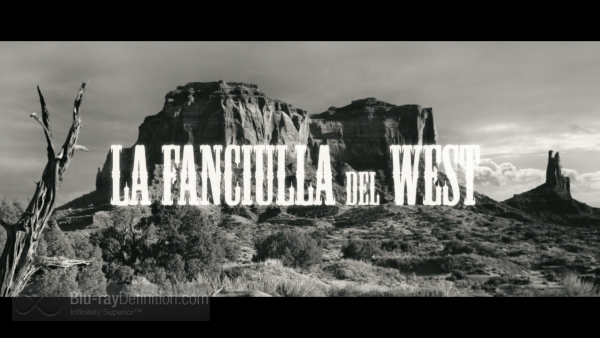 La Fanciulla del West (Girl of the Golden West) was Giacomo Puccini's homage to the Great American West, at least as seen through the eyes of an Italian composer adapting the David Belasco play of the same name. Although this work has seen several recent revivals, the current production being a 2012 Swedish Royal Opera version, La Fanciulla del West has never achieved the popularity enjoyed by Puccini's other operas. Stylistically, it was more forward-looking than La Boheme or Tosca, blending a post-romantic musical idiom with shades of Debussy, Richard Strauss, Richard Wagner, and some American folk harmonies.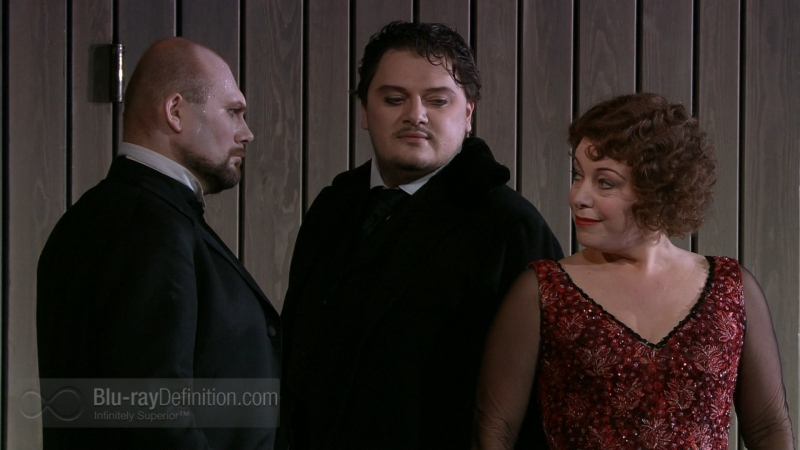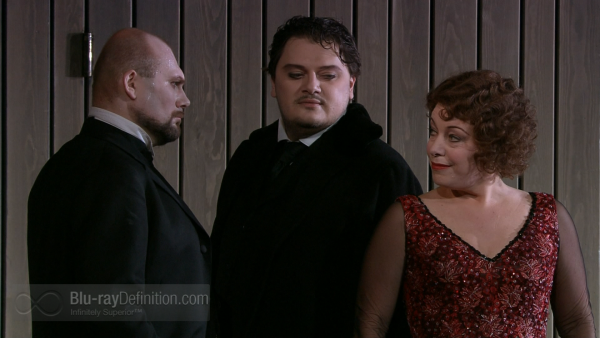 Puccini was fond of love triangles and sets this one during the 1850 California gold rush. The opera opens in the Polka saloon, operated by Minnie (Nina Stemme). Her all-male clientele runs from hard-working (and hard-drinking) miners to outright outlaws. Crooked sheriff Jack Rance (John Lundgren) has always loved Minnie.  A mysterious stranger Dick Johnson (Alexandrs Antonenko) appears and he is the notorious bandit Ramerrez in disguise and on the run from the law. Sparks fly between Minnie and Johnson, much to the dismay of Sheriff Rance.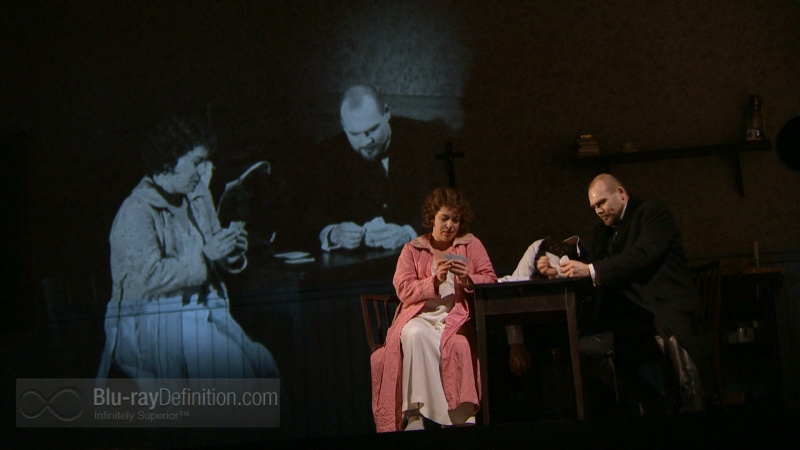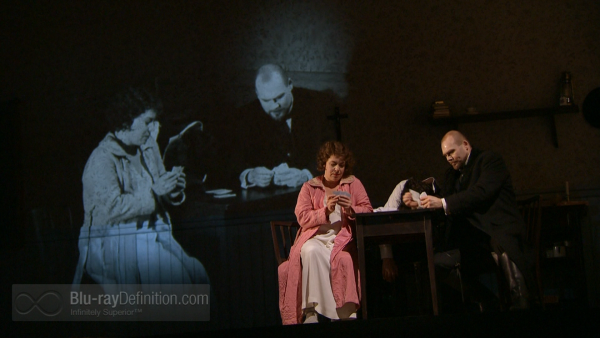 Later that night, Johnson visits Minnie in her cabin and professes his love to her. However, the sheriff and his posse arrive, looking for Ramerrez. Minnie hides her lover but once his identity is revealed, she tosses him out only to have him return, seriously wounded, with Rance in pursuit. Minnie hides Ramerrez in her attic but his dripping blood alerts the sheriff that he is on the premises. The opera's dramatic peak is reached when Minnie plays cards with Rance for Ramerrez's life and, cheats him out of his prisoner.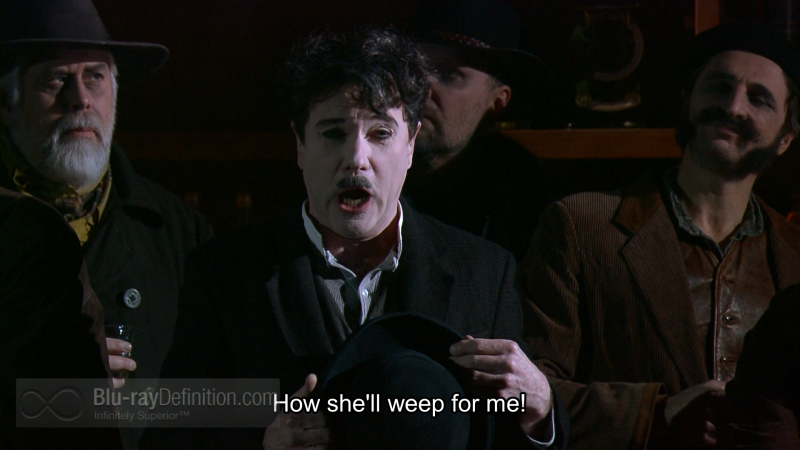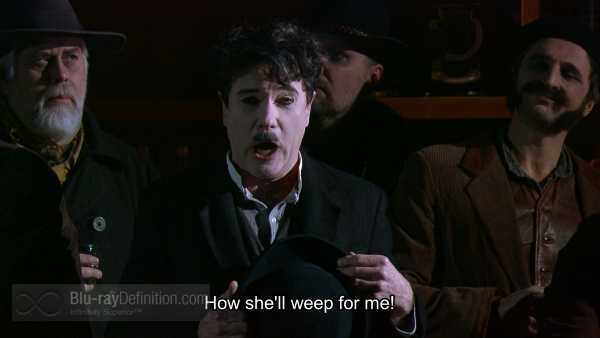 In the final act, Ramerrez, recovered from his wounds, has been captured and is about to be hanged for his crimes. Minnie arrives in the nick of time, pleads for Ramerrez's life. He is freed and the couple leaves to seek a new life together.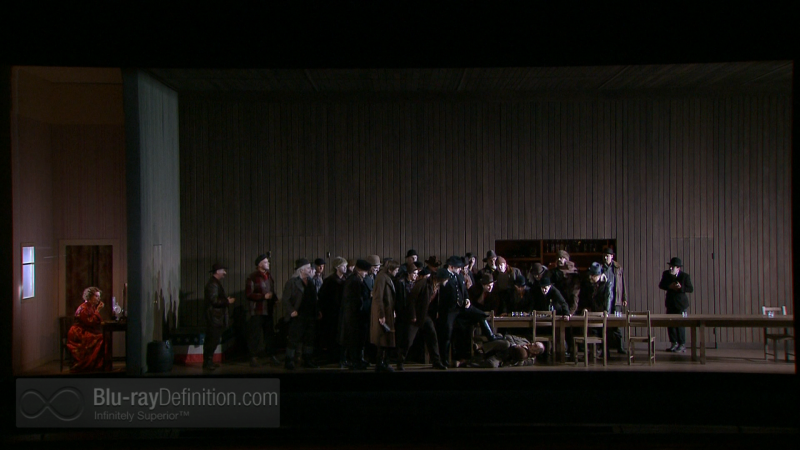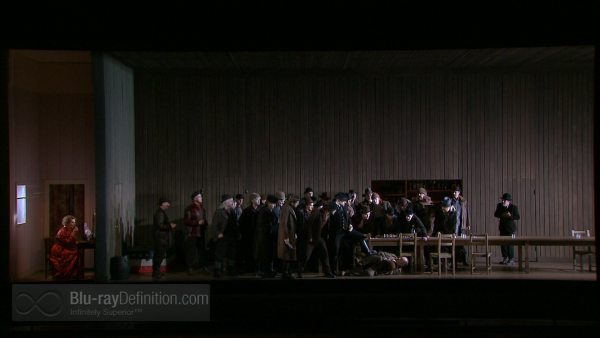 Director Christoph Loy, noted for his minimalist staging, gives us fairly generous (for him) sets.The costumes, except for Minnie's are rather monochromatic. The Swedish musical forces, under the baton of Pier Giorgio Morandi, do justice to Puccini's huge score while the principals, particularly  Stemme (who overcomes some early shrillness) and Antonenko deliver the very essence of their roles. Lundgren's Sheriff is appropriately menacing while the supporting cast acquit themselves adequately.
Video Quality
[Rating:4/5]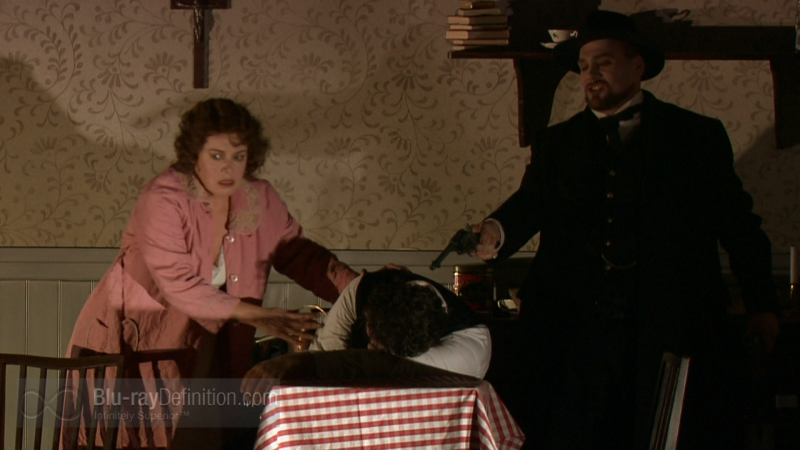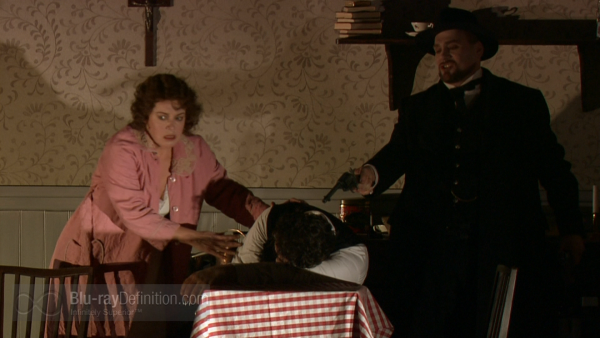 This is a darkly lit stage but the video images are sharp and the colors well captured. Video director Hannes Rossacher covers the action extremely well with good close ups and wide angle shots.  Dressing the Sheriff and Ramerrez/Johnson in identical costumes is Loy's effort to draw the extremely fine and often ambiguous line between good and evil. However, the attempt to recreate the illusion of an old film-era Western movie, by using repeated black and white film projections of the characters against the backdrop, becomes a bit tiresome.
Audio Quality
[Rating:4.5/5]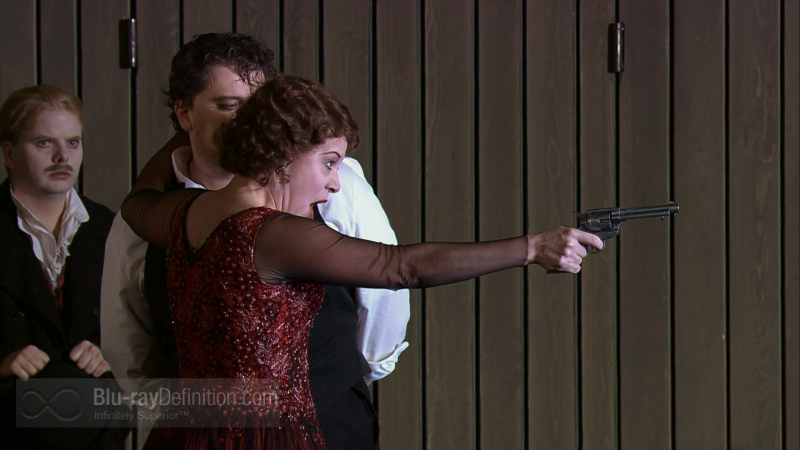 Orchestral and vocal balance is excellent with modest ambience in the surround version. The two-channel version is good but not as detailed.
Supplemental Materials
[Rating:1.5/5]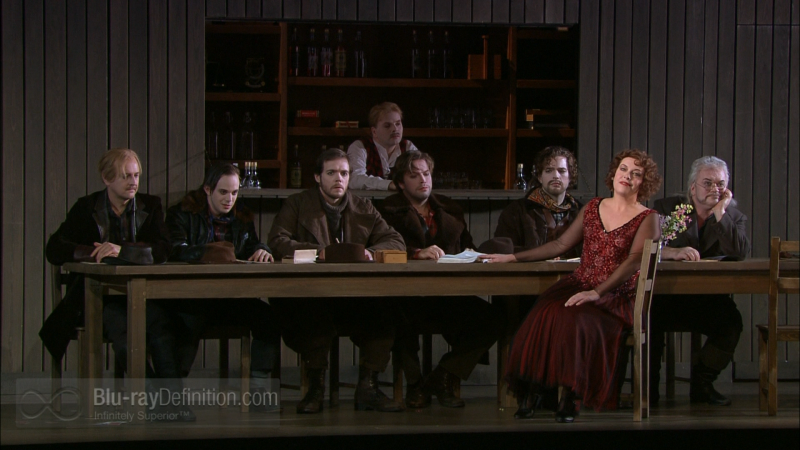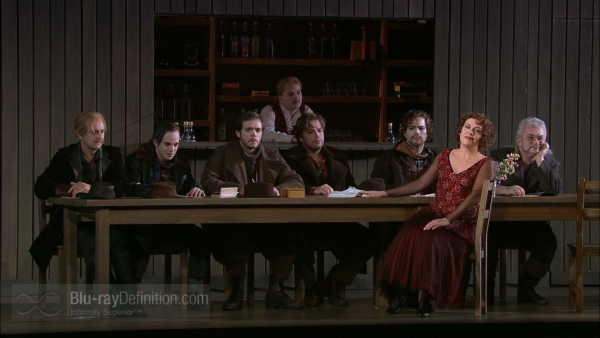 EuroArts gives us a booklet with a background essay, plot synopsis, track listings, and some cast photos. Other than that, we just get trailers for other EA Blu-rays.
The Definitive Word
Overall:
[Rating:4/5]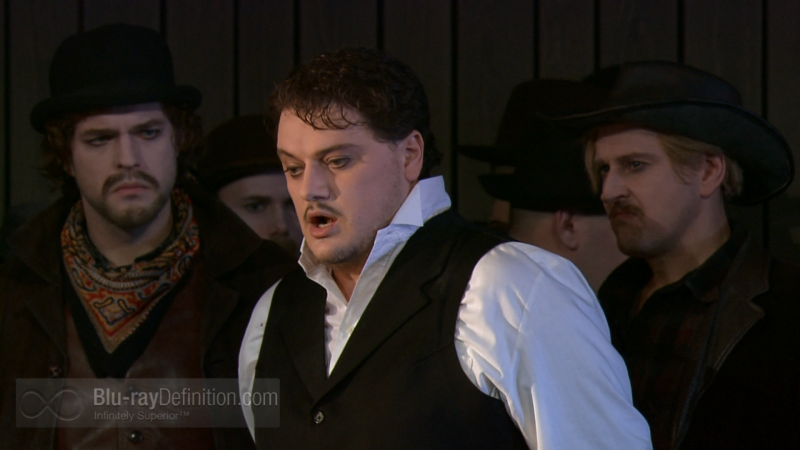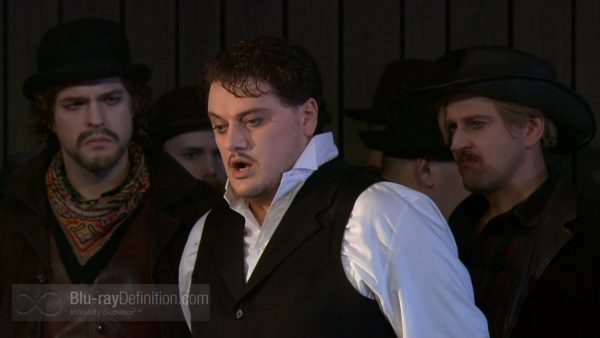 For an opera that has been often relegated to the back shelves of the Puccini catalog, there are now three Blu-ray versions including the present release, a 2010 Netherlands opera production and a 2010 Metropolitan Opera revival. How does the new Blu-ray compare with its predecessors? Actually, quite favorably. The Netherlands version, besides some campy updating, starred Eva-Marie Westbroek, but found her with vocal stress while her Dick Johnson (Zoltan Todorovich) was unexceptional. The Met's production with its traditional staging was supposed to be a star vehicle for Deborah Voigt but the soprano also ran into considerable vocal difficulties. In Nina Stemme, we get a Minnie who uses her Wagnerian experience to meet most of the challenges of this most challenging role. Even more importantly, tenor Antonenko is the best Dick Johnson/Ramerrez that I have heard since Placido Domingo whose Met Opera DVD is still my number one video choice for Fanciulla. Since Placido is no longer performing as a tenor, this new Blu-ray gives us the best of today's lot.
Additional Screen Captures
[amazon-product region="uk" tracking_id="bluraydefinit-21″]B00E5QJ9SE[/amazon-product]
[amazon-product region="ca" tracking_id="bluraydefinit-20″]B00E5QJ9SE[/amazon-product]
[amazon-product]B00E5QJ9SE[/amazon-product]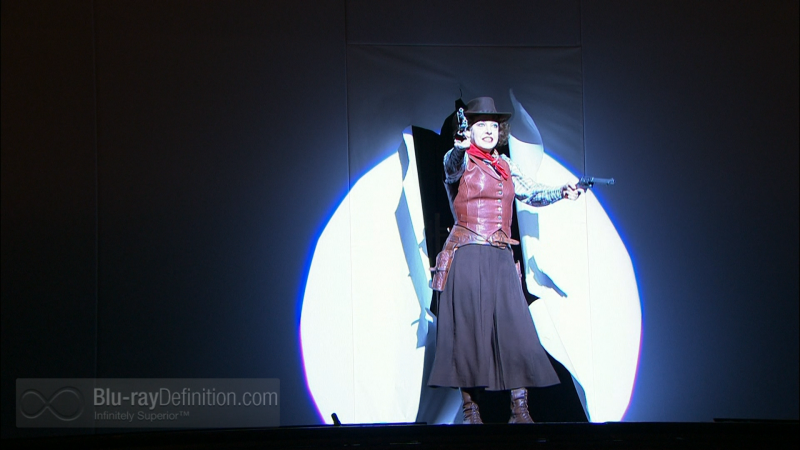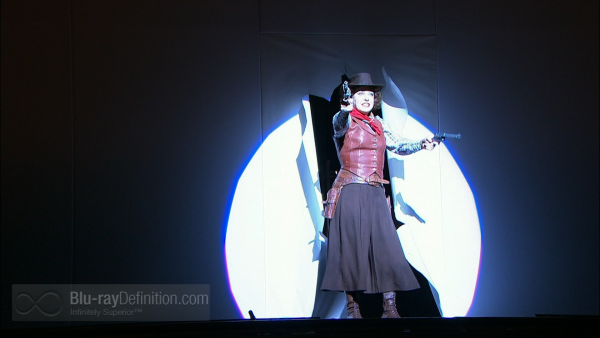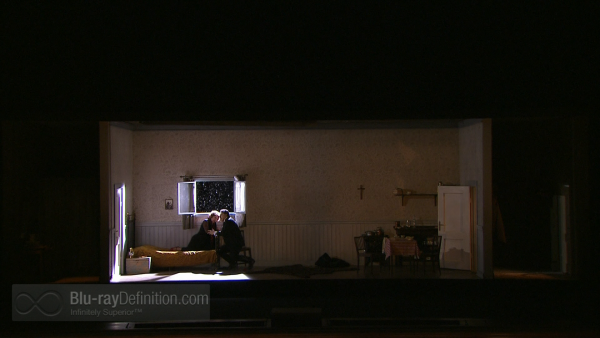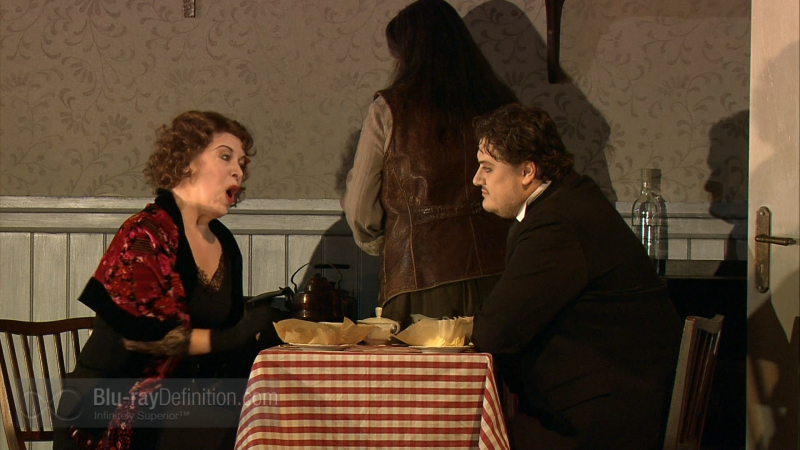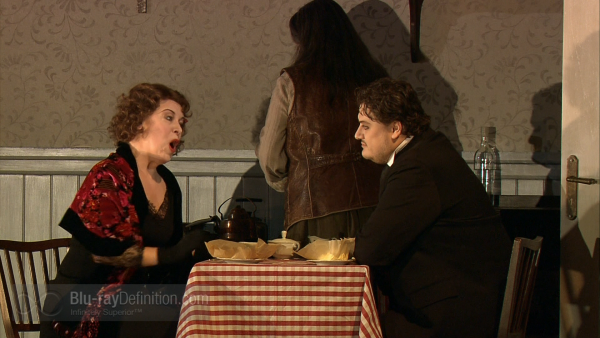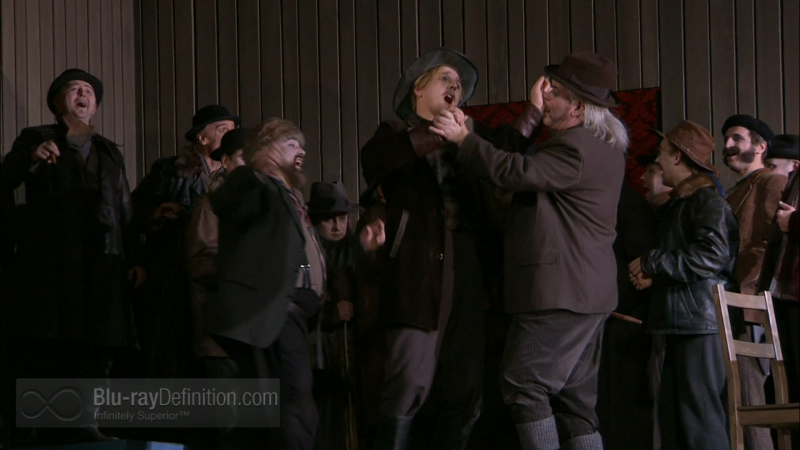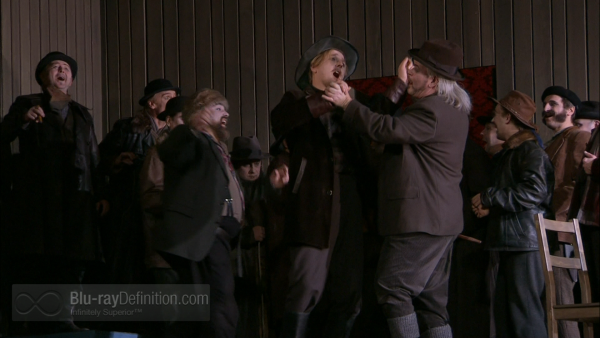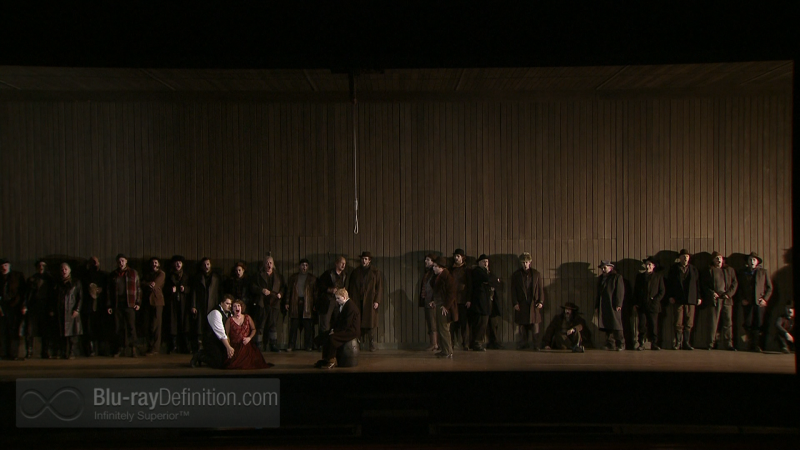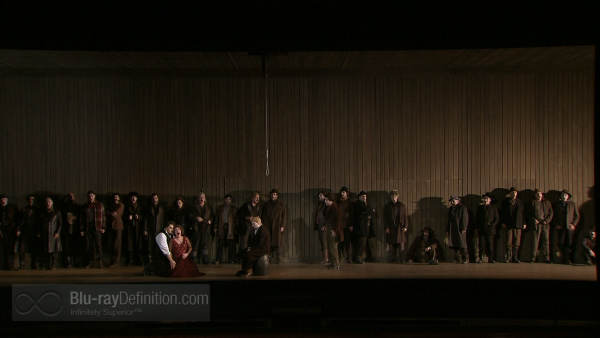 [amazon-product region="uk" tracking_id="bluraydefinit-21″]B00E5QJ9SE[/amazon-product]
[amazon-product region="ca" tracking_id="bluraydefinit-20″]B00E5QJ9SE[/amazon-product]
[amazon-product]B00E5QJ9SE[/amazon-product]