–
The Film
[Rating:3.5/5]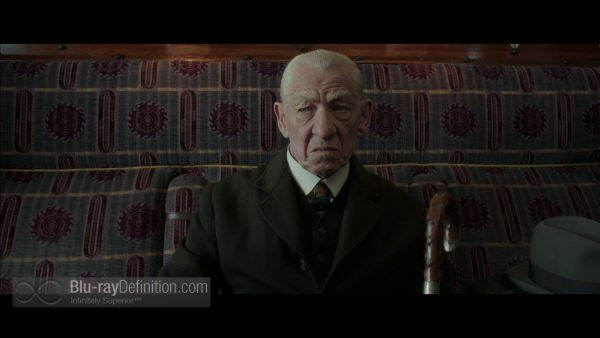 Wipe anything starring Robert Downey, Jr. out of your mind going into a viewing of Mr. Holmes. This is a classic take on the Holmes figure with the brilliant Ian McKellen playing Sir. Arthur Conan Doyle's inquisitive sleuth. Based on the novel A Trick of the Mind by Mitch Cullin, this story finds an aged Sherlock Holmes thirty years into a self-imposed retirement suffering the early stages of dementia, desperately seeking a natural remedy, and trying as hard as he can to remember the details of his last case, involving a married woman, that sent him into retirement. He's been living alone at home with his housekeeper (Laura Linney) and her young son Roger (Milo Parker), who is a big fan of Mr. Holmes and wants him to start working again.

The film jumps between three different storylines and time periods. In present, it is in 1947 with a 93-year-old Holmes fighting hard against his worst fear, losing his recollection, while being a mentor to the young, bright-eyed young Roger who constantly encourages him not to give up on solving the mystery from 35-years earlier about the woman that he failed that drove him into his retirement. We also flashback to that period and see a somewhat younger, and more quick witted Sherlock Holmes as the mystery of the women is slowly revealed. The least compelling aspect of the film is Sherlock Holmes in Japan where he goes to seek out a natural cure to help hold back the effects of dementia. There he witnesses the horrifying effects of America's bombing of Hiroshima and it creates some pause in the detective allowing him to contemplate his own mortality and the cruelty of others. Mr. Holmes is not, in fact, a true mystery, and the core of the film is in the interplay between the elderly Holmes and the young Roger where, perhaps, Sherlock sees a very young version of himself.
Ian McKellen, who now adds himself to a long list of actors to play the iconic detective on screen that includes Basil Rathbone, Robert Downey Jr. and Benedict Cumberbatch, is an absolutely fantastic actor for the role, and his performance alongside such a young newcomer is both heartening and flawless. McKellen could not have been better cast here.
Video Quality
[Rating:4.5/5]
Mr. Holmes was shot in HD on the Arri Alexa XT and arrives in a wonderful AVC/MPEG-4 1080p encodement from Miramax/Lionsgate on Blu-ray. We get a clean and crisp image with a filmic appearance, deep blacks and strong contrast that is free from compression errors, video noise and any sort of post-processing misdeeds like edge enhancement. Flesh tones are spot on and colors, while just slightly desaturated, look good.

Audio Quality
[Rating:4.5/5]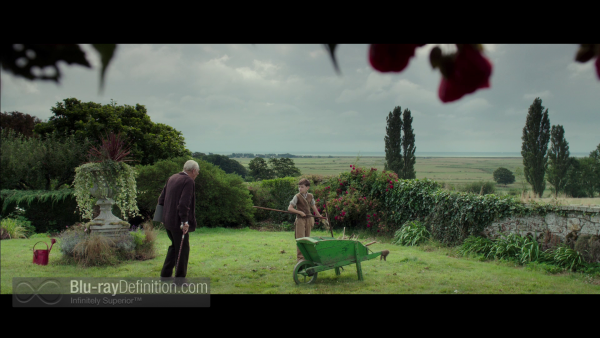 An English DTS-HD Master Audio 5.1 (48kHz/16-bit) mix is the sole audio option. The film does not warrant an aggressive mix, but it certainly has a lush, atmospheric track when need be. The opening scene with the railroad train fills the soundfield with the rumble of the train on the track and the howl of its whistle. The balance of the gorgeous score is wonderful as well, and of course, we have full and clean dialogue free from clipping.

Supplemental Materials
[Rating:2/5]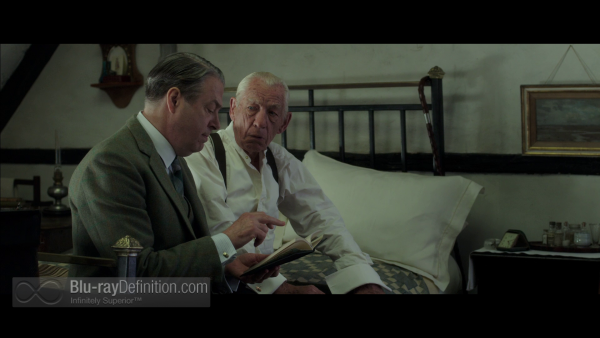 This is a barebones release that only comes with two, fairly typical EPK-styled brief featurettes and the theatrical trailer on disc.
Digital HD UltraViolet
Mr. Holmes: The Icon (1.78:1; 1080p/24; 00:02:21)
Mr. Holmes: The Story (1.78:1; 1080p/24; 00:02:49)
Theatrical Trailer (2.35:1; 1080p/24; 00:02:25)

The Definitive Word
Overall:
[Rating:3.5/5]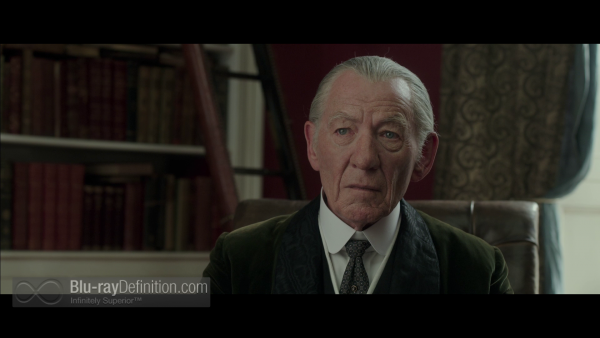 Mr. Holmes is not perfect, but it is an interesting take on the Holmes legend, looking at what could become of such a famous persona if they begin to lose the one thing that makes them standout from the crowd. In the case of Sherlock Holmes, it is his memory. So, really, the real puzzle to be solved in Mr. Holmes are the blurry pieces of the story that drove him into exile. And it is executed well by director Bill Condon and Ian McKellen.

Additional Screen Captures