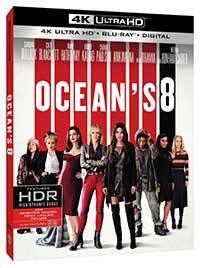 Ocean's 8 continues the long-running heist franchise and makes it gender-bent by turning this outing into an all-female crew. This is the latest trend in Hollywood, such as the all-female remake of Ghostbusters. It's neither good nor bad, but if the material is not up to snuff, much of the criticism tends to fall on the gender of the cast instead of where it would normally fall – on the poor screenplay and direction.
In the case of Ocean's 8, the film is neither horrible nor innovative, just an average heist movie in a franchise that is long past its prime. Even flipping the genders and glamming it up doesn't make it more interesting.
Debbie Ocean (Sandra Bullock) is released from prison on parole and immediately starts back at the family business; she starts to plan a major jewel heist of the annual Met Gala. Putting together an all-female crew of skilled thieves, con-women and hackers, her plan will bring them a score of hundreds of millions of dollars and will be the most glamorous and audacious Ocean heist to date.
The all-star cast in Ocean's 8 of Bullock, Anne Hathaway, Cate Blanchette, Mindy Kaling, Rihanna, Awkwafina, and Sarah Paulson have wonderful chemistry and make superb gangsters on the big screen. The idea to put these women together for a heist of the most glamorous, élite ball of the year was pure genius, and director Gary Ross executes it with sleek, Ocean's style and glitz that this franchise has been known for since its Rat pack days.
That said, there's little life in this story beyond the glitz and glamour, the execution of the heist lacks much tension and there is also a glaring plot hole that would have most of the blame pointing to one of the members of the crew that is completely glossed over. So, at the end of the day, is Ocean's 8 bad because it is an all-female reboot? Nope. It's a totally watchable film, but it is just underwhelming because of a lackluster story and screenplay.
The Video
Ocean's 8 was shot on the Arri Alexa Mini and Arri Alexa SXT Plus cameras with Zeiss Master Prime and Master Zoom lenses at 3.4K resolution and mastered with Dolby Vision. The 4K Ultra HD Blu-ray also comes with Dolby Vision and is encoded in HEVC 2160p (4K) framed at 2.39:1. The image looks remarkably filmic for a production shot digitally and we get a pristine transfer with nuanced shadows, excellent 'pop' in the highlights, especially in the scenes in Lou's bar or at the Met Gala where the sequined evening gowns and dazzling jewels sparkle magnificently. Colors looks beautiful in the 4K release, so much so that the equally solid Blu-ray, which also looks very organic and filmic, almost looks flat in comparison when watching it after watching the 4K with its WCG (Wide Color Gamut) in Dolby Vision, but it isn't something that would be consciously noticed at all having never seen the 4K Ultra HD disc.
The Audio
Ocean's 8 comes to 4K Ultra HD with an immersive Dolby Atmos (compatible with TrueHD 7.1) mix. The mix isn't aggressive with plenty of solid effects placed throughout the surrounds and height channels, but it is truly "atmospheric" with lots of lush ambience for the jazzy score that works wonderfully for this material. The mids and lows are punchy and dialogue is clear and full.
The Supplements
There isn't much special included on Ocean's 8. The special features are fun and lighthearted, mostly praising the new Ocean's team, and includes plenty of interviews with the cast.
Movies Anywhere – Stream or download digitally via the provider of your choice (iTunes, Amazon Prime Video, Vudu, Fandango Now, Google Play, and the Movies Anywhere app)
Blu-ray
Deleted Scenes (1080p/24; 00:01:53)
Reimagining the Met Gala (1.78:1; 1080p/24; 00:12:47)
A Heist in Heels (1.78:1; 1080p/24; 00:11:35)
Ocean's Team 3.0 (1.78:1; 1080p/24; 00:13:20)
The Final Assessment
Ocean's 8 is a glamorous and glitzy film with a strong cast that work well together on screen but are given a lackluster script. The 4K Ultra HD disc is as gorgeous a release as the beautifully shot filmed deserves.
Ocean's 8 is out on 4K Ultra HD Combo Pack, Blu-ray Combo Pack, and DVD September 11, 2018 from Warner Bros. Home Entertainment
PG-13 (for language, drug use, and some suggestive content)
Rating Certificate
Warner Bros. | Village Roadshow Pictures | Rahway Road Productions | Smokehouse Pictures | Warner Bros. Home Entertainment
Studios & Distributors
Gary Ross (screenplay & story by) | Olivia Milch (screenplay by) | George Clayton Johnson (based upon characters created by) | Jack Golden Russell (based upon characters created by)
Writer
$44.95
MSRP
11 Sept. 2018
Release Date
HEVC (H.265) 2160p (4K) | AVC 1080p (Blu-ray)
Video
Dolby Vision (Compatible w/ HDR10)
HDR Format
English Dolby Atmos (Compatible w/ Dolby TrueHD 7.1)
Primary Audio
English Descriptive Audio DD 5.1 | French DD 5.1 | Spanish (Latino) DD 5.1 | Portuguese DD 5.1
Secondary Audio
English SDH | French | Spanish (Latino) | Portuguese
Subtitles
HDR Effect (If Applicable)
Summary
In this all-female reboot of the Ocean's franchise, the late Danny Ocean's estranged sister Debbie (Sandra Bullock) assembles an all-female crew to attempt what seems like an impossible task -- a high-stakes heist at the annual Met Gala. Ocean's 8 is a fast-paced heist film with an all-star female cast that show great chemistry together against sleek cinematography, but are weighted by a lackluster screenplay.
What people say... Login to rate
Be the first to leave a review.
Show more