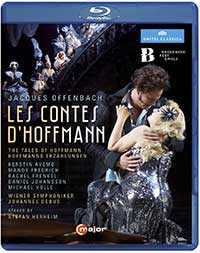 Les Contes d'Hoffmann (The Tales of Hoffmann) is the most frequently performed of Jacques Offenbach's staged works although left unfinished at the time of the composer's death. E.T.A. Hoffmann was a multi-talented artist and this opera is based on three of his fantastic tales. In sum, our hero loves three different women who turn out to be different aspects of his current amour, the opera singer Stella.
The production stems from 2015 performances at the Bregenz music festival and as will be detailed, Norwegian director Stefan Herheim does a total makeover of this classic. The Prologue opens as Hoffmann's Stella , here a transvestite (Par Pelle Karlsson), takes a drunken tumble down a Busby Berkley-inspired staircase as witnessed by the cast, clad in unisex formal wear. Councilor Lindorf (Michael Volle), who eventually plays all four villains, arrives in pursuit of la Stella. A character that resembles Jacques Offenbach (complete with quill pen) next appears and darts in and out of the rest of this production.
Hoffmann, surrounded by his lookalike wine-drinking buddies that include his companion Nicklausse (Rachel Frenkel) in a Berlin wine bar, is persuaded to tell the tales of his three loves. He starts with Olympia (Kerstin Avemo) an automaton created by the inventor Spalanzani (Bengt-Ola Morgny). Olympia turns out to be a sex machine that climaxes during her big aria. Instead of her getting destroyed by Coppelius (Volle), a Hoffmann dummy gets trashed.
The scene changes to Munich where Hoffmann has become enamored of an Antonia (Mandy Fredrich) who looks a lot like Olympia. Antonia loves to sing but her father, Crespel (Ketil Hugaas), forbids her since he fears that she will die like her mother. The shifty Dr. Miracle (Volle) claims to have a cure but, in the end, Antonia sings herself to death.
The Venetian act features not one but two Giulettas (Avemo and Fredrich) who are charged by Dapertutto (Volle) to steal Hoffmann's reflection. In the finale, the entire cast (with Hoffmann still standing) delivers an alternative ending, an anthem to the trials and tribulations of love.
Herheim's opera productions are unconventional and in this Les Contes d'Hoffmann the focal points are continually being readjusted. Perhaps the best way to characterize this director's vivisection of an operatic classic is  visually arresting but dramatically confusing. The vocal cast is terrific with a special shout out to tireless tenor Johannson, one of the best Hoffmanns that I have recently heard, four well-realized villains by baritone Volle, and three outstanding sirens in Avemo, Fredrich, and Frenkel. Jonathan Debus's musical direction is most assuredly en pointe.
The Video
The hi-def transfer is nifty and, for better or worse, gives us the production as the Bregenz festival audience saw it. Sets and colors are good and reliable video director Felix Breisach comes through with excellent balance between the closeups and distance shot.
The Audio
As is the case with most opera recordings the action is upfront with a modest contribution from the surround channels. The DTS-HD Master Audio soundtrack gets us into the house better than its two-channel alternative.
The Supplements
C Major provides the usual trailers and a program booklet with production credits and an essential background essay by Frederik Hanssen that should be required reading before watching this performance.
The Final Assessment
As might be inferred from my commentary, this is not your traditional Les Contes d'Hoffmann. Director Herheim pushes sexual boundaries that will appeal to free-spirited opera fans and surely offend traditionalists. I understand that sex sells but, in this case, we get more of a turn off than a turn on. While some of Herheim's shtick is entertaining, its heavy-handedness often gets in the way of Offenbach's brilliant score. For now, I will go with my favorite version, the venerable but serviceable DVD starring Placido Domingo.
Offenbach: Les Contes d'Hoffmann [Debus/Wiener Symphoniker] (TheaterByte Blu-ray Review)
C Major
Studios & Distributors
$39.99
MSRP
29 April 2016
Release Date
French DTS-HD MA 5.0
Audio
Summary
A completely rethought version of Offenbach's masterpiece that pushes sexual boundaries and with stage business that often gets in the way of some very well-sung performances.
What people say... Login to rate
Be the first to leave a review.
Show more