– –
The Film
[Rating:4.5/5]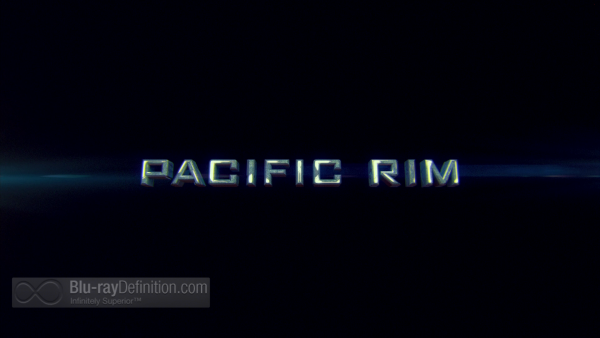 Throw away all preconceptions about any high concept drama going into Guillermo del Toro's Pacific Rim. The film is meant to be, and is, sci-fi action entertainment in its purest form. It's wild, it's exuberant, it's at times brainless and confounding, and it is absolutely fantastic. Furthermore, Del Toro's film is an homage to the Japanese Kaiju or "Monster" films (think Godzilla) and the mecha genre of, particularly anime in which humanoid robots controlled by humans powering them from inside usually do battle against either other mecha or kaiju (think Neon Genesis Evangelion). Turning this format into live-action spectacle is like a glorious theme park ride that comes across better than one would have expected. With Del Toro being non-Japanese, he is also able to craft a film from an outsider's perspective and breathe new life into the genre without being beholden to it or strictly copying that which has gone before.
Set in the near future, humanity suddenly faces a serious threat when giant sea monsters, dubbed kaiju, emerge from a tectonic fissure in the Pacific Ocean and begin terrorizing cities around the world. The world's militaries find themselves able to defeat them initially, but as they continue to swarm out of the fissure, humanity is soon overwhelmed. It takes a worldwide effort by the governments to develop a new form of defense, the Jaeger program; giant humanoid robots with massive power driven by pilots within. The battle shifts in humanity's favor once more, but the stress is too much on the pilots' bodies. That's when "the drift" is discovered. Pilots who are compatible with each other and can meld their minds with one other and pilot the Jaegers in tandem are deployed, and a new era begins – until the kaiju begin to adapt and learn the human defense tactics. Washed out pilot Raleigh Beckett (Charlie Hunnam; Sons of Anarchy) and his young trainee Mako Mori (Rinko Kikuchi) end up being the last hope for the Jaeger program and humanity's defenses, as the mystery behind the kaiju comes into focus and other efforts to stop the creatures begin to fail.
Del Toro not only put together an amazing visual presentation with Pacific Rim combining the best of digital and practical effects, but his grasp on the genre will be a joy for sci-fi fans schooled in mecha and kaiju lore. The pained backstory of young Mako Mori, for instance, is a classic anime tactic, even the visual effect employed while entering "the drift", as it were, provides the mystical, otherworldly feel often employed in the mecha genre of anime, implying that the machine itself has a soul. Though that isn't really the case here, the story does tilt in an unexpected direction concerning the kaiju that may not be so unexpected to those fans of Japanese films either.
One thing is for certain, Pacific Rim doesn't disappoint when it comes to getting your pulse racing and delivering all-out, adrenalin inducing eye candy and awesome action sequences.
Video Quality
[Rating:5/5]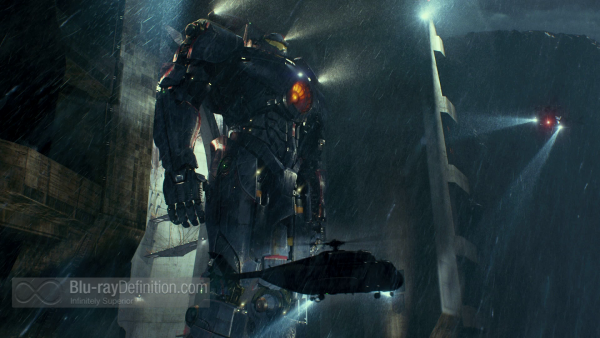 Warner sent us only the 2D version of Pacific Rim on Blu-ray, which is just fine, being that the film in 3D is only a 3D conversion from the original high definition production captured on the Red Epic camera with Zeiss Ultra Prime and Angenieux Optimo lenses. As for this AVC/MPEG-4 1080p encodement on Blu-ray from Warner, it looks absolutely gorgeous. It's every bit as clean, crisp, and delicately nuanced as one would expect an HD source of such recent vintage of a sci-fi/action film of this sort to be. One can make out the scratches and dents on the Jaegers, textures on faces, and all with no hints of digital anomalies, even with all that splashing water, where you'd expect to see something weird going on.
Audio Quality
[Rating:5/5]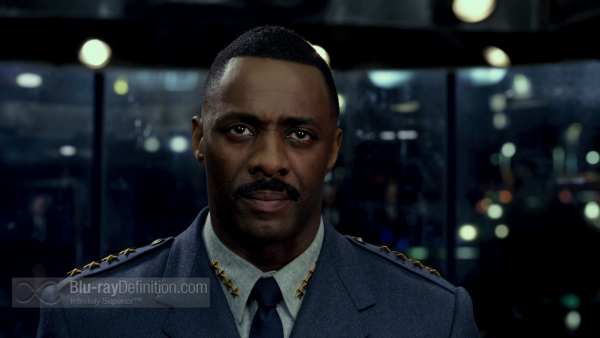 Warner gives us two lossless surround options on this Blu-ray release, an English DTS-HD Master Audio 5.1 (48kHz/24-bit) track and an English DTS-HD Master Audio 7.1 (48kHz/24-bit) surround track, in addition to French, Portuguese, and Spanish (Latino) Dolby Digital 5.1 dubs. I went with the 7.1 track as my reference for this review, and, boy was it an adventure. As one might imagine, the sound was big, and it was a pretty wild ride from start to finish. The surrounds and back channels were filled with something throughout, but it wasn't overbearing. It was a delicate balance, with the majority of sounds coming from the front, and very deep lows, extended way down to the lowest frequencies. High frequencies sounded just right, never fatiguing, and the dialogue was never buried in the mix.
Supplemental Materials
[Rating:4.5/5]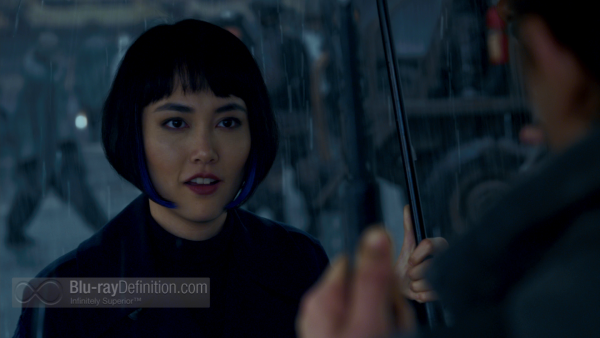 There are a massive amount of extras spread across two Blu-ray Discs included in this release.
The supplements:
Blu-ray Disc 1:
Audio commentary by Guillermo del Toro
Focus Points:

A Film by Guillermo del Toro (1.78:1; 1080p/24; 00:04:47) – The Film's cast and producers describe the metamorphosis a film goes through under Del Toro's direction.
A Primer on Kaijus & Jaegers (1.78:1; 1080p/24; 00:04:09) – Guillermo del Toro's sci-fi adventure Pacific Rim pits skyscraper-sized robot warriors against ferocious creatures from the Anteverse. Join the filmmakers as they discuss the storied tradition of mech vs. monster in Kaiju films.
Intricacy of Robot Design (1.78:1; 1080p/24; 00:04:53) – Paramount in the creation of the film's majestic machines was an intricacy of design that had not been seen in cinema. We sit in on early design meetings and witness as simple silhouettes evolve into towering mech warriors.
Honoring the Kaiju Tradition (1.78:1; 1080p/24; 00:04:30) – Discover Del Toro's mammoth creature creations as we unravel his unique approach to monster films. The director and his team offer an overview of the film's kaiju lineup.
The Importance of Mass and Scale (1.78:1; 1080p/24; 00:05:45) – Examine the significance of scale in the design of the film's singular creations and discover how the film employed a micro level of detail to help sell the size and wight of the Jaegars and Kaijus.
Shatterdome Ranger Roll Call (1.78:1; 1080p/24; 00:05:39) – Explore the interpersonal relationships that are the emotional core of the script with the talented actors that inhabit the roles.
Jaegers Echo Human Grace (1.78:1; 1080p/24; 00:04:01) – To brave water cannons and massive gimbal structures the cast had to be in top physical condition. This behind-the-scenes look at the shoot features exclusive footage of the actors in incredibly demanding environments.
Inside the Drift (1.78:1; 1080p/24; 00:04:36) – Imaginative concepts were developed and woven into the tapestry of Pacific Rim. Key to the mythology crafted for the film is the concept of drifting. Del Toro explains the rules of drifting and presents real-world counterparts as reference points.
Goth Tech (1.78:1; 1080p/24; 00:04:39) –The unlikely pairing of the Gothic with the futuristic gives Pacific Rim its lived-in look. Explore this unique color palette with the team of artists that developed this Del Toro mash-up.
Mega Sized Sets (1.78:1; 1080p/24; 00:08:54) – Where most contemporary filmmakers would have approached the Jaegers as an all-digital shoot, Del Toro's production required "to scale" gimbal pods. In this visit to the mammoth sets, witness the challenges of building and shooting five distinct Jaeger cockpits and two city blocks of a destroyed Hong Kong street.
Baby Kaiju Set Visit (1.78:1; 1080p/24; 00:03:07) – An all-access visit to the Hong Kong set showcases how practical builds were seamlessly stitched with digital effects in one of the film's most imaginative sequences.
Tokyo Alley Set Visit (1.78:1; 1080p/24; 00:03:17) – The Tokyo streets of 2016 were rigged with hydraulics that allowed young Mako something tangible to play against. Here the special effects team deconstructs the many parts that had to come together to make this effect happen.
Orchestral Sounds from the Anteverse (1.78:1; 1080p/24; 00:04:04) – Composer Ramin Djawadi hosts an exclusive look into his spotting sessions with Del Toro. In these meeting, we see the genesis of what was to become the orchestral soundscape of the film.
Bonus Blu-ray Disc:
The Director's Notebook – An interactive presentation of Del Toro's Pacific Rim notebook. Clickable pages access targeted interview pods, image scans, and notes generated during the film's pre-production. The 3D holographic interface also included a magnify mode that translates blocks of Spanish text and activates exclusive still galleries.
Drift Space (1.78:1; 1080p/24; 00:05:24) – Employing an in-world layered holographic look, Warner break apart the film's four drift sequences and diagram the significance of the events represented.
The Digital Artistry of Pacific Rim (1.78:1; 1080p/24; 00:17:10) – Witness first-hand the monumental task of breathing life into Del Toro's 2D renderings. Go behind closed doors and track the creative process as an army of ILM artisans craft some of the film;'s most inspired creatures.
The Shatterdome – An archive of the key design art generated to shape the film, video and still galleries offer a streamlined, manageable presentation of all the assets created during the three phases of production. Video pods include exclusive looks at never before seen animatics, maquettes and concept art.
Deleted Scenes (1.85:1; 1080p/24; 00:03:45):

The Wall of Life/Rations
Excuse Me
Theft
"Catch You in the Drift, Dad"

Blooper Reel (1.78:1; 1080p/24; 00:03:52)
The Definitive Word
Overall:
[Rating:5/5]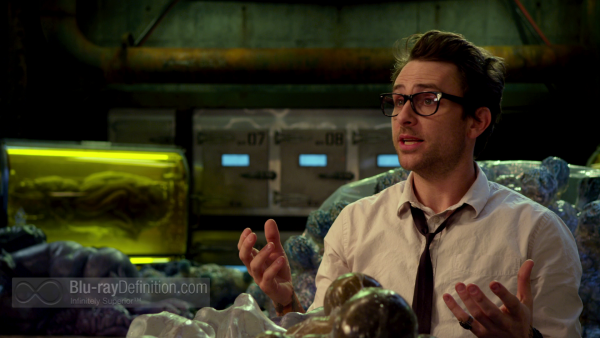 Pacific Rim may just be the best sci-fi action film of the year, with fantastic special effects, an impeccable handling of genre references, and awesome action that never lets up. It's a wild ride. The Blu-ray release is top notch as well, pure reference audio and video.
Additional Screen Captures
[amazon-product]B00FEN000S[/amazon-product]
[amazon-product]B008JFUR10[/amazon-product]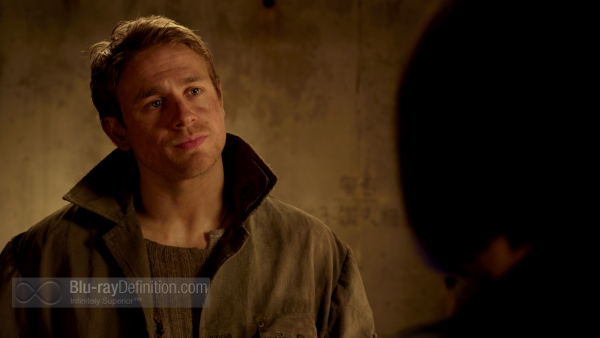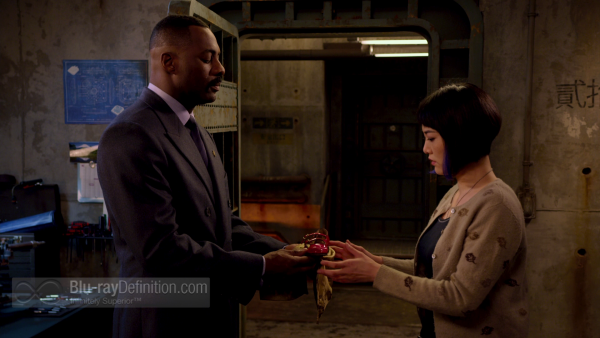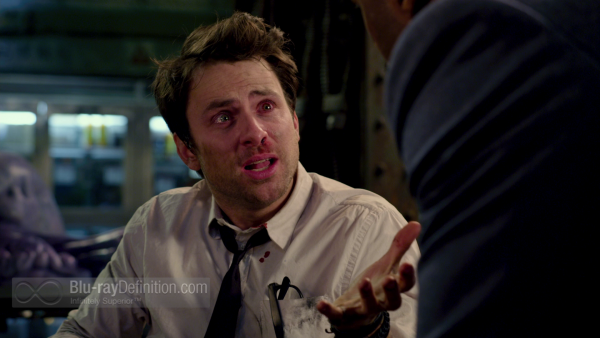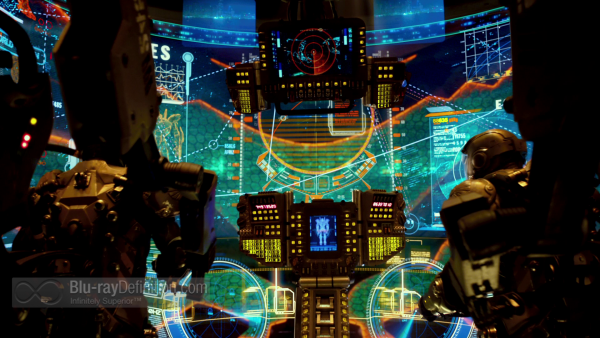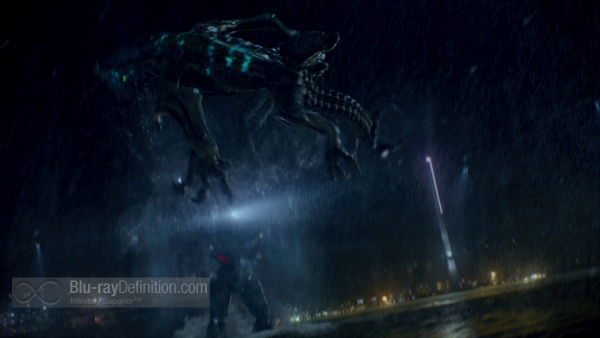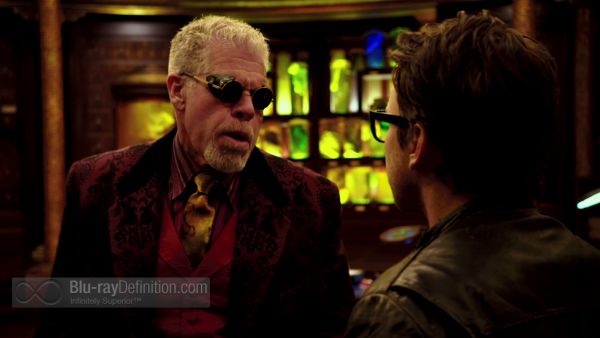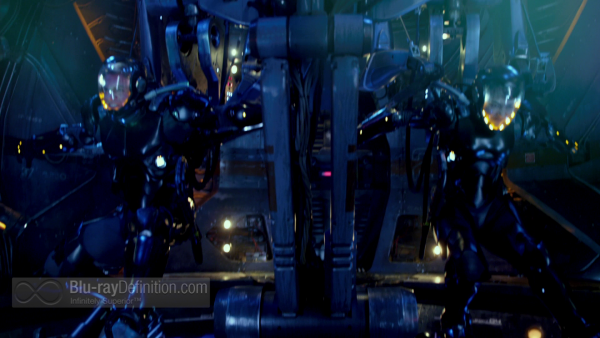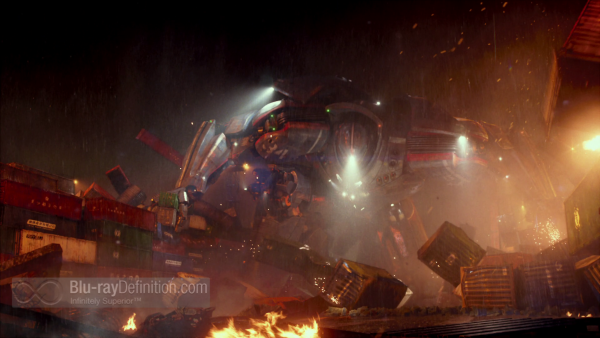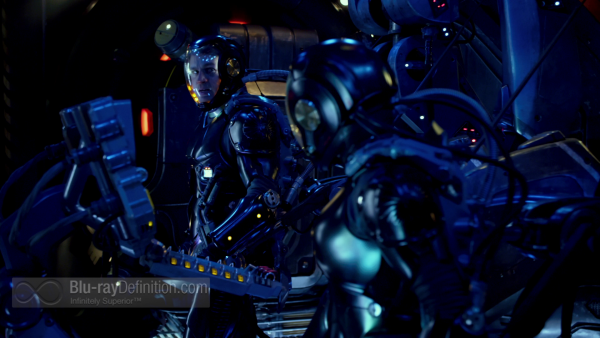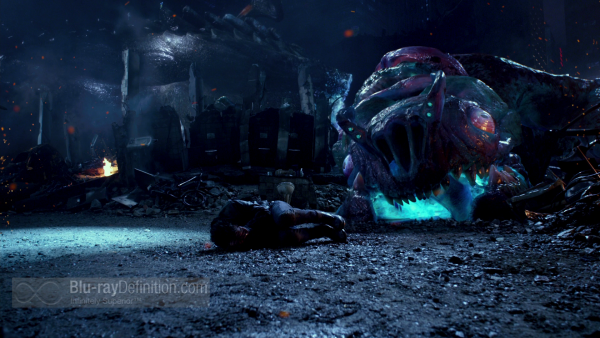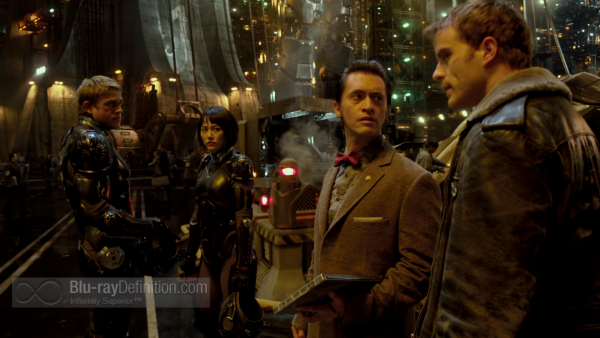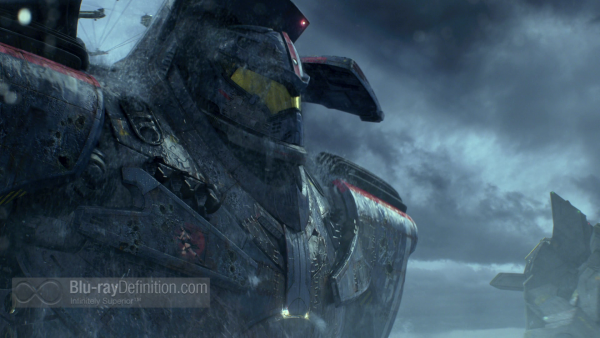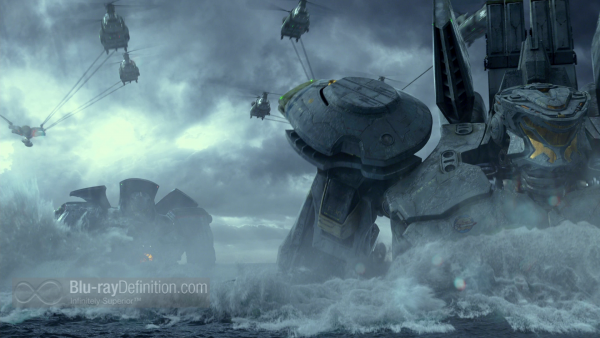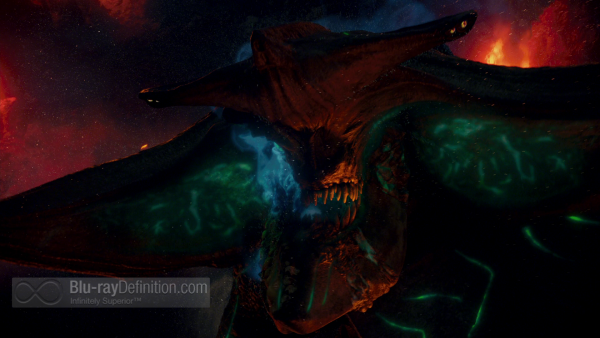 [amazon-product]B00FEN000S[/amazon-product]
[amazon-product]B008JFUR10[/amazon-product]