Fox Home Entertainment has officially announced the release of Percy Jackson: Sea of Monsters on Blu-ray 3D and Blu-ray Combo Packs for December 17, 2013. The Blu-ray 3D deluxe edition will contain collectible character cards while both 3D and standard Blu-ray editions will have the following bonus features:
Tyson Motion Comic
Back to Camp Half-Blood
It's All in the Eye
Deconstructing a Demigod
The Blu-ray 3D Combo pack will sell at a SRP of $49.99 and the Blu-ray Combo pack at $39.99. See below for further details.
EXPERIENCE THE MOST HEROIC ADVENTURE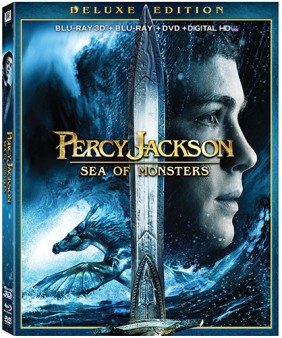 Join the Quest of a Lifetime, Packed with an
All-New Motion Comic and Collectible Cards, on 3D Blu-ray
Deluxe Edition December 17 and Digital HD™ December 3
Synopsis
The magical, mythical adventures of teenager Percy Jackson — son of the Greek god Poseidon — continue in this heroic, action-packed thrill ride! Out to prove he's not just a "one-quest wonder," Percy and his demigod friends embark on an epic, cross-country journey into the treacherous Sea of Monsters, where they battle terrifying creatures, an army of zombies, and the ultimate evil. With time running out, Percy must find and bring home the fabled Golden Fleece, which has the power to save his world…and save us all!
Special Features
PERCY JACKSON: SEA OF MONSTERS 3-Disc 3D Deluxe Edition/
Blu-ray/DVD/Digital HD
●    PERCY JACKSON: SEA OF MONSTERS – Blu-ray 3D Theatrical Version
●    PERCY JACKSON : SEA OF MONSTERS Blu-ray with the following special features:
○    Tyson Motion Comic
○    Collectible Character Cards
○    Back to Camp Half-Blood
○    It's All in the Eye
○    Deconstructing a Demigod
PERCY JACKSON: SEA OF MONSTERS 3-Disc 3D Deluxe Edition/Blu-ray/DVD/Digital HD
●     Special Features:
○    Tyson Motion Comic
○    Back to Camp Half-Blood
○    It's All in the Eye
○    Deconstructing a Demigod
PERCY JACKSON: SEA OF MONSTERS DVD
●     Special Features:
○    Back to Camp Half-Blood
○    It's All in the Eye
Percy Jackson: Sea of Monsters 3D Blu-ray Deluxe Edition
Street Date:    December 17, 2013
Prebook Date:    November 20, 2013
Screen Format:    Widescreen 2.40:1
Audio:    English 7.1 DTS-HD-MA
Spanish 5.1 DD
French 5.1 DTS
Subtitles:    English / French / Spanish
Total Run Time:    107 minutes
U.S. Rating:    PG
Closed Captioned:    Yes
Percy Jackson: Sea of Monsters Blu-ray
Street Date:    December 17, 2013
Prebook Date:    November 20, 2013
Screen Format:    Widescreen 2.40:1
Audio:    English 7.1 DTS-HD-MA
Spanish 5.1 DD
French 5.1 DTS
Subtitles:    English / French / Spanish
Total Run Time:    107 minutes
U.S. Rating:    PG
Closed Captioned:    Yes
Percy Jackson: Sea of Monsters DVD
Street Date:    December 17, 2013
Prebook Date:    November 20, 2013
Screen Format:    Widescreen 2.40:1
Audio:    English 5.1 DD
Spanish 2.0 Surround DD
French 2.0 Surround DD
Subtitles:    English / French / Spanish
Total Run Time:    107 minutes
U.S. Rating:    PG
Closed Captioned:    Yes
[amazon-product]B008JFUNWS[/amazon-product]
[amazon-product]B00EDX76PW[/amazon-product]