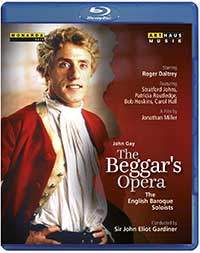 This John Gay/Johann Christoph Pepusch collaboration, The Beggar's Opera, proved not only to be the hit musical of 1728, but a game changer for the British music hall and one that has never gone out of fashion. Premiering during Prime Minister Walpole's corrupt administration, a true low point in British politics, this show was intended to be a satiric response to the Italian operatic tradition, then in fashion on London's stages.
Set in London's criminal demimonde, we first meet Peachum (Stratford Johns), a trafficker in stolen goods and his wife (Patricia Routledge). They are mulling over the doings of their daughter Polly (Carol Hall) who has apparently married, without their permission, Captain Macheath (Roger Daltrey), a thief and Peachum's major business partner. The Peachums urge the wayward Polly to betray Macheath to the police so that once he is hanged she will become a wealthy widow.
When Polly refuses her parents' requests, Peachum himself arrests Macheath who is ratted out by the prostitute Jenny Diver (Isla Blair) and the cheating rascal lands in jail. Macheath is not imprisoned for long as Lucy Lockit (Rosemary Ashe), the jailor's daughter and pregnant with Mac's child, fashions his escape. But Macheath is re-arrested and weighs the fate of being hanged versus dealing with four additional pregnant women who are making claims against him. In a deus ex machina plot device, the beggar (Bob Hoskins) who is actually the opera's composer changes the story's ending and aborts Macheath's execution.
This 1983 BBC made-for-television production retains the performance tradition of having actors who sing rather than singers who act to assume their respective roles. Not a conventional opera, this work is a musical with spoken dialogue and interspersed vocal numbers. Adding to the authenticity of the proceedings is the musical accompaniment of the English Baroque Soloists, a handpicked group that conductor Sir John Eliot Gardiner founded in 1978. The sets and costumes are period specific and quite convincing. Veteran stage director Jonathan Miller is quite at home on the operatic stage as well as the music hall and gives this show its deft pacing.
The Video
This is an unabashed standard definition recording with soft edges, some obvious blurring, and, by current standards, a rather muted color palette.
The Audio
The only soundtrack option is LPCM 2.0 (48kHz/16-bit) and it gives a clear and fair representation of both dialogue and musical selections.
The Supplements
A program booklet contains production credits, track listing, and a nice series of background essays on this play and biosketches of some of the principals.
The Final Assessment
Given a strong cast and great dramatic and musical direction, The Beggar's Opera receives its Blu-ray première with this Arthaus Musik release. There are two decent DVD options, but both are seriously cut and suffer from cramped sonics. Visual shortcomings aside, this is an enjoyable two-hour voyage to the 18th century English underworld and highly recommended.
Pepusch: The Beggar's Opera [The English Baroque Soloists/Gardner] (TheaterByte Blu-ray Review)
Not Rated
Rating Certificate
Arthaus Musik
Studios & Distributors
29 April 2016
Release Date
English LPCM 2.0 (48KHz/16-bit)
Audio
Summary
This rendition if The Beggar's Opera featuring The Who frontman Roger Daltrey is an enjoyable 2-hour musical voyage to the 18th century English underworld with dated video properties, but excellent reproduction of dialogue and song.
What people say... Login to rate
Be the first to leave a review.
Show more