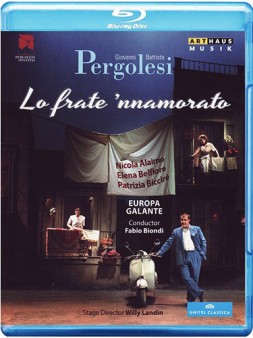 –
Click thumbnails for high-resolution 1920X1080p screen captures
(The below TheaterByte screen captures were taken directly from the Blu-ray Disc and losslessly compressed in the PNG format. There should be no loss of picture quality with this format. All screen captures should be regarded only as an approximation of the full capabilities of the Blu-ray format.)
The Performance
[Rating:4/5]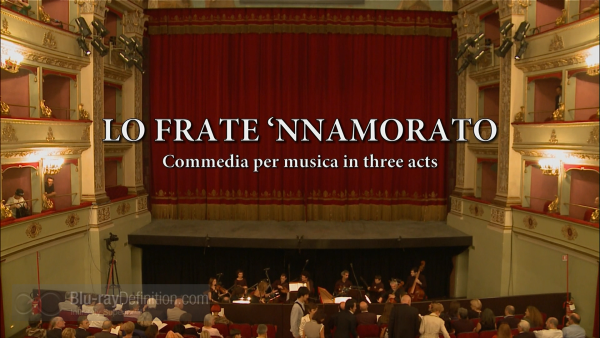 It seems that every time I turn around, another Pergolesi revival ends up in my Blu-ray player. Lo frate 'nnamorato (The Brother in Love) was Pergolesi's second comic opera, written when he was only 22 years old and helped him to obtain a musical post in the Royal Chapel of Naples.
The story begins in Marcaniello's (Nicola Alaimo) house outside of Naples. Marcaniello has adopted Ascanio (Elena Belfiore), the long-lost brother of Nina (Jurgita Adamonyte) and Nena (Patrizia Biccire), both wards of their uncle, Don Carlo (David Alegret). Carlo is after the hand of Luggrezia (Barbara Di Castri), Marcaniello's daughter.  To make matters more confusing, both Nena and Nina have fallen in love with Ascanio, not realizing that he is their brother. Marcaniello wants to marry Nina and have his son Don Pietro (Filippo Monace) wed Nena. Don Carlo engages Ascanio in a duel only to recognize him finally as his nephew. The opera ends with pending nuptials of Ascanio and Luggrezia.  Throughout the two gossipy housemaids, Vannella (Laura Cherici) and Cardella (Rosa Bove), make sly comments about the goings on.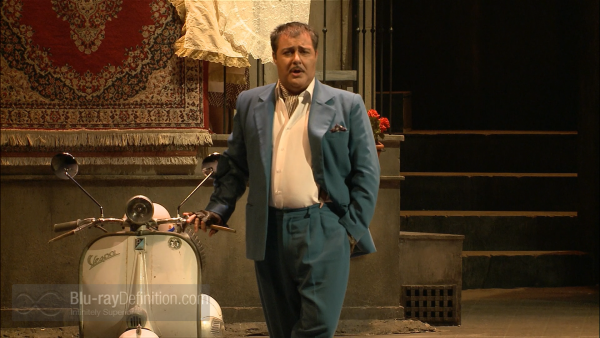 As part of the Fondazione Pergolesi Spontini's project to revive all of the maestro's operas, this one has a young cast blessed with some nice if still maturing voices.  Musical direction is in the very good hands of Fabio Biondi and his Europa Galante period orchestra. Pergolesi's operas take quite well to updated productions and this one gives us mid-1950's Naples, complete with Vespa scooters and broad lapel jackets. Stage director Willy Landin provides some clever stage business and keeps the action moving through some rather static recits and showpiece arias.
Video Quality
[Rating:4.5/5]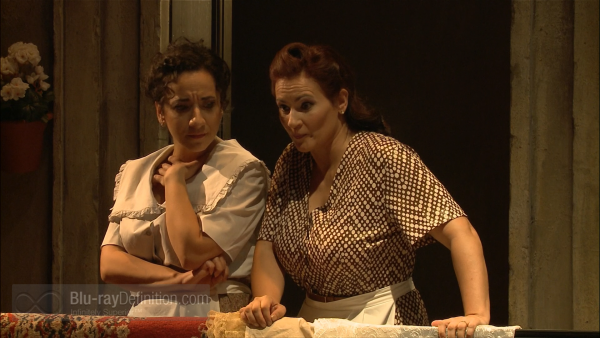 This is near-demonstration quality videography with natural colors, super close ups, and stage coverage. Exploiting the telegenicity of the cast, everything on stage works to the advantage of the show, even the extras look great. I noted the hand of Tiziano Mancini at work on this one and, in the world of opera videos, this is one director that most houses want in their corner.
Audio Quality
[Rating:4/5]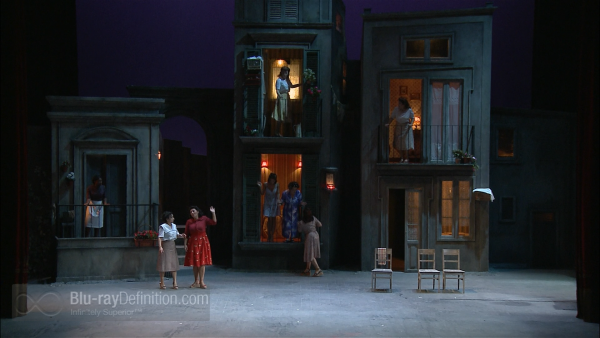 The small orchestra is detail-perfect, providing the sound that Pergolesi would have intended. Ambience recovery puts us in the house with the DTS-HD Master Audio soundtrack, clearly the choice over its two-channel counterpart. The Teatro G.B. Pergolesi, Jesi, is a small house with great acoustics, a perfect match for this domestic situation comedy.
Supplemental Materials
[Rating:0.5/5]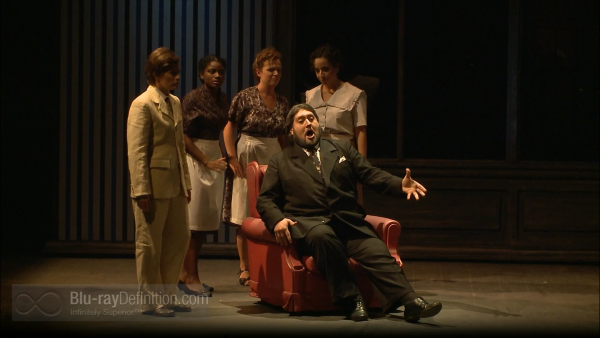 Arthaus Musik provides trailers and a decent program booklet that has no real plot synopsis. Having a brief review of the story would have been a major plus with a work as unfamiliar as this one will be to most viewers.
The Definitive Word
Overall:
[Rating:4/5]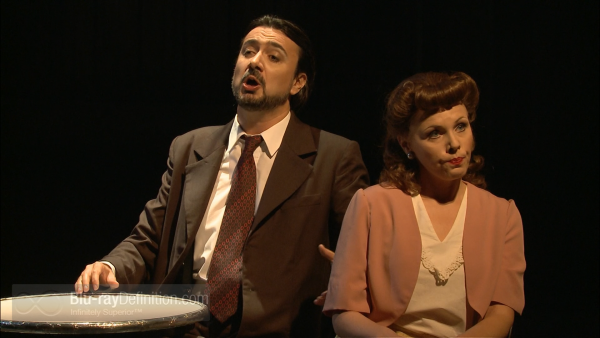 Every time I see a work like Lo Frate 'nnamorato brought to life, I feel that I owe a debt to the foundation that underwrites such productions. G.B. Pergolesi was a developing musical genius who was an all too brief candle on the 18th century scene. Without Pergolesi, would we have Handel or Mozart who became his lineal successors in opera composition?  This production with its en pointe updating, refreshing cast of young singers and loving musical leadership from Fabio Biondi makes a strong argument for keeping Lo Frate 'nnamorato on stage. With topnotch audio and video values, I would urge hardcore opera fans to go and get this one while it is still hot.
Additional Screen Captures
[amazon-product region="us" tracking_id="bluraydefinit-21″]B00BW7FHAI[/amazon-product]
[amazon-product region="ca" tracking_id="bluraydefinit-20″]B00BW7FHAI[/amazon-product]
[amazon-product]B00BW7FHAI[/amazon-product]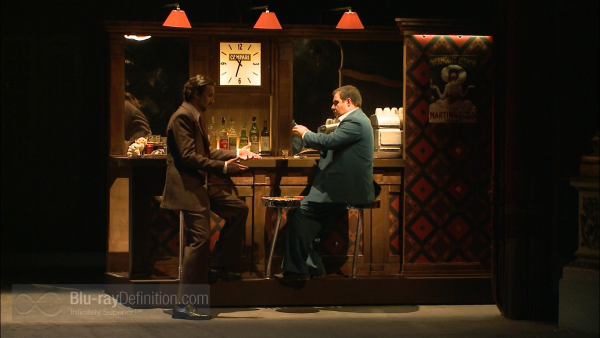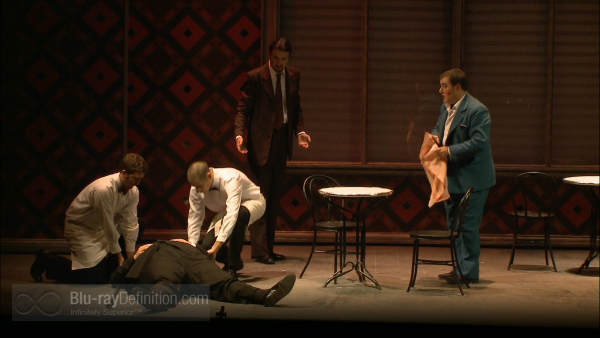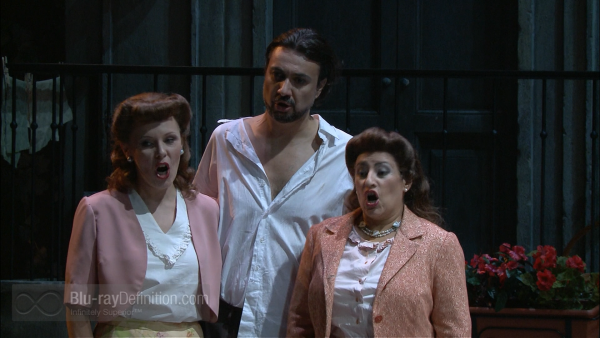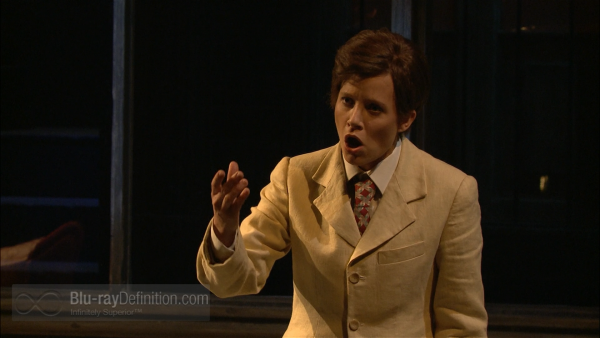 [amazon-product region="us" tracking_id="bluraydefinit-21″]B00BW7FHAI[/amazon-product]
[amazon-product region="ca" tracking_id="bluraydefinit-20″]B00BW7FHAI[/amazon-product]
[amazon-product]B00BW7FHAI[/amazon-product]
Overall
[Rating:4/5]
The Performance
[Rating:4/5]
Video Quality
[Rating:4.5/5]
Audio Quality
[Rating:4/5]
Supplemental Materials
[Rating:0.5/5]