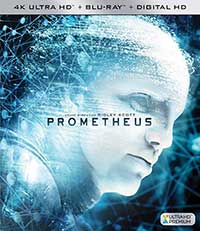 20th Century Fox releases a new Prometheus 4K Ultra HD Blu-ray reissue to coincide with with the release of Alien: Covenant.
Suppose we had received a series of messages, recorded in different locations and at different times by ancient peoples around our planet that all show a mysterious tall "visitor" who points to exactly the same unknown solar system. In 2089, archaeologists (and lovers) Elizabeth Shaw (Noomi Rapace) and Charley Holloway (Logan Marshall-Green) discover a similar painting in a Scottish cave. Their exciting find jumpstarts the Prometheus mission underwritten by the late Peter Weyland (Guy Pearce) and now run by his daughter, the steely Meredith Vickers (Charlize Theron), assisted by urbane android David (Michael Fassbender), Weyland's most recent creation.
The Prometheus, carrying the two archaeologists, engineers Fifeld (Sean Harris) and Ford (Kate Dickie) and biologist Milburn (Rafe Spall), is led by Captain Janek (Idris Elba) and his other crew members. After an uneventful multi-million mile voyage, the craft lands on VS-223, a planet with a terra-forming atmosphere but with some important differences that are revealed later. A preliminary exploration reveals a large pyramidal structure that contains the remnants of a civilization of white giants who might have been the "engineers" of humanity, as depicted in the ancient artwork, and some very dangerous alien life forms.
David discovers a warehouse of sealed containers and the control room used by the engineers complete with a keyboard console and director's chair that replays holographs of what happened to these people, their solar system, and possibly the rationale for their visits to Earth. An interesting wrinkle occurs when Dr. Shaw finds out that she is pregnant with something not quite human. How she eventually handles this medical problem is definitely not fit for squeamish viewers. More untoward events bedevil the mission until David, Shaw, and a very much alive Weyland stumble across the last remaining engineer and his giant space ship.
Writer/director Ridley Scott tosses out some interesting notions about the Creation and the roles played by God-like super beings, and weaves in religious concepts lifted from ancient Egypt, ancient Greece, and Christianity. The good thing about this film is that you can still enjoy it without needing to delve into any deeper meanings.
The Video
This is easily one of the best 4K Ultra HD discs that have graced my screen in some time. The blend of CGI effects with real settings and people is seamless and eye-popping. Contrasts, deep blacks, and the color palette that is understandably limited in some very dark sets is absolutely sensational. While sourced from a digital intermediate 2K shot by Red Epic, Zeiss Ultra Prime and Angenieux Optimo lenses, the upscaling is a total triumph. The Blu-ray disc is also excellent and if not at the summit of highest resolution, particularly when it comes to details and contrast, is still a stunner. Comparing the opening landscape scene of the new planet shows how visual production has progressed from 2K to 4K and from SDR to HDR.
The Audio
The DTS-HD MA 7.1 soundtrack on the Prometheus 4K Ultra HD is as good as it gets and from the outset envelops listeners in an alien acoustic environment with great surround effects.
The Supplements
The 4K UHD disc has audio commentaries by director Scott and writers Spahlts and Lindelof.
The Blu-ray has the same audio commentaries and adds the following:
Deleted and Alternate Scenes (36:51)
The Peter Weyland Files (18:57)
Prometheus mobile app for iOS and Android devices for syncing to BD-Live
A digital HD download is included.
The Final Assessment
Prometheus is the prequel to both Alien: Covenant and the earlier Alien films and delivers substance and  suspense as it sets the stage for the Alien franchise. This disc has demonstration quality and if Charlize Theron's screen time gets pushed a bit to the side, the stone cold contributions of Noomi Rapace and Michael Fassbender are more than sufficient to carry the day. This is disc belongs in every 4K UHD viewer's library. Highest recommendation.
Prometheus 4K Ultra HD + Blu-ray + Digital is available from 20th Century Fox August 15, 2017.
[amazon_auto_links id="104716"]
R (Sci-fi Violence, some intense images, brief images)
Rating Certificate
20th Century Fox Film Corporation | Dune Entertainment | Scott Free Productions
Studios & Distributors
Jon Spahlts | Damon Lindelof
Writer
$29.95
MSRP
HEVC (H.265) 2160p | AVC 1080p (Blu-ray)
Video
4000 Nits
Maximum Luminance
0.005 Nits
Minimum Luminance
DTS-HD MA 7.1
Primary Audio
English DD 5.1 | French DD 5.1 | Spanish DD 5.1
Secondary Audio
English English SDH | Spanish | French
Subtitles
HDR Effect (If Applicable)
Summary
Ridley Scott and crew deliver a must-see, must-own 4k Ultra HD disc of demonstration quality in sights and sounds that also delivers a provocative account of mankind's possible creators.
What people say... Login to rate
Be the first to leave a review.
Show more